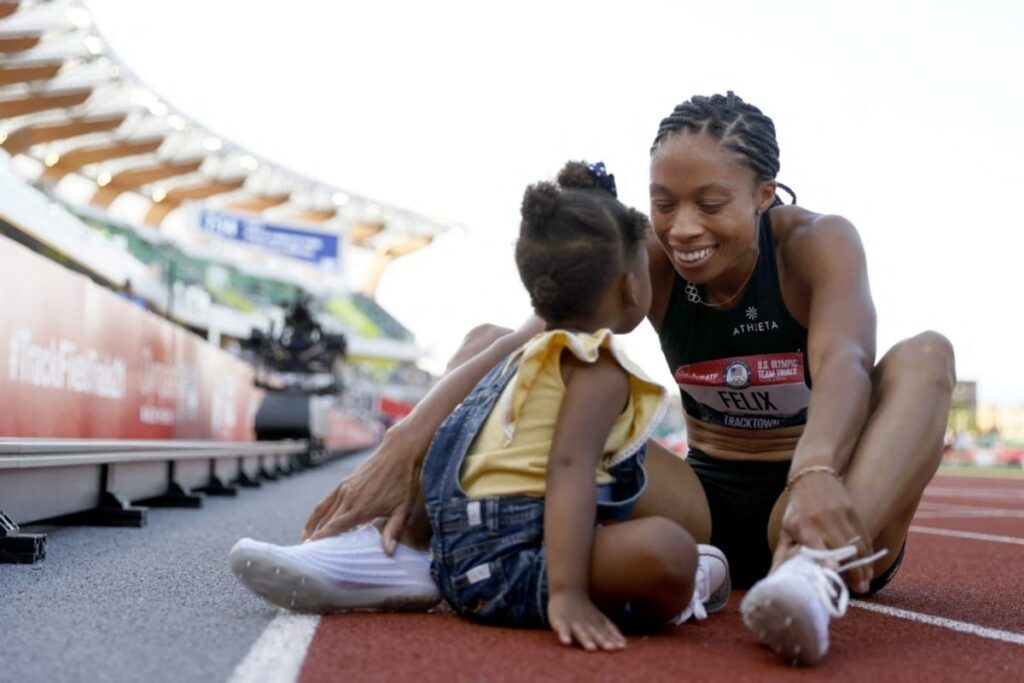 This one is for the moms!
United States Olympic sprinter Allyson Felix just won her 10th Olympic medal becoming the most decorated female athlete in all time! And she did so after giving birth to her first child, Camryn, and fighting back naysayers who counted her out since she became a mom!
The 35-year-old California native ran blind, situated in the less favored lane 9, and accelerated fast enought to win the bronze medal in the women's 400 meters on Friday. She ran a season-best at 49.46 seconds and did so wearing her own brand of shoes, Saysh.
Defending Olympic champion Shaunae Miller-Uibo of the Bahamas was the gold medalist in a lifetime best 48.36 seconds, and Marileidy Paulino of Dominican Republic the silver medalist; her 49.20 clocking was also a lifetime best.
With today's medal Felix broke a tie with Jamaica's Merlene Ottey, who has nine medals. She has also tied the legend Carl Lewis for the most medals by an American track and field athlete.
Felix parted with her longtime sponsor Nike after pushing back publicly about the athletic company's battles with atheletes who return to the field after having a baby. She eventually created her own line.
Per Vogue
Felix gave birth to her daughter, Camryn, in 2018, and she has since been candid about her recovery and struggles while returning to training. In 2019, she broke up with her then sponsor Nike due to the circumstances related to her childbirth, sharing in a powerful New York Times op-ed that she faced a 70% pay cut in her sponsorship because of it. "During my pregnancy, I faced a gender injustice that I couldn't run from," she tells Vogue. "My employer [Nike] did not support my maternity in a way that I could be proud of." With no big shoe sponsor this year, Felix decided to take matters into her own hands. But instead of finding the right performance shoe, she decided to channel her frustrations into creating an athleisure sneaker under her new brand, Saysh.
Felix competed in the finals with teammate Quanera Hayes who skated into the last round of the 400M competition on her time but came in 7th. At the Olympic Trials this year, her son Demetrius and Camryn met and hugged.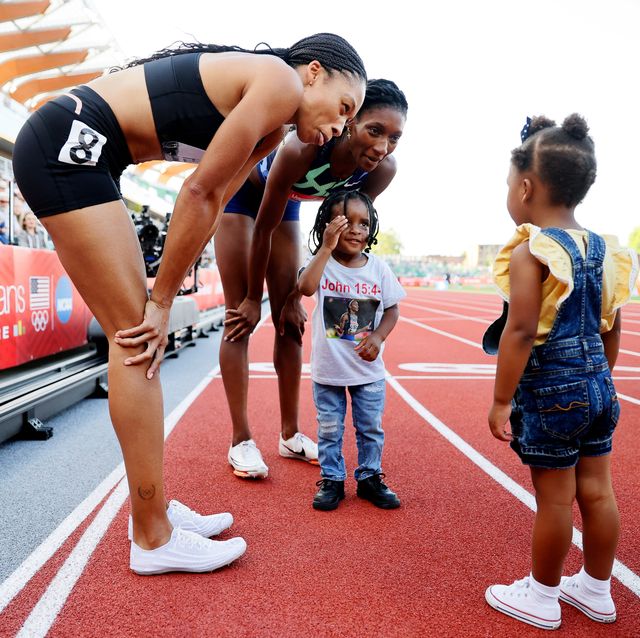 She is part of a long line of moms who had to fight stereotypes about our ability to perform at the top level in sports, come back after giving birth and generally multitask!
US Marathoner Aliphine Tuliamuk appealed to the IOC which had intially banned her from bringing her nursing newborn along to Japan. Amidst outcry from the world, she won and was able to take her daughter Zoe!
Here are some headlines about other moms who competed and are competing in these 2021 Tokyo, Japan Olympic games
NPR –Olympic And Paralympic Moms Face Big Obstacles To Compete. They're Demanding Change
People – Super Mamas! 10 Moms Competing in the Tokyo Olympics This Summer
CBS– Marathon mom pushes Olympics to allow nursing babies