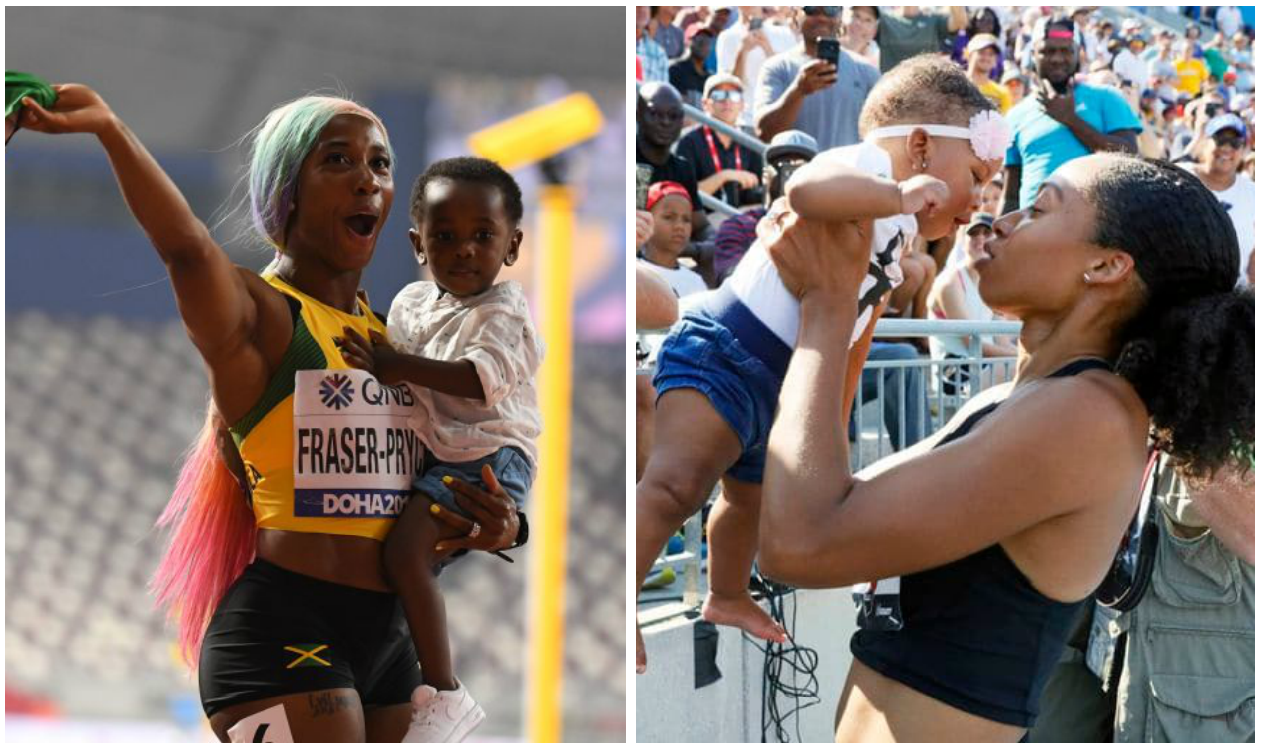 New  Moms
Alysson Felix
and
Shelly-Ann Fraser-Price
made major comebacks by winning gold and setting multiple records this week at the the World Track and Field Championships!
The fact that both sprinters delivered their babies via C-Sections which tear the core muscles is a testament to their hard work.
"For 10 weeks, I couldn't lift weights (while lying) on my back," Fraser-Pryce told  the LA Times. "And mentally, it's even harder because you're 30, you're having a baby, the females are out there running fast. You wonder if you can come back. For me, I just worked really hard."
Felix's baby came two months prematurely and spent around a month in the neonatal intensive-care unit.
"It puts things in perspective," Felix said.
It was only months prior that she was among the Nike sponsored athletes speaking out about the company's treatment of pregnant elite athletes.
Felix, who joined long distance runner Alysia Montano and the US Women's Soccer Team in their crusade for equal pay and rights, inspired the other female moms who competed this past Sunday night as LA Times summarized:
Christian Taylor, who won his third straight triple-jump world championship .

And pole vaulter Anzhelika Sidorova of Russia, who cleared 4.95 meters to beat American Sandi Morris for the gold…

Another mother won gold in the women's 20-kilometer walk early Monday morning. Liu Hong of China took the 2017 and 2018 seasons off to have a child before returning triumphantly in 2019. She led a Chinese podium sweep.

Another gold medalist was Courtney Okolo — Felix's 25-year-old relay teammate.
"A victory for motherhood!" Jamaica's Fraser-Pryce said  of her win. At age 32, she became the oldest woman to win an Olympic or world 100m title, two years after having her first child, Zyon.
She carried Zyon with her while taking her victory lap. Fraser-Pryce said she sat on her bed and cried the day she found out she was pregnant and soon heard calls that is was time for her to retire.
Perish the thought!
"The females keep showing up," Fraser-Pryce said on the BBC while holding Zyon across her chest. "Hoping that I can give inspiration to all the women who are thinking about starting a family or currently starting a family and wondering if they can come back."
The last mom to win the big 100M race was America's Gwen Torrence back in  1995.
Fraser-Pryce told her story of motherhood to Goldccomeback to NBC News:
"When I found out I was pregnant, I was sitting on my bed for like two hours, and I didn't go to practice in the morning because I didn't know what to do," Fraser-Pryce said. "I made a vow that I was coming back."

On Aug. 6, 2017, Fraser-Pryce watched the world women's 100m final on TV. "I remember sitting there, and I went into labor because I was watching the race," she said. "So I had my son the next day, like in the evening during the medal [ceremony]. So that was my gold medal."

Zyon came via C-section on Aug. 7, 2017. Fraser-Pryce went three or four months before lifting a weight. Once she returned to the track, she skipped practices here or there due to pain.

"I wouldn't trade it for anything else," she said. "Because it has definitely made me tougher, and stronger and more committed."

In her first meet back in 2018, Fraser-Pryce clocked 11.52 seconds, eight tenths off her best. She raced eight times before breaking 11 again, all while breastfeeding for the first 15 months.

This year, she's run in the 10.7s a total of four times, becoming the fastest mom in history. Her coach told her earlier that she's still not all the way back.

"Zyon has been my strength, my family, my husband, they have been my strength," she said. "When everybody else doubted, they never did."
Wow! Moms win again!
Photos: AP/ Getty