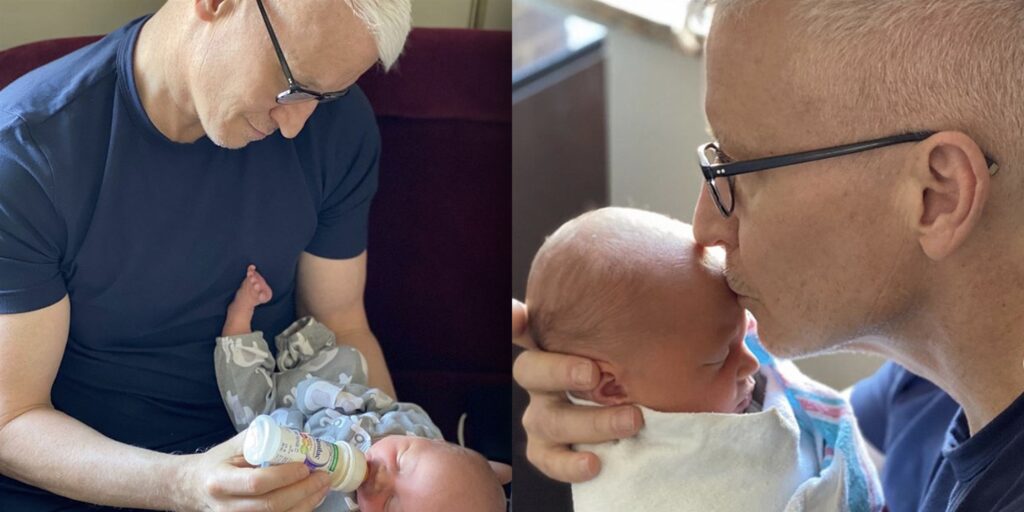 When CNN anchor Anderson Cooper announced on the last day of April last month that he had become a father, he joined the 3% of single men in the United States who become a parent without a partner or spouse.
"On Monday, I became a father," the heir to the Vanderbilt fortune and popular on air news personality shared at the end of a CNN Town Hall segment. "I have a son."
He later tweeted that Wyatt Morgan Cooper was born on Monday weighing 7 pounds 2 ounces.
CNN's @AndersonCooper is a dad.

"On Monday I became a father. I've never said that out loud and it astonishes me," he said Thursday at the end of the #CNNTownHall.

"I have a son."

Wyatt Morgan Cooper was born on Monday weighing 7 pounds 2 ounces.https://t.co/Gsg9MgwyzM pic.twitter.com/sforNP3sBF

— Anderson Cooper 360° (@AC360) May 1, 2020
Before Cooper, one of his best friends, BravoTV's Andy Cohen also welcomed a baby solo, and similarly, Cohen too announced the news on his nightly talk show Watch What Happens Live with Andy Cohen
Other famous men who became parents while single include, actor Hill Harper, who adopted a son, while  there is apparently a growing trend of single men turning to surrogacy, according to recent reports.
International soccer star and the most famous person on Instagram, Cristiano Ronaldo, is a surrogate to three children, two of whom were born when he was single.
In 2008, Latin pop sensation Ricky Martin used a surrogate to father twins while he was also without a partner at the time. He has since welcomed a daughter, Lucia, with his husband Jwan Josef.
In a blog post on the E network's Daily Dish Blog, an expert explains the trend:
"There are many reasons why some men don't start a family in their 20s or 30s. But it's not too late to have a child, even if you don't have a wife or a female partner? Single men who want to have a biological child of their own, both gay and straight, are starting to turn to IVF and surrogacy," reports WINfertility, an organization which assists men in becoming single fathers.
"It's not a simple process — basically, a single man who wants to be a dad needs an egg donor, a gestational surrogate to carry the child, and IVF to make fertilization of the egg and transfer of the embryo possible. There are hormones to take, sperm to donate, tests to undergo, egg testing to be done, contracts to be signed. It can be a years-long process. Which means that if you do it, you really want it."
But according to Gayle East, owner and director of Surrogate Solutions in Hewitt, Texas, single man surrogacy is becoming more prevalent!
The type of guy who will be willing to undertake such a life-altering move are professionals who are financially stable and ready to settle down but they haven't found a partner yet.
"They're single guys who've been working in a career, saving money and becoming more financially secure. It's very doable for them," says East. "In the past, there was the stereotype of moms raising a family, but they're seeing same-sex couples with families. And now, watching other guys go through this process will probably give more single guys the courage to do this."
Congrats to Cooper!