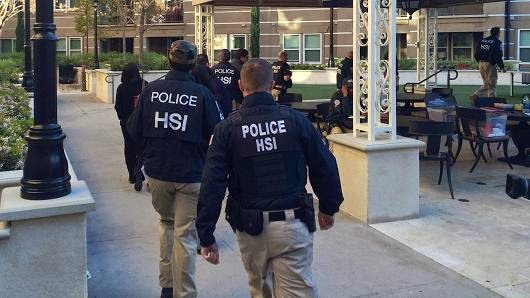 On Tuesday, US federal agents raided over three dozen "maternity hotels" in Southern California that housed foreign women, mainly rich Chinese, who came to America solely to give birth to a US citizen baby.
In 2012, about 10,000 Chinese women gave birth in the US which more than doubles the 4,200 who gave birth in 2008, CNN reports citing Chinese state media.
Companies use social media to advertise the scheme promising to house women in these hotels and some apartment complexes in Los Angeles, Orange and San Bernardino counties. The women paid between $15,000 and $50,000 for housing, transport food, but not necessarily medical care, US Immigration and Customs Enforcement said in a report.
Court papers indicate that bank statements for one maternity tourism company showed monthly gross receipts of $213,968.79 and annual income of $1,283,812.74.
The families are wary of the pollution and food shortages in China and they believe a US Passport could be a ticket for the family out of China in the future. The children would get access to good education and other benefits and can later petition for their entire family to emigrate to America when the baby turns 21.
Traditionally, such activity is associated with Hispanic American women and men from Mexico and south of the border nations who cross the border without authorization, settle in America and have children who provide ample opportunity to remaining in the United States. Some anti-illegal immigration advocates have previously used the derogatory term "anchor babies" to apply to such children.
This current scenario is certainly outside of that previous aspersion, but to some would arguably equally apply. Arguably, one can empathize with parents who are simply looking for better opportunity for their children and families. However ,the argument can be made they should not be exploiting the laws of the United States to jump ahead of legal immigrants waiting for visas or to get government aid especially when their families wouldn't have paid taxes up until the children grow up and get a job to support such aid.
This is not new either Each year, and as recent as 2012, there were raids on similar birth tourism operations. It's an ongoing challenge for US immigration.
What are your thoughts on the matter? Comment below.