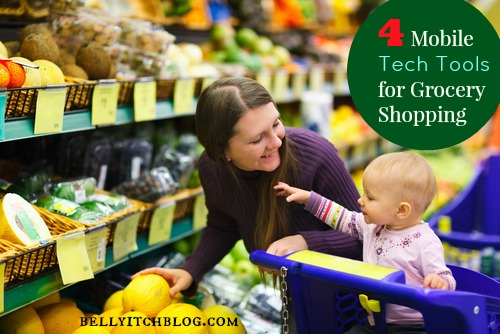 Whether you have grown up kids, are a new parent or are expecting to be one soon, you know that grocery shopping for a family is a weekly, if not daily, battle. You want high-quality food and household products at a fair price with as little hassle as possible, right? Luckily, the world of technology and mobile accessibility has made grocery shopping a lot easier and convenient. These apps and tools will help make your trips to the store shorter, simpler and a lot less stressful.
Shopping List Apps
You know that feeling of frustration when you get to the store and realize you accidentally left your list at home. You also know that you will most likely forget something you need and have to go back to the store later. It's easy to do when you are relying on pieces of paper that are frequently lost or forgotten.
But one thing you are likely not to forget when leaving the house is your cellphone. There are several apps you can download to your phone that help you make organized lists that you can access anywhere. PCWorld recommends several apps, such as Clear, which is a list-making app you can use for groceries, chores or anything else. There are also shopping list-specific apps such as Grocery Gadget and Grocery IQ, which have large databases of frequent grocery items as well as an option to scan barcodes to add something to your list.
Virtual Coupon Clipping
Flipping through stacks of newspaper ads and carefully cutting coupons while trying to keep them all organized is an arduous task to say the least. It's even more so when you get to the store with your stack of clipped coupons to find out they're expired. Luckily, you can clip coupons online and on your mobile device and redeem them at the store. Many big-name stores today have apps with coupon redemption options; for example, Target's Cartwheel app gives you exclusive discounts you can't get with any other coupons.
If you want all of your coupons in one place, however, Consumer Reports recommends using tools such as Coupons.com that keep coupons from every store you shop in one place. Grocery IQ, the list-making app, also recently added a feature that automatically brings up any possible discounts for products on your lists.
Online Recipe Geo-Tags
Many people search online for recipes when they are planning meals for the week. To add to the convenience of online recipes, many sites are now implementing a geo-tag option on the recipe page that shows you discounts on ingredients at stores in your area. For example, Kraft's recipes show deals in your zip code as you scroll down the list of ingredients. You can check items you have or make a list of ones you need as well as find a coupon for the products you are going to buy.
Ordering Groceries Online
Large chain grocery stores such as Safeway launched online grocery ordering and delivery services a few years ago, but they were slow to take off. This was mainly because people didn't want to wait several days to get the items they needed. Today, however, grocery delivery services have expanded and improved, and now you can get almost anything on your list delivered the same day you order it.
I recently used Drzly to order alcohol and wine for friends and discovered for a small delivery fee of $5 it was way less than shipping wine from established retailers. I plan to use them often. Sign up for them using my code: https://drizly.com/i/crvut
Epicurious outlines some of the best options for grocery delivery services, such as Instacart and Google Express, which do your shopping for you and deliver to your home, usually for a yearly or monthly fee. Other stores like Whole Foods and Amazon Prime Now offer their own delivery services that are available in as little as one hour.