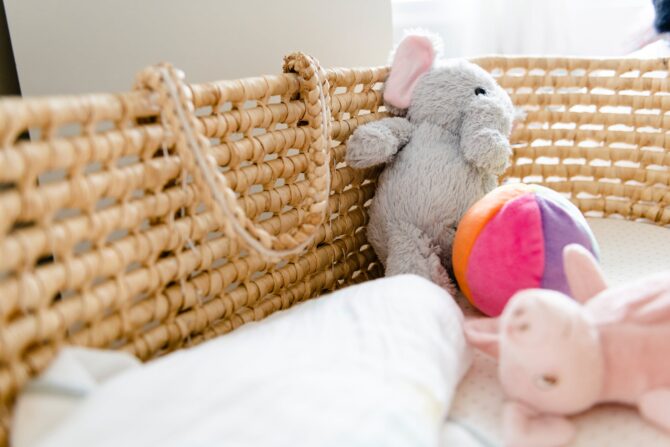 When you learn of a brand new bundle of joy's impending arrival, one of your first thoughts may be of the nursery you'd like to create for him. After you've adjusted to the idea of bringing a new life into the family, you'll be faced with a staggering array of decisions that make life in the months before your baby's arrival quite hectic. Creating a calm, soothing oasis from the frenetic pace of the world can help you and your baby find some serenity. These tips can help you create the peaceful space you've envisioned and to perfect it before your baby arrives.
1. Color is Everything – The color of the walls and accents in any room set the mood. If you're shooting for a more tranquil, serene space, it's best to choose colors that promote those feelings. Bold and energetic colors like bright orange or red may not be conducive to rest, while pale blues and greens can have the desired calming effect.
2. Skip the Frilly Bedding – A crib that looks like a magazine layout may create a sense of pride for you, but it can be dangerous for your baby. Making sure that he gets a good night's sleep without increasing SIDS risks is a parent's job, so make sure your nursery planning takes American Academy of Pediatrics guidelines into consideration.
3. Don't Forget the Window Treatments – Blackout shades can help you keep the sun out of Baby's eyes while he naps during the day, creating a soothing space. You will want to make sure that you choose window treatments that don't pose a strangulation risk, as babies can become entangled with cords that are within their reach.
4. Include a Comfy, Adult-Sized Chair – The nursery may be your baby's room, but you'll be spending many sleepless nights there as well. A comfortable chair that accommodates a sleepy adult will be a blessing for you, boosting the overall feeling of calm in the room.
5. Make the Most of Nursery Closet Space – Clutter doesn't promote calmness, so devote some energy to effective closet use. Babies may be tiny people, but their stuff can take up an astounding amount of space!
6. Keep Storage Solutions Simple – The cute tub you've found for storing diaper wipes may be a thematic match with the room, but you won't be soothed for long when you realize it's too complex to open while holding down a dirty, squirming baby.
7. Choose Functional, Multi-Purpose Furniture – Rather than buying a changing table that serves no other purpose, consider a nice dresser with a safety rail installed and a soft changing mat placed over the top. When your child is out of diapers, it'll still be a functional piece of furniture.
8. Be Budget-Conscious – The most beautiful, perfectly designed nursery will create nothing but stress if you dramatically exceed your budget in terms of planning. To make sure that Baby's space isn't a source of grief for you, keep an eye on your spending.
9. Look Up! – A newborn may not notice, but an older baby spends a significant amount of time on his back, looking at the ceiling. When you paint and decorate the nursery, keep in mind that a stained ceiling in need of painting can cheapen the rest of the room.
10. Choose Safe Paints – Finding the perfect shade of paint is a key aspect of creating a soothing and tranquil nursery, but it's important to make sure that your wall colors are of the low-VOC variety. Volatile organic compounds can cause respiratory irritation and other health problems, which isn't an environment you'll want to bring a baby into.
11. Incorporate Heirloom Pieces – The crib you used as a baby, a rocking chair that came from your partner's nursery or other heirloom pieces can be perfect ways of adding personal, comforting touches to a nursery. Just be sure that they meet current safety guidelines.
12. Think Outside the Big Box Retailer – There's nothing wrong with opting for mass-produced accessories, but artsy parents may find that they're more satisfied with the efforts of independent artists and creators.
13. Look for Pieces That Grow With Your Child – Having a few pieces of furniture that your child can use as he ages will create a sense of routine and comfort for your child, along with a feeling of consistency.
14. Consider Tradition Over Trends – What's trendy today may be old news tomorrow. Furthermore, fad decorating is known more for being cutting-edge than aesthetically pleasing. A traditional, comforting nursery may be more soothing than a haute baby space.
15. Integrate a White Noise Device – Infants fall into a deep sleep when they hear the sound of the washing machine or the gentle lull of the road beneath the tires for a reason. Replicating these sounds with a white noise device can help your child feel more comfortable and calm in his nursery.