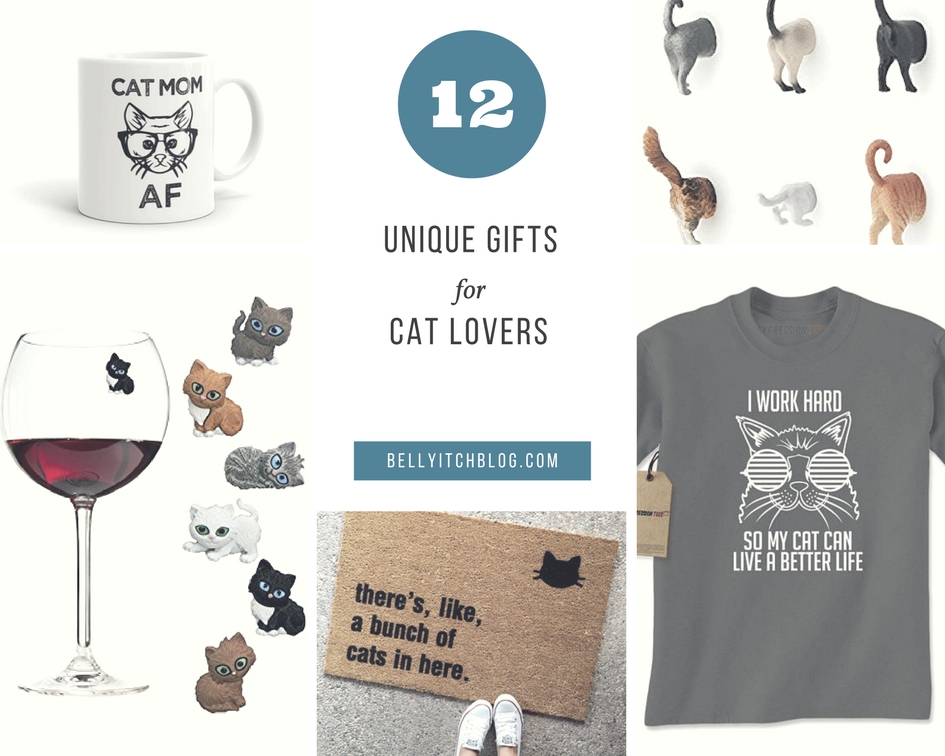 I am a recent mom to pets, a couple of guinea pigs named Rocky and Balboa. Really, they are my middle kid's pets but I spend so much time with these two little guys that I feel quite connected to them. I also spend the most time with them compared to other members of my household who work or go to school away from the home. This is the closest I've come to being a cat lady but certainly, I have quite a few friends, relatives and colleagues who are gaga for their cats.
I'll be getting some of them cat-themed gifts this year for the Holidays. While shopping for items under $20 to get for them in honor of their love of all things cat-related, I came across a few very unique items.
I'm all about sharing my finds, so I decided to do a complete gift guide for the cat lover or fan in your life as well!
The Best Cat Mom Ever Middle Finger ceramic coffee mug is hilarious! This white ceramic mug holds 11 ounces of liquid and it a great gift idea for a coffee or tea lover. 
Kikkerland Cat Butt Magnets, Set of 6  These little magnets are so adorable and fun. If you look closely, you'll notice that that cover 6 different breeds of cats! These magnets measure  2 by .75 by 1.25-inches and are functional and decorative!
Cat Mom AF funny women's coffee Mug As a fan of modern lexicon, I certainly can appreciate the AF suffix on anything and so, I equally smiled when I saw this mug cross my computer screen. It is ceramic, dishwasher and microwave safe and has a bright and vivid print.
Kotobuki Maneki Neko Charm k  Whether you believe in luck or superstition or not, you have to admit that this Japanese-made folk craft cat which symbolizes  good luck and is believed to ward off bad spirits is super adorbs!
Simply Charmed Cat Wine Charms or Drink Glass Markers  As a lover of wine, I approve these cute glass wine charms that attach through any type of glass, including stemless glasses, martini glasses, Moscow Mule mugs and even coffee cups!! They'd make the perfect gift for a hostess who owns cats or just loves them.  According to the makers, when not in use, you can even use them as cat refrigerator magnets. Nice!
Work Hard For My Cat Mens T-shirt –Whether one has children or not, an owner of a spoiled and pampered cat knows that a good portion of her earnings or salary goes to support her or his fur baby. This made-to-order shirt, sold on Etsy, signals this fact to the world.
Portable Cute Cat Tail Heat ResistantGlass Tea Cup with a Lid & Strainer T You can brew your tea right inside this cat-themed tea cup made of thick, heat and explosion proof glass. It holds 14 ounces of liquid and has a big mouth opening fo rsipping directly form teh mug! It has a cat-shaped lid and the cover locks into place to make sure the water doesn't leak out! Very innovative and cute! 
Cat Lover Gift – Cat Shirt – Book Lover – Cat Tshirt – Book Lover Gift –
his oversized Tshirt encases some of the greatest vices – Cats, Book and Tea. This makes a great gift for any cat lovers or book lovers. This shirt is expertly handcrafted with high grade vinyl and customized to your choice of three colors. This shirt will be a staple in your wardrobe year round and makes the perfect gift. It is a comfortable style shirt perfect for cuddling up with a good book and a hot cup of tea.
Cute Cat Butt Tail Plush Shoulder Bags Purse – I cannot help but smile broadly when I see a cat butt! Ok. That sounds weird cut this plush cat bottom purse by  Mathew Fisher Fashion  is the cutest thing I've seen all week!
I Wish I Could Text My Cat Sweatshirt
u You don't have to be a fan of cats to appreciate the fact that sometimes, you just wish you could communicate with things that cannot talk! This handmade Etsy item is also made-to-order and would make a puuuurrrfect gift this Holiday season!
More Wine Right Meow wine glassf Again, this wine lover loves a fun wine glass that doubles as a social media meme! This handmade wine glass is made-to-order and ships worldwide.
THE ORIGINAL bunch of cats in here™ doormat – This isn't  under $20, but I had a good chuckle when I saw this house door mat!