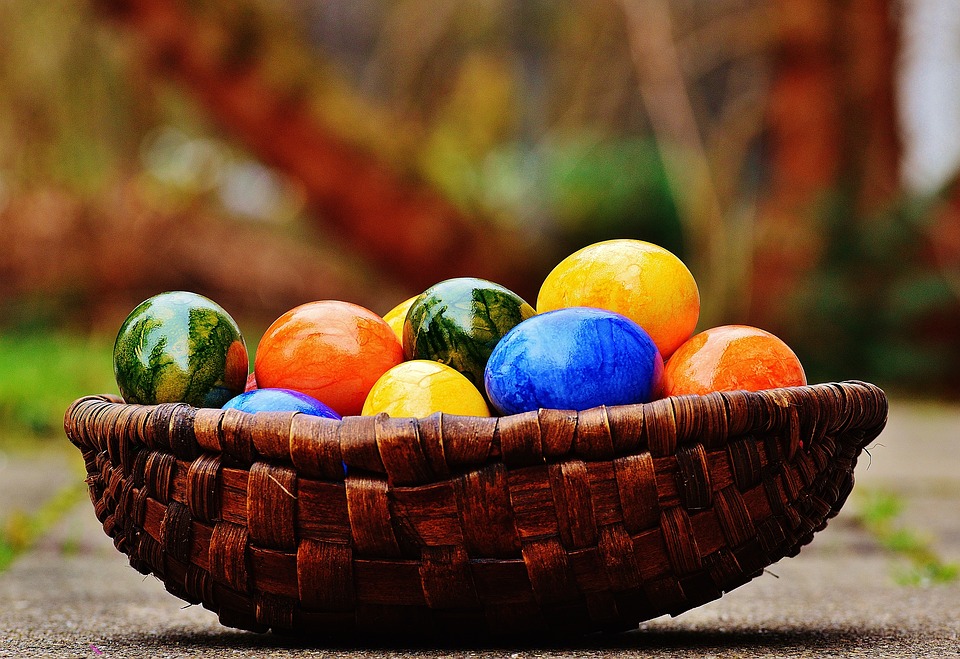 Easter is around the corner. If you are in the hunt for new or different ways to have fun with the kids on Easter weekend, here are 10 unique and innovative ideas compliments of SheKnows:
1. Easter bunny tracks
A full-blown Easter egg hunt guided by the Easter Bunny himself? Surely there could be nothing more adorable. The kids will love waking up on Easter morning to find that the Easter Bunny has left them a personalized note and a few bunny tracks pointing them in the direction of the hidden eggs. These cute printables make setting up the bunny track hunt a breeze.
2. Easter egg garden
For very young children, this is as cute as it comes. If they're too little to hunt well in the yard, you can make your own Easter egg garden that "grows" plastic eggs instead. Placing candy-filled Easter egg flowers in the grass or sand will make it easy for even the littlest ones to find their treats.
3. Indoor egg hunt
If you live in a part of the country where spring hasn't sprung yet, all hope is not lost. You can turn a cold or rainy Easter day into an adventure when you tell your kids that they're going to hunt for all their eggs and Easter trinkets inside the house. To make the indoor egg hunt even more unique, try hiding the eggs in a trail or with clues leading to one giant Easter basket.
4. Golden egg hunt
Little mateys at that pirate-loving age will get a kick out of this specialized Easter egg hunt. When kids know there is "buried treasure" involved — like a one-of-a-kind golden egg left behind by the Easter Bunny — they're likely to take the hunt a little more seriously. Bonus points for putting some booty (read: money) inside or attached to the golden egg.
5. Letter hunt
Learning can be fun, right? For younger kids who are just learning to spell and read, they'll enjoy hunting for Easter eggs that each contain a letter to spell out a hidden message. Kids can work together to find the letter-filled eggs and put together the Easter message ("Some bunny loves you," for example) to earn their Easter prize.
6. Easter egg decoder
This is a great one for a larger group, since kids will need to be broken up into teams. Teams of three or four can hunt to find as many mismatched eggs as they can (where the wrong-colored halves of plastic eggs have been put together). Once the eggs have been found, teams can take apart and reassemble the right-colored halves of the eggs. The first team to "unscramble" their mismatched eggs gets a big, ol' Easter basket filled with candy.
7. Kid-guided hunt
For any kid who loves to pull a fast one on their parents, they'll be thrilled to be put in charge of the Easter egg hunt for the day. Ask your kids to hide a basket of candy-filled eggs around the yard and watch as you try your best to find them. Any eggs that aren't found within a certain time limit — say, 10 minutes — the kids get to keep and eat.
8. Scavenger list
This one's for elementary school and older kids who are looking for a little challenge: Make over your traditional Easter egg hunt using a scavenger hunt checklist. You can task kids with finding a variety of different objects hidden around the yard (like four blue eggs, six yellow eggs, two chocolate eggs and a chocolate Easter bunny) before time is up.
9. Exercise scavenger hunt
Kids have a lot of energy to burn — we know this much is true. So, if your kiddos have been begging for Easter candy all day long, why not make them work for it? Hide sports-themed Easter eggs that contain an exercise instruction along with a candy treat. Kids will have to do 10 jumping jacks, run a lap around the yard or jog in place before they can move on to the candy in the next egg.
10. Glow-in-the-dark hunt
This one might require a little patience, but it is so worth the wait. If you can get your kids to hold off on their Easter candy extravaganza for most of the day, then the reward will be even sweeter — an Easter egg hunt to find glow-in-the-dark eggs is perfect for older kids looking for a thrill.
11. Easter egg piñata
Or how about you forgo the logistics of an egg hunt altogether and just hit some stuff with a stick? Buying an adorable Easter egg piñata — or making your own — is ideal for smaller kids who may not understand how to hunt for eggs yet, as well as older kids who just want to do something different this year. To make things even more interesting, try your hand at mini piñatas so you can make a special candy-filled creation for each kid (to destroy).