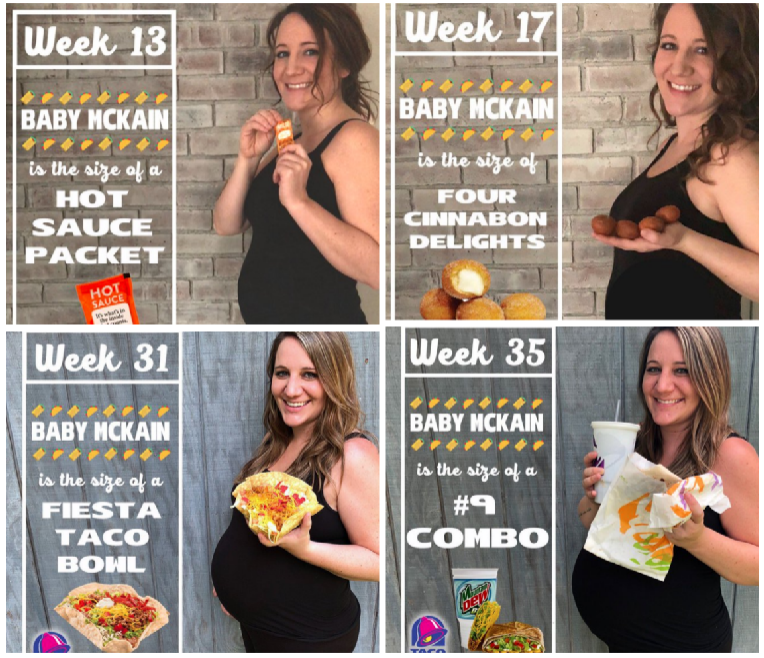 The weekly or monthly belly progression graphic is a common thing created by our new generation of expecting moms, especially among my fave generation, the very creative millenials.
One expectant Kentucky mom decided to use Taco Bell menu items to document her pregnancy and belly growth.
"I was brainstorming with my family and my brother-in-law suggested Taco Bell and I thought 'Of course!' It seemed so obvious," Kelsey McKain revealed to Taco Bell's blog. "After that I looked through the Taco Bell menu and created a week-by-week spreadsheet with how big the baby would be and chose a corresponding Taco Bell menu item. I've been working from that every week," Kelsey said.
And Baby McKain seems to agree with mama's choice. According to Kelsey, her baby girl moves around like crazy after she eats it. Ha!
Wanna check out some:
Week 15! Baby McKain is the size of a @tacobell side of nachos! #tacobell #tacobellnachos #pregnancy #babybump #pregnant #weeklybumppic #15weekspregnant pic.twitter.com/e7If2HpO3z

— Kelsey McKain (@kelseymcmullen) March 19, 2018
It's week 35 and Baby McKain is the size of a @tacobell #9 combo (a taco, Crunchwrap, and large drink)!#tacobell #combo #crunchwrap #taco #baby #pregnant #maternity #35weeks #thirdtrimester #3rdtrimester #babygirl #babybump #bumppic #weeklybumppic #pregnancy #septemberbaby pic.twitter.com/6J0RyjQqxb

— Kelsey McKain (@kelseymcmullen) August 6, 2018
It's week 34 and Baby McKain is the size of a @tacobell #8 combo!#tacobell #combo #tacos #maternity #pregnant #baby #thirdttrimester #3rdtrimester #34weeks #34weekspregnant #babybump #bumppic #weeklybumppic #babygirl #septemberbaby #dueinseptember pic.twitter.com/1Y003VowgR

— Kelsey McKain (@kelseymcmullen) July 30, 2018
We're at 33 weeks!! And this week baby girl is the size of a @tacobell Steak Nachos Box!#tacobell #steaknachosbox #thirdtrimester #pregnant #pregnancy #maternity #baby #babygirl #3rdtrimester #babybump #bumpic #weeklybumppic #septemberbaby pic.twitter.com/Ksq6lX76fi

— Kelsey McKain (@kelseymcmullen) July 23, 2018
Week 32 and Baby McKain is the size of a @tacobell Power Menu Bowl!

#tacobell #powermenubowl #3rdtrimester #thirdtrimester #32weeks #32weekspregnant #pregnant #baby #maternity #babybump #bumppic #weeklybump #babygirl #septemberbaby #dinobaby pic.twitter.com/tpKJjE3pTl

— Kelsey McKain (@kelseymcmullen) July 16, 2018
It's week 30! 75% of the way there! And this week little girl is the size of a @tacobell chicken quesadilla!#tacobell #quesadilla #pregnant #maternity #baby #30weeks #30weekspregnant #thirdtrimester #3rdtrimester #babygirl #babybump #weeklybumppic pic.twitter.com/UgOhUwGijA

— Kelsey McKain (@kelseymcmullen) July 3, 2018
Week 26!!! Today Baby McKain is the size of a @tacobell Grilled Stuft Burrito!#tacobell #grilledstuftburrito #baby #pregnant #maternity #26weekspregnant #secondtrimester #2ndtrimester #weeklybumppic #babybump #babygirl pic.twitter.com/8yE59qHFcX

— Kelsey McKain (@kelseymcmullen) June 4, 2018