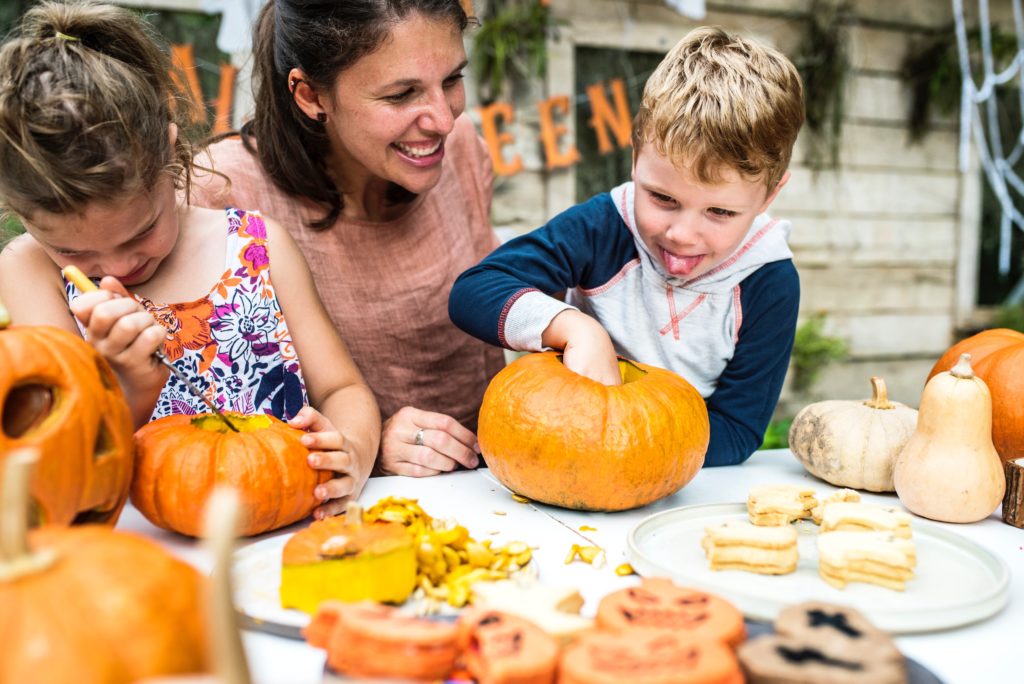 There's no need to break the bank when it comes to throwing your next kids' Halloween party.  By using items you already have around the house you can throw a killer party without spending a ton of money, and making your own snacks and beverages can also help you cut back on the expenses.  The kids will have a blast and you will be a Halloween hero, without going broke.
Theme
Deciding on a theme can help you tie all of the party details together. Here are a few kid friendly themes worth considering.
Ghouls and Goblins: Place tombstones in the yard for decorations, wrap hotdogs in dough and bake them to look like mummies and serve punch out of a caldron.
Witches and Fairies: Sprinkle glitter on table cloths and serve witch fingers and witch's brew.
Nutty Professor: Put out assorted jars filled with food coloring in water, make invitations in the shape of a beaker and serve drinks in test tubes.
Hogwarts: Line the table with white owls and fake snow and make pretzel stick wands that can be decorated and then eaten.
Invitations
Tie the invitations into the theme to help set the mood for the party and let the parents know what type of costumes the kids should wear.  By making your own invitations you can have something that is both unique and inexpensive. Here are some ideas for simple invitations you can make at home.
Tombstone Invitations: Using some gray cardstock, cut out the shape of a tombstone.  Using a black ink pad rub the edges of the tombstone to create an aged, dirty look.  Put a big RIP on the front and the rest of the party information inside.
Fairy wing invitations: Cut out the shape of a pair of wings.  Write the details of the party on the wings.  Take some vellum and cut out the same wing shape and attach it to the top with a brad.  Use plenty of glitter for the fairies.
Witch's broom invitations: Cut out the shape of the bristle part of a broom in a yellow or mustard color and print the details to the party on it.  Attach a craft stick or a cut down skewer to the back of the bristle portion.  Tie a black bow around the broom handle and you're done.
Decorations
Use things you have around the house that go with your theme.  Drape the furniture with white sheets for a spooky, abandoned look.  Fill recycled jars with water and food coloring; float various things in them like a plastic frog or plastic eye balls and cover dessert tables with black plastic table cloths from the dollar store.
Games
Play games that kids love, but add a Halloween twist to them.  Almost any game can be made into a Halloween game.
Monster Mash: Play fun Halloween inspired music and have the kids play freeze dancing.  Whenever the music stops they have to freeze in their spot.  If they move they have to sit out until the next song.
Flashlight tag: Supply everyone with inexpensive flashlights and let them chase each other around the back yard.  A variation could be to hide glow in the dark items and have everyone hunt for them.
Bobbing for apples: Float apples in water and have players try to grab an apple out of the water using nothing but their mouths.
Spooky Bingo: Set up the normal bingo cards, but use miniature bat cut-outs to cover the spaces, or go online and print out Halloween inspired game cards.  Light some battery operated candles and play by candlelight.  Turn on some spooky music and call out the numbers using a creepy voice.
Food
Choose food that the kids already like and dress it up for Halloween.  For example, you could take PB&J sandwiches and cut them out with a pumpkin cookie cutter, and then use a food safe black marker to draw jack-o-lantern face on it.  Serve bat or witch hat shaped cookies or brownies.  Give items on the party menu a creepy name by putting place cards in front of all of the food.  A bowl of grapes could be called, "Green Eyeballs," for example and a bowl of candy corn could be called, "Witches teeth".  Freeze some water or fruit juice in a plastic glove and then float it in green punch for some eerie fun.  Sprinkle in some creepy crawly decorations in and around the food trays.
Favors
Wrap candy bars with strips of medical tape to look like mummies.  Leave an opening to put in a couple of big googly eyes.
Kids will have fun no matter what they are doing so don't stress out too much over party details.  Create some suspense with the invitations, set the mood with the decorations and music, and feed them fun, creepy food and you will have happy kids.  Use your imagination and ask your kids what they want to do.  You might be surprised to learn what kind of fun ideas they have.