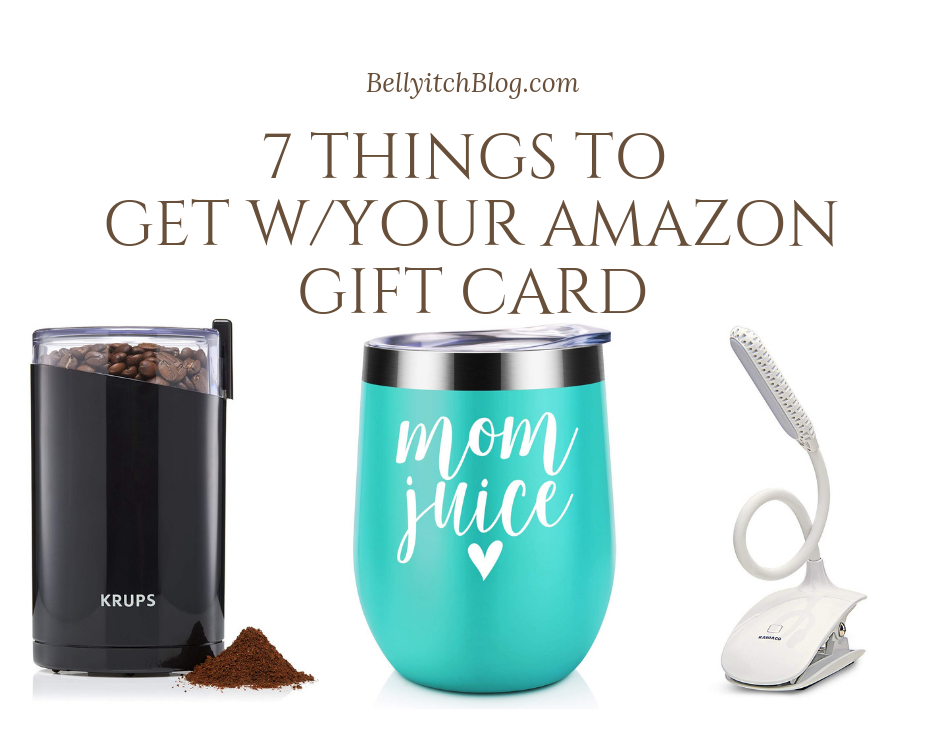 It's time to use those gift cards you got for Christmas!  Since 2005, some $45.7 billion has been floating around in unused gift card balances, according to Finder!
We can guess why. Life is Busy. We are Forgetful.  Don't join the statistic! Avoid hesitating on spending your gift card!
I recommend you get on Amazon and quickly order something you would ordinarily NOT get for yourself!
It is an excellent excuse to gift yourself something novel, fun, quirky or just different.
Here are 7 items I've seen, purchased, used and looked up to see if they sell them on Amazon and they do! Sweet! 
1. Game on!– Get nostalgic and play some of your fave Atari 6400 games you played as a kid with your own kids! We love Blast's vintage "Plug and Play" video game that comes with a wireless controller and features 8-20 classic video game titles like Centipede, Millipede, Yar's Revenge, Asteroids, Missile Command, Pitfall, River Raid, Space Invaders, Pac-Man, Galaga and Dig Dug. We picked one up at Target for like $25.00 on sale. Online it's at Amazon.com for just $18! My husband and I played for hours with our kids on Christmas Eve! So fun!!! Thanks AtGames for gifting us a controller as well!
2. Coffee Lovers – I have been eyeing KRUPS'  Electric Spice and Coffee Grinder for a while now and it's down to $15! Perfect price point for this best selling press machine for coffee aficionados like myself! It makes 3 ounces worth of  yummy goodness in about 10 seconds! Love mine! I got one for Christmas and I'm hoping it saves me money on Starbucks! Oy vey! LOL!! 
3. Wine On – Ever since I won a wine tumbler in an Instagram contest, I've not stopped using mine. Not sure if to laugh or cry about that! ha! If you have an Amazon gift card, you can pick one up for under $20!  It's my go to at the end of a trying week!
4. Future seekers – Going in 2019, a lot of people have big dreams and hopes of making the next year better than the last. I'm a fan of astrology and birth order and the zodiac and I can say emphatically that I got my kickstart going thoroughly through the pages of Mecca Woods' book "Astrology for Happiness and Success!" ($10.39)  I not only perused Woods' very practical tips, delivered in a casual conversational tone for my sign, Virgo, I did for my children's and husband's as well. I found the career and wellness guidance extremely relevant and they appear so personalized to me! The book is wonderfully sectioned and organized making it a super easy read! You can pass it on to your mom, sister, bestie when done! Get it!
5. Ski down – It's the season for hitting the slopes and a new pair of over the glasses ski goggles would be a great gift to give yourself this winter! These are just $18 on Amazon! It gets good reviews, fits with your helmet and fog resistant! Looks like a winner! I think I'll get the purple ones!
6. Well Read – For the design and/or book lover, this exquisite reading lamp I peeped a teen using while sitting and reading books in Barnes and Noble over the holiday caught my eye. It is pretty, sleek and super portable. I asked her if she got it in the bookstore and she told me  no, Amazon! For just $15!!! I just ordered one! 
7. Wild Animal – Signal your love of your pet dog or cat with these adorable fridge magnets! I saw these on my girlfriend's fridge a few months ago! I thought they were so cute and they're only about $10 for a set on Amazon! 
Have fun shopping for stuff you know you may not ordinarily get for yourself!