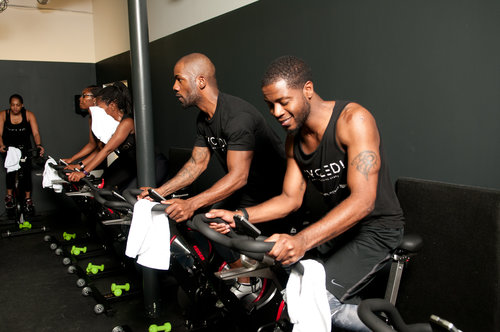 As a work-from-home mom and blogger, I have a little more time in my day to sneak in a quick trip to the gym or an exercise class before my children come home from school and I have to start shuttling them to various sports and music practices.
Although I belong to one of those big chain gyms, I like to diversify my work out routines to prevent boredom and prefer to patronize smaller boutique gyms.
The problem: In the county I live in there are not that many at all. In fact, a few years back, I purchased a Class Pass, a fitness disruptor app that lets you book unlimited exercise classes at various boutique gyms in your region for one low monthly price of like $99. Sadly, I had to cancel my membership because there were so few options available in my county it stopped making sense to keep it.
I would book classes in DC or Northern Virginia or Montgomery County which seemed to have 10 boutique gyms per mile but would routinely arrive after classes started because of traffic, distance, parking and other issues.
Every. single.time. It was a money pit.
Fast forward a few years, and on my own, from walking my neighborhood and scrolling Instagram, I discovered that there are close to a dozen if not more boutique fitness studios right here in my county or very close to it.
I've been to some but not all.
Here are 10 I recommend :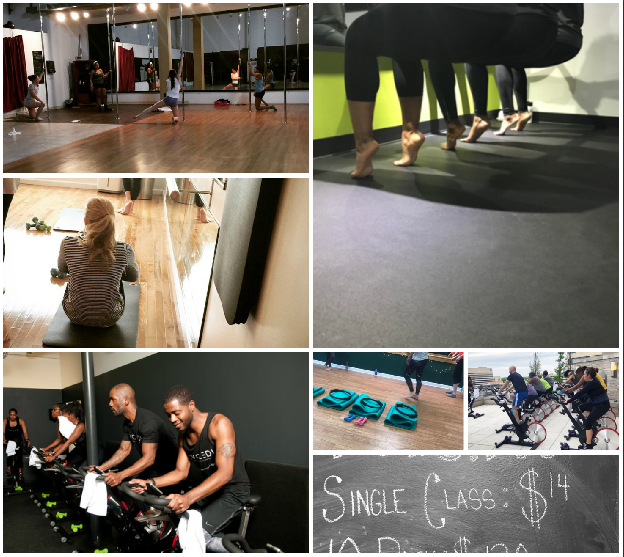 Barre
Open Barre Studios in College Park, Maryland is a quaint space located above the restaurants in a shopping center in the college town I live near and where I attended, the University of Maryland.
It was opened recently in 2017 by MD alum Lauren Filocco who told Diamondback she struggled to find fitness options outside the university gyms.
"Barre is not dance so much as it is a low-impact workout," she said. "It takes elements of ballet and it incorporates it into the workout, but you absolutely don't need to be a dancer to do it."
I purchased a first timer pass which allowed for unlimited class for the two weeks for like $30 I think. Now that price is $45 or you can take just 3 classes for the $30. Drop in price is $14 per class so that's still a $14 savings.
The staff is made up of a lot of students from the school as is most of the clientele. But there is a mix of stay-at-home local moms, retirees, and young professionals in the county who are excited to finally have a place to practice barre.
I might be wrong, but I believe this is the only barre studio in the entire county of about 1 million people! Crazy, right?
It has a ton of fun themed classes: Mommy and Me, Doggy and Me, Beyonce, 80s, 90s pop, sorority or fraternity, bring a significant other and more galore!
Also, the best part is the price point is perfect, starting at just $5 for the Happy Hour Barre classes on Fridays starting 4:30.
You cannot beat this anywhere in the tri-State area including Virginia and DC!
Students (and Alums) get the discount monthly price of $75 for unlimited classes which cost $99 for non-students.
I love this space and come as many times I can in given my and my kids' hectic schedules.
Cross-Fit
Again, the pickings are slim in my county and I do not know of any studios in any other part of the county other than Cross Fit Hyattsville!
It is located in a spacious 5700 sq ft warehouse unit so there's tons of room for a large pull-up rig, climbing ropes, rings, and 130 ft running lane that is also used for sled work, handstand walks, tire flipping and all the other crazy strength, conditioning and body building tools and apparatuses associated with Cross Fit training.
Membership is more of a price commitment at $145 per month for 9 classes but you save $10 if you commit to 3 months. For $170 you get unlimited classes as part of a 3-month commitment but that price jumps to $185 if you opt for month-to-month. Don't worry, you can check it out for FREE!
Cycling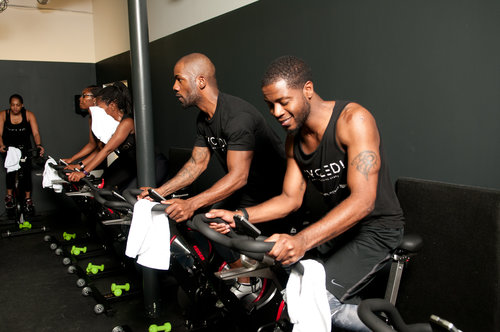 CYCLED – I recently discovered this two studio boutique cycling and exercise space while waiting for my son and daughter to get out of swim practice. One is located in Takoma Park, DC near the DC, Prince George's and Montgomery County borders so it is centrally located for people in my county to get to and right next door to a Starbucks you can get a jolt of espresso from before your ride.
It also offers barre and yoga sculpt classes.
I finally got to check out a complimentary class last month and loved it! I got a great work out and even though I came in dead last (there is a competitive part and they email you your standing after class) I really enjoyed the experience. The music was booming and kept me hype and energized. The intimate space made the experience climatic!
Amenities include a towel at each bike for riders, spacious cubby lockers, a shower, coat racks and water station to refill a water bottle. The instructors are super nice, accommodating and tend to each individual student so you don't ever have to feel intimidated or unsure if it's your first class.
I also got a chance to later check out the Soca Ride at its Silver Spring location, Sundays at 9 am taught by Grace S and had a ball! It was just after Trinidad Carnival so really got me going playing all the latest hits by Machel, Mister Killah, Patrice Roberts, Super Blue and even a mix of high energy pop and reggae in there.
The motto of the studio is "Less Cult, More Community" perhaps to take on the intense intimidation factor that occurs when newbies join a gym made up of die-hard fitness loyals to that particular gym.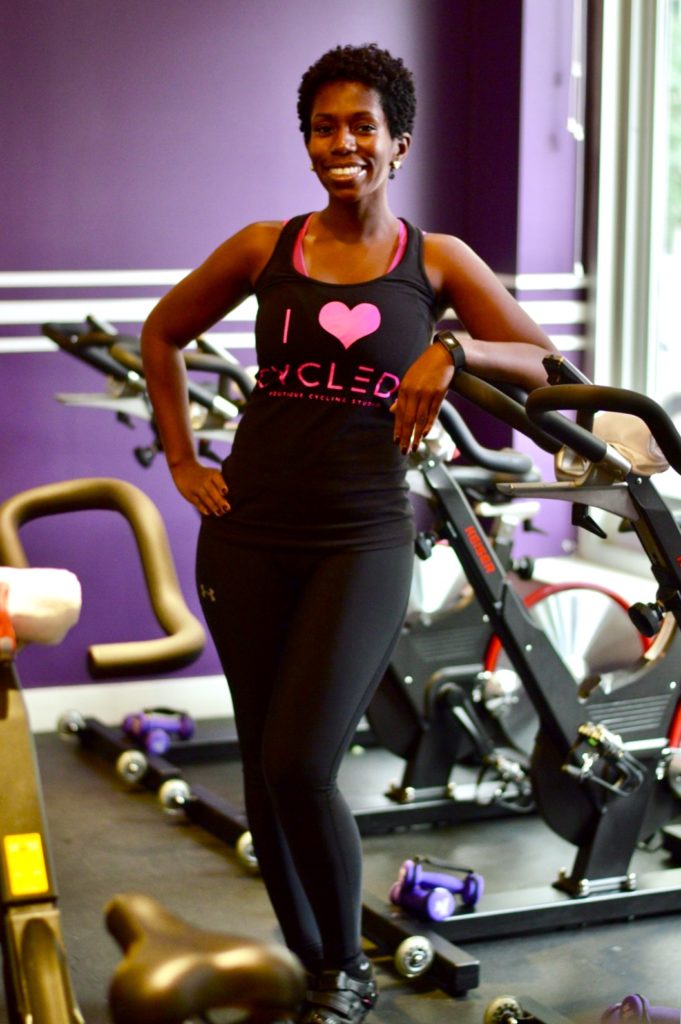 Dr Shayla Cornick started the studio with just 11 bikes at her Silver Spring location before opening a second studio in Takoma Park.
Prices start at $20 per drop in and they offer generous discounts, and have other free class offers, as well as a challenge to encourage members to partner up and win prizes for going on rides.
Kickboxing
The iLoveKickboxing revolutionary system of gyms has a location in Hyattsville that I see always full of energetic members. The windows are blacked out by the dressing for privacy but I can still feel their power as I walk by.
To start is steal: $45 that includes boxing gloves and there is always a deal for much less on Groupon. After an initial class, the price may jump slightly but by then, I imagine you're hooked. I love kickboxing and have been meaning to try this spot out too for a while. I think I will soon.
Pole Dancing
I took a class at My Body Shop back in 2015 on my Class Pass because it was one of like 3 studios in the county on that system (and still only 1 of three studios). The studio is spacious with cubbies in the back. There are ample poles and silks and lots of mirrors to check your form. They also teach chair physics, twerk and other forms of dance here.
The instructors were knowledgeable and nice but in the end, I found that it wasn't the fitness routine for me because of my lack of faith in the pole and my upper body strength! ha!
Classes are $27 each and packages start at $89!
I think it's still available on Class Pass. It hosts parties, workshops and has other fun events throughout the year and is located in the heart of Riverdale off 410.
No contract monthly packages for up to 8 regular classes and $10 specialty classes that normally cost $30 each are available for $89 which brings the cost down per class to about $11 and change! That's a great deal and will force you to attend to get your money's worth!
Total Body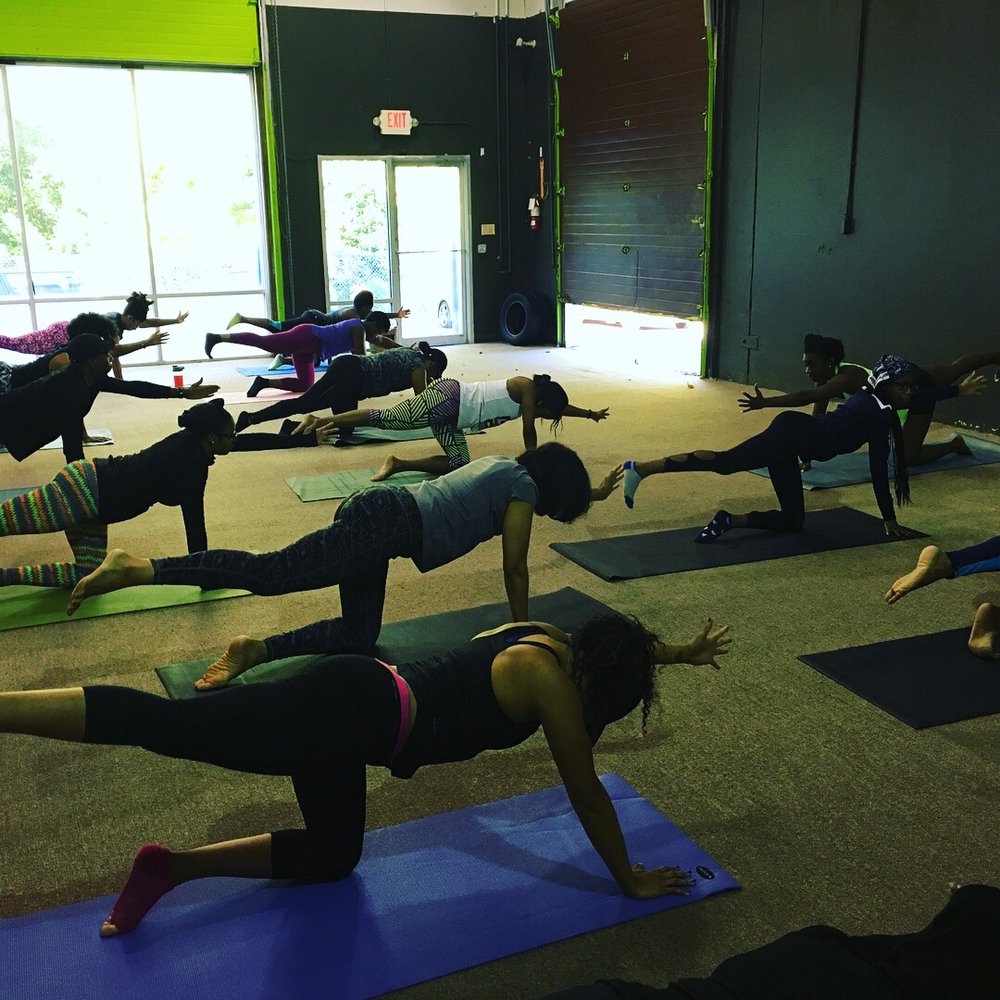 The only small gym I am aware of that is south of the Hyattsville, College Park and Riverdale area is Torch Gym in Capitol Heights!
It is a 3,000 sf personal training venue that combines Weight Training, HIIT workouts, bootcamps, group fitness and personal training. Drop in prices start at $20 and 4-pack personal training sessions are $45 with longer commitment packages starting at $100
I've never been but am excited to see another part of the county have a boutique gym. It is relatively new as well and was founded in 2016!
Yoga
There are a few more yoga studio options in the county, with a lot of them heavily concentrated in the Hyattsville, Baltimore Avenue-Route 1 Arts District corridor.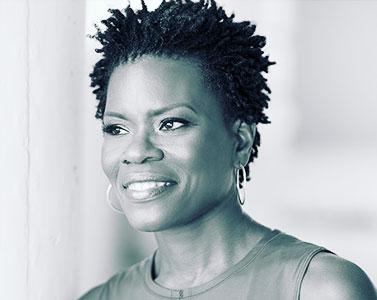 Bikram Yoga Works – Kendra Blackett-Dibinga owns this Riverdale studio that has been a regular staple in the community for several years. It started with hot yoga and recently expanded to include pilates. The studio started when Kendra's husband and co-owner, Omekongo, who was suffering from chronic groin pain and residual basketball injuries, turned to yoga as a holistic, non-medicinal and non surgical option.
It now boasts 6 locations in the county and DC (and Boston) and elite athlete training options, cryotherapy, fascial stretch therapy and hot barre at its Ivy City locale.

Classes start at just $10 per month and new students can get unlimited access at an introductory offer of just $45!

Love Yoga Studio is a nurturing family-friendly space in Hyattsville, Maryland that is also relatively new. Classes are capped at 12 to ensure max attention from instructors. The prices start at $17 but you can get an unlimited pass for a week for just $3 more! That's a bargain and great incentive to squeeze in as many sessions as you can that week.
I have never been to this studio but judging from the positive reviews on Google and Yelp, I am eager to check it out! Adult classes include: Beginners, Prenatal, Yin, Hatha, Vinyasa Flow, Alignment, and Community yoga classe
Yoga Works is a community studio located three blocks West of Route 1, nestled in Hyattsville's Historic District with a view of Gallatin Street Park. It caters to families of all ages, and especially neighborhood regulars.
Its certified teachers offer classes in Vinyasa, Hatha, Prenatal Yoga, Pilates, and our newest additions, Yogalates and Feldenkrais. Classes are reasonably priced at just $15 per class and $130 for a 13 weeks. It only accepts Cash or Checks. Interesting limitation in this digital world but alas, it is what it is.
NON BOUTIQUE BUT TRENDY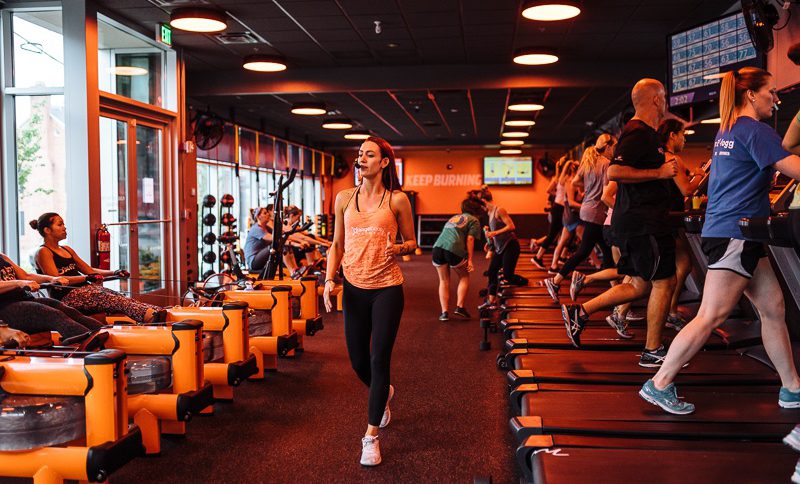 Orange Theory is not a boutique spot but rather a very popular chain. It has a national reputation and just opened up one of its newest locations on Route 1 in College Park.
It is billed as an experience: "a science-backed, technology-tracked, coach-inspired group workout with personalized results…led by a personal trainer, this hour-long HIIT class incorporates cardio, indoor rowers, weight training blocks, and floor exercises designed to give you results from the inside out for a longer, more vibrant life." Wow! Okay. Sure. I haven't gone to this one either but wanted to put it out there as an option.
It's a bit pricier at $28 per drop in class and $225 for a 10 pack session. I sense that members are full in similar to Soul Cycle and other trendy national gym chains.
That is it for now! I am happy to update this post if any of the owners spot any discrepancies. Also, I'm happy to append it with my own personal experience later.
Give me a holler at jj (at) bellyitchblog.com