I shared this blog post about Facebook tagging rules on one of my old blogs, MsChiefmakers and I'm resharing it here because I thought it was a fun share:
Along with all the positive impact of the social networking tool, Facebook, in bringing old friends, family and colleagues together, another effect is that it created a forum for Fashionistas to show off their uber cute outfits and looking fab photographed with friends on the social circuit.
Unlike celebrities however, the average Fashionista usually can't afford a closet of outfits she will wear only once, but she has to keep up the appearance of being trendy and fashion-forward.
Also, she cannot be caught in a compromising or unflattering position for fear of it getting out and ruining her Fashonista reputation.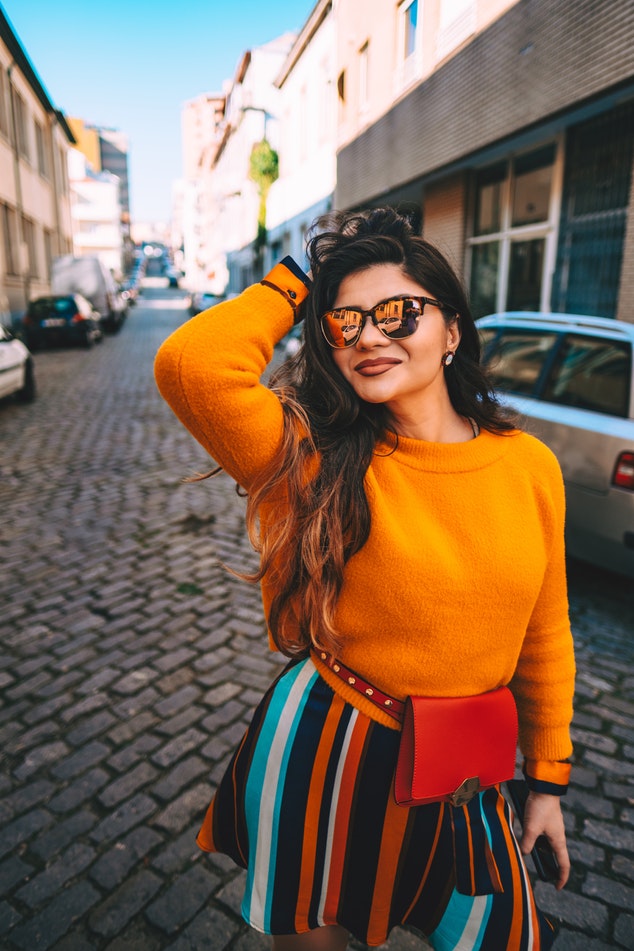 An unintended consequence of Facebook is that it creates a memorial of your outfits that can be easily tracked, making it easy for your fashion nemesis to spot when you've repeated an outfit, for example. 
What to do? What to do?
Abide by these 5 rules of Facebook Fashionistas that's what!
1. Never be tagged wearing the same outfit at an event at a party Or keep a healthy 10 event distance before repeating an outfit. If you find yourself in this dilemma and spot a camera aimed in your direction and you know the camera person (like me) will likely upload the photo and TAG you in it, you can play it safe by turning your head so that you are not recognized and get tagged.
People who like to tag random elbows, backs and shoes they recognize in a photo are not good people or pressed to share with their friends that you were at their event. 
Notwithstanding the rules, it's safe to throw a jacket overtop a dress you wore before 10 events especially if the jacket stands out and deflects from the garment underneath that breaks this rule. It's also safe to rearrange pieces of a repeat outfit into a totally different ensemble. Scarves, hats, and funky earrings also help deflect the attention from a possible repeat.
You can always swap outfits with a friend or sister. That works too!

2. Keep friends who know well enough to NOT tag you looking bloated, cross-eyed, with your mouth open and/or with food in it, looking like a doofus, hunched over, dumpy or caught in an under the chin shot which is a bad angle for all people young, old, short, bald, fat, skinny.
Facebook Fashionistas look out for each other. We crop, edit, photoshop and definitely DO NOT tag friends in unflattering or compromising positions or photos. People who are willing to tag you because they think THEY look good in a shot and totally ignore the fact that you have a dollop of barbecue sauce smeared on your chin should be warned. Privately. Inboxed of the offense. Politely, of course. Put a smiley or "lol" after your warning so not to offend. If they commit the act again, see Rule 4.

3. Do not be afraid to exercise the UNTAG button. Friends, if your Facebook pal untags a photo of herself in a  photo you have tagged, do not take offense. It's what Facebook Fashionistas do.
4.  Exercise the power of the privacy settings.
If there is a friend who insists on tagging you in unflattering photos and does not abide by the Facebook Fashionista rules, feel free to block, unfriend or put them in a group of folks who you ban from seeing all photos or posts by you.
You can take them out of Facebook Jail after a while.
By then, your lack of constant contact with that person would downgrade you on their Facebook feed anyway, saving you from having to deal with them when they discover the last post they read from you was 2 years ago.
5. Always insist on photos being taken at eye level or above to capture your best angles and portray you looking your leanest. 
Only super skinny models can get away with that up the nose angle. Since most people, even professional photographers at parties use digital camera, exercise your right to inspect and approve an image.
Don't risk having a fugly photo posted all over Facebook by not standing over the photographer and insisting he delete an unflattering photo. If you aren't able to have it deleted, thank God Facebook lets you untag.
If you know the album owner well enough, you can inbox and request they delete the photo from their album. Fellow Facebook Fashionistas usually oblige.
Get out there and LOOK GOOD girls!