When Belarusian tennis ace Victoria Azarenka announced her surprise pregnancy, she feared that she would never play professional tennis again, despite confirming her intentions to return to the court after giving birth. Azarenka was ranked sixth in the WTA world rankings at that point and had just celebrated landing her 20th WTA tour title.
In a recent interview, Azarenka said that when she was forced to cut her 2016 season short, she admitted her initial thought was "oh my god, I'm never going to play tennis again".
Ending her 2016 campaign was like "ripping off a band aid" to Azarenka. She admitted that she cried down the phone to her mother, but soon realised that she didn't know what she was crying about.
Azarenka eventually took to motherhood like a duck to water. She said that after giving birth to baby son, Leo, in December 2016, she "felt so much stronger physically" and that her "body finally matured into being a woman".
She returned to the WTA circuit in June 2017 and went deep into the fourth round at Wimbledon, which was a big achievement considering her nine-month absence.
Azarenka's decided to return to tennis quickly after giving birth, around the same time as Serena Williams, who recently opened up about her insecurities as a mom, announced her own pregnancy, This brought the WTA's maternity policies into the spotlight once again.
Last year, Azarenka and Williams, along with Venus Williams, Johanna Konta and several other stars, successfully campaigned for the introduction of improved ranking protection for expectant mothers playing on the circuit.
Prior to the 2019 season, female players had to return from giving birth or injury within three years to be able to utilize a special ranking for eight tour events in a year. However, this year, players returning from childbirth or injury can use their previously held ranking to enter up to 12 tournaments during a three-year period.
They will also not be required to face a seeded player in the first round of a tournament. Azarenka said: "We have the power to change the rules and we have done." The 29-year-old says that "is what [she] wants [her] legacy to be".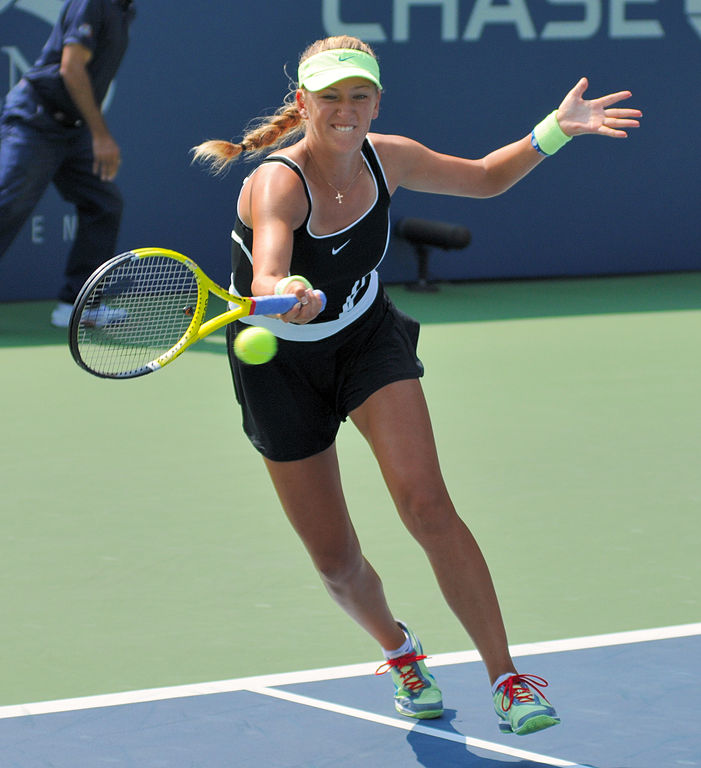 On the court, 2018 marked a solid return to action for Azarenka, who returned inside the top 100 in the WTA world rankings. A semi-final run at the Miami Open was arguably the stand-out moment that underlined her return to form.
However, at Wimbledon, she would reach the mixed doubles final, partnering Scotsman Jamie Murray.
At the beginning of this year, Azarenka finally managed to return to one of her favorite events, the Australian Open, after being forced to pull out of the previous year's tournament due to her ongoing custody battle.
Although the Belarusian slipped to a disappointing first round loss to Laura Siegemund in Melbourne, Azarenka has since enjoyed greater success both in singles and doubles.
In the former, she battled her way to the final of the WTA Monterrey Open, before having to retire in the second set against defending champ, Garbine Muguruza.
She also bagged some silverware in the doubles, winning in the Abierto Mexicano Telcel hard court tournament with partner, Zheng Saisai.
Hard courts have always been favoured by Azarenka, due largely to her aggressive baseline style. She has two Australian Open titles to her name, but the US Open is the other hard court Grand Slam that has alluded her thus far.]
In terms of the leading female contenders to win the US Open, Azarenka is probably in the top 20.
Age is obviously not on her side, but Williams has proven that this doesn't have to be an issue. Japanese starlet, Naomi Osaka will be looking to retain her crown after winning her first Grand Slam at Flushing Meadows last year.
There are two Grand Slams to play between now and then. However. Azarenka is yet to reach a final at either the French Open or Wimbledon. Whether she is likely to do so this season is up for debate.
Nevertheless, as of May 2019, Azarenka's world ranking now stands at 43. Less than three years after announcing her pregnancy, it may have been a long road back towards the world's top 50, but she is making inroads month by month to get back to her best.