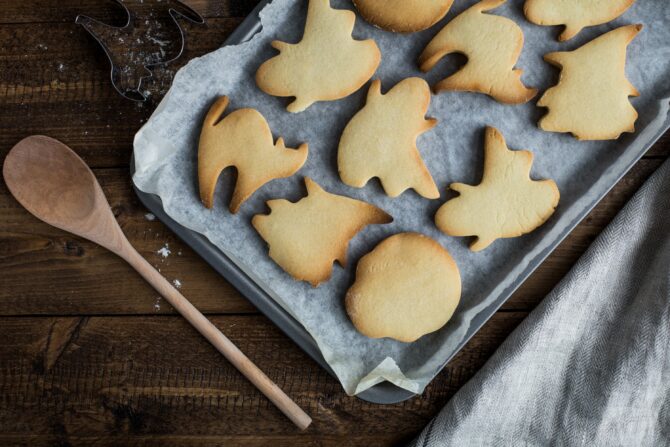 Tired of sending the same old cupcakes or cookies to school for the class Halloween party?  This year try something different.   No trick, these Halloween treats are simple enough to make that the kids can help put them together.
You Rule!- Purchase a ruler for each student.  On your computer type the message "You Rule! Bats Drool!" and then copy and paste it so it will appear 5 times on a page when printed.  The finished strips should be about 2 inches wide and 8 ½ inches long so keep that in mind.  Print the messages on red cardstock and trim the strips apart.  Using an Exacto blade on a self-healing cutting mat or cutting board, cut a slit an inch from each end of the strip that is wide enough to slide the ruler through.  Continue for each ruler.  Stick a bat sticker on one end or draw one with crayons.
Spider Webs- Lay out some waxed paper on the counter or table.  Set up 8 pretzel sticks so they look like the spokes of a bicycle wheel.  Continue setting up more "wheels" all over the waxed paper.  In a microwave safe dish melt some chocolate melts according to package directions.  White or dark chocolate will work for this treat. 

Transfer melted chocolate into a resealable plastic bag.  Make a tiny snip on one corner of the bag.  Start in the center of the pretzel sticks and cover all of the ends with chocolate so they are sure to stick together when the chocolate sets up.  Then continue around in a spiral pattern making a spider's web.  You can add a few Halloween sprinkles to the chocolate after you make the webs if you'd like.  If you are in a rush, you can slide the waxed paper sheets onto a cookie sheet that has been flipped over and chill these in the refrigerator.
Ghost S'mores- Gather up small cellophane bags, graham crackers, mini chocolate bars, marshmallow ghost peeps and ribbon.  Place two squares of graham crackers on one side of the bag. 

On the other side of the bag place 2 mini chocolate bars.  In front of the graham cracker squares place a ghost peep. (Just like Easter peeps, but these treats are white, shaped like a ghost and have a face) Finish the treat bag by tying it with a pretty ribbon.
Spider Pop- Cut up a black trash bag into 4 inch squares – just enough to cover the number of spiders you want to make.  If you cut a 4 inch strip off of the top of the bag you will still be able to use the rest of the bag.  Wrap the black plastic square over a Tootsie pop.  Twist 4 black pipe cleaners over the plastic to hold it in place, then spread the pipe cleaners out to create spider legs.

 Bend the legs once to form 'knees' and then again at the bottom to form feet.  Now your spider treats are done.  If you are short on pipe cleaners you can get by using just 3 pipe cleaners per spider, as most people won't count the legs.  These treats are also great to hand out for trick-or-treaters on Halloween night.
I want my Mummy- You will need full-size chocolate bars, big googly eyes and white crepe paper streamers.  Glue the googly eyes toward the top of the chocolate bar.

Next, wrap the white streamer around the bar so that it looks like a mummy.  End your strip on the back of the bar and tape down the end so that it doesn't unravel.

These festive treats are a little out of the norm and you will look like a rock star for sending in something different than the same old thing.  As schools are getting more and more conscious of what the kids are eating there may be times when you need a class treat that isn't food related, in which case you can send in the rulers.  So the next time you are on the list for sending in treats why not try something different?