If you are expecting a baby and working on the nursery, by now, you know that there is a lot that goes into the process. There are a lot of safety considerations as well. It can be a matter of life and death if you don't take seriously all the security precautions around purchasing the right product or installing equipment properly.
I do not want to scare you but things like SIDS, accidental suffocation and falls are horrific and I want my readers to take it very seriously. Your best bet is to do a simple Google search for consumer protection or product safety organizations that offer advice commercial free.
Here are some start up tips from the Consumer's Union, an organization that I once consulted for and did legal work for years ago when I was a young attorney. They publish the Consumer's Reports guides like this one on crib mattresses.
Please adhere to these tips:
Getting Started
Choosing a crib mattress might seem like a boring task but it's one that warrants careful consideration. The mattress is as important as the crib. [editor's note: Buy the very best one you can. Do not go cheap on the mattress.]
Why does it matter? For one thing, your baby will spend a lot of time in his crib. It might seem hard to believe, especially when you're getting up to feed a fussy baby in the middle of the night, but infants sleep up to 18 hours a day.
You'll want to make sure the mattress fits properly in the crib you've selected without gaps that could pose a danger to your baby. And the mattress should be firm. A soft one can conform to the shape of your baby's head or face, increasing the risk of suffocation or even sudden infant death syndrome (SIDS).
There are two general types of crib mattresses: foam and innerspring.
Both types—if they're good quality—will keep their shape well and provide excellent support for infants and toddlers. There are differences, though.
Foam—usually made from polyurethane—tends to be lighter (about 5 to 13 pounds) compared with an innerspring mattress (about 15 to 30 pounds). So although you'll probably be lifting just a corner at a time when changing your baby's sheets, it might be a bit easier with a foam mattress. Foam is also less springy and therefore less likely to be used as a trampoline when your child is older.
Still, innerspring crib mattresses are more popular in the U.S., possibly because most adults sleep on innersprings, too. [editor's note, they're more comfy and less stiff in my opinion]
Look for Quality
Whichever type of mattress you chose, look for quality. The cheapest foam and innerspring mattresses have t
hin vinyl coverings and edgings that can tear, crack, and dry out over time. 
[editor's note: this is why you avoid going with the cheap stuff]
As prices increase, coverings tend to be thicker, puncture-resistant, reinforced double or triple laminates, or very fine organic cotton. An innerspring mattress that has more or better-gauge steel and better-quality cushioning will weigh more. The same goes for a foam mattress that's made of denser, better-quality foam.
Still, you don't have to spend a fortune or try as many mattresses as the Princess and the Pea to get a good-quality one. A mattress that costs between $90 and $200 will generally serve your baby well. Prices for foam and innerspring mattresses are comparable, ranging from $50 to $400 and up. (The more expensive ones are made with organic cotton or natural latex.)
Low-priced models (less than $90) might be too soft and flimsy. Higher-priced models tend to be firmer and therefore safer.[Editor's note: Please don't scrimp on the mattress guys]
You Can't Tell a Mattress by Its Cover
With a mattress, almost everything that matters is on the inside. Some crib mattresses feel great in the store but begin to falter once your baby starts to use it. We've learned that you can't depend on sales staff, even at reputable retail outlets, to give you accurate information. One told us, quite convincingly, that innerspring mattresses were better than foam because foam tends to "break down" after 18 months.
Twenty-five years ago that may have been true, but not anymore. "A top-quality foam crib mattress will hold up just as long as an innerspring crib mattress with normal use," says Dennis Schuetz, director of marketing for the Colgate Juvenile Products Company, a manufacturer in Atlanta. That's because foam crib mattresses have become much more durable.
Hit the Stores
Once you get a sense of options in different price ranges, you should go to a store to see what a quality crib mattress looks and feels like. One place to start? The label. Manufacturers are required by law to reveal what a mattress is made of. Don't buy one from a manufacturer or retailer that doesn't tell you this with in-store information, displays, or online specifications. In fact, you should be able to find out the components of each layer. And when you push down on a mattress, your hand should spring right up. Schuetz says the biggest mistake parents make is picking a mattress that's comfortable for them. It's better to pick a crib mattress that's harder than you would like it to be. "If it feels good to you, it's too soft for your baby," he says, adding that babies need more support than adults.
Buy New
Buy a new crib mattress, if possible. For one thing, it ensures that the mattress is sanitary. If you buy a used mattress or accept a hand-me-down, you won't know for sure how it was cared for or stored. Mold can grow in improperly stored crib mattresses, and bacteria can fester on the surface from liquids (diaper leakage, spit-up) that weren't properly cleaned up. If you buy a new one for your first child and keep it clean, you can use it for your next child if you store it in a dry environment and it stays firm.
Use a Cover
Use a tightly fitting, washable waterproof mattress cover to protect the mattress and keep the baby's sleeping environment as clean and sanitary as possible. [editor's note: also a firm grip is important to avoid creating a strangulation hazard]
Test the Fit
By law, all full-sized crib mattresses must be at least 27 1/4 inches by 51 5/8 inches, and no more than 6 inches thick. If you can, shop in a store that displays crib mattresses on the selling floor, and check the fit by putting it inside a sample crib before you buy it. If you can squeeze more than two fingers between the mattress and the crib, the mattress is too small.
Don't Worry About Warranties
Some mattresses offer warranties for one year, seven years, or even a lifetime. Don't be swayed by a long warranty, and don't pay extra for a mattress with a warranty. "Warranties are mostly a marketing tool to entice the consumer to spend more," Schuetz says.
In general, you can expect a quality crib mattress to last as long as you're going to use it as long as the cover doesn't rip or tear.
[editor's note: I prefer Organic and eco-friendly mattresses because I'm eco-friendly and am concerned about our carbon footprint and being a good world citizen so here is a summary of what CR has to say about organic mattresses:]
Going Organic
If you are concerned about the safety of chemicals used in the manufacture of your baby's bedding, or if buying eco-friendly products is important to you, you'll find plenty of options for crib mattresses labeled "natural" or "organic."
Eco-friendly foam and innerspring mattresses tend to be made with fewer chemicals, plastics, and PVC (vinyl), and a greater percentage of renewable and sustainable materials, such as cotton, fast-growing bamboo, coir, plant-based foam, and natural latex (rubber from tree sap that's been injected with air).
Also, "the manufacturing process for some eco-friendly crib mattresses tends to produce fewer carbon emissions," says Dennis Schuetz of Colgate.
In general, prices for eco-friendly mattresses are higher than regular mattresses.
[editor's note: My favorite brand comes from our blog partners at Naturpedic]
The Naturepedic No-Compromise Organic Cotton Classic 150 crib mattress shown here has a "U.S.-grown organic cotton filling" and a polyethylene plastic waterproof surface that, the manufacturer says, is free of vinyl/ PVC, phthalates, lead, or antimicrobial biocides. It sells for $260. The outer cover of this mattress might limit the exposure to toxins.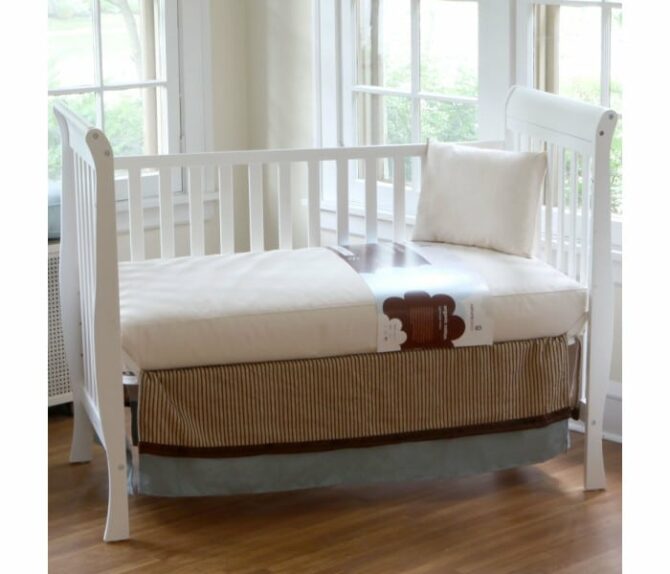 Some eco-friendly foam mattresses are made with soybeans or oils from other plants. Review all of CR's report HERE!
Good luck parents and happy shopping!