During this coronavirus outbreak, we have seen a lot of celebrities take to their social media to connect with their fans.
Some have had misses, like Vanessa Hodgens who downplayed the seriousness of people losing their lives on an impromptu IG story and others like DJ D-Nice have hit it out the park by playing three nights in a row for up to 9 hours at a time entertaining world including many celebs like Mariah Carey, Paul MccCartney, Michelle Obama and everyone in between, gaining up to a million Instagram followers in the process.
Debbie Allen is hosting online dance classes called #dancewithdebbieallen.
Personally, I've benefited from some of these impromptu exchanges. I took in singer Miguel's one hour Instastory Live jam session and was entertained by Cardi B's funny share that Brooklyn DJ iMarkkeyz turned into a chart topping hit song!
Couples have gotten into it to. John Legend played hits on the piano as his wife Chrissy Teigen jammed along, and later they played tunes while cooking. Country legend Keith Urban crooned to tunes as wife Nicole Kidman danced in the background.
While Tom Hanks and actor wife Rita Wilson recovered from the disease, Wilson rapped to Naughy By Nature's "Hip Hop Hooray".
Some are branding their appearances and making gigs out of them. D-Nice's started out as "Homeschool" and Chris Martin's regular sets are being called #TogetherAtHome.
Most of these shows have been free but leave it to enterprising soul singer  Erykah Badu to elevate the game with her "Quarantine Concert Series", LIVE from her bedroom. She charged $1 for a stream and her production quality was A+ and involved more than one camera and camera angles. She sold merch and really converted all those stuck at home into a nice profitable gig.
Per Vibe magazine :
The Grammy winner also took to Instagram Live to explain some of the politics of being signed to a record label, and why she's charging an entry fee. "We rely on our live shows and all of our live shows got canceled indefinitely," said Badu.

"We're not rich people, we just play rich people on TV. Some of us only have one form of income and that's [live] shows. I wanted to create another revenue of income and you are helping me do that in a big way because this is an experiment. There's nobody in between me and that dollar."

Badu's setlist will be handpicked by logged-in fans who vote during the stream.
No overhead cost of venue and live ticket sales and with that super low price, she made it affordable to almost everyone. It started out bumpy because she announced it, then failed to show up over and over again, and sent her fans to various social media platforms before it really happened, but the final product was so well done that a lot of people forgave her for the initial shenanigans.
Turns out she was at D-Nice's party the same time hers was supposed to be going down. ha!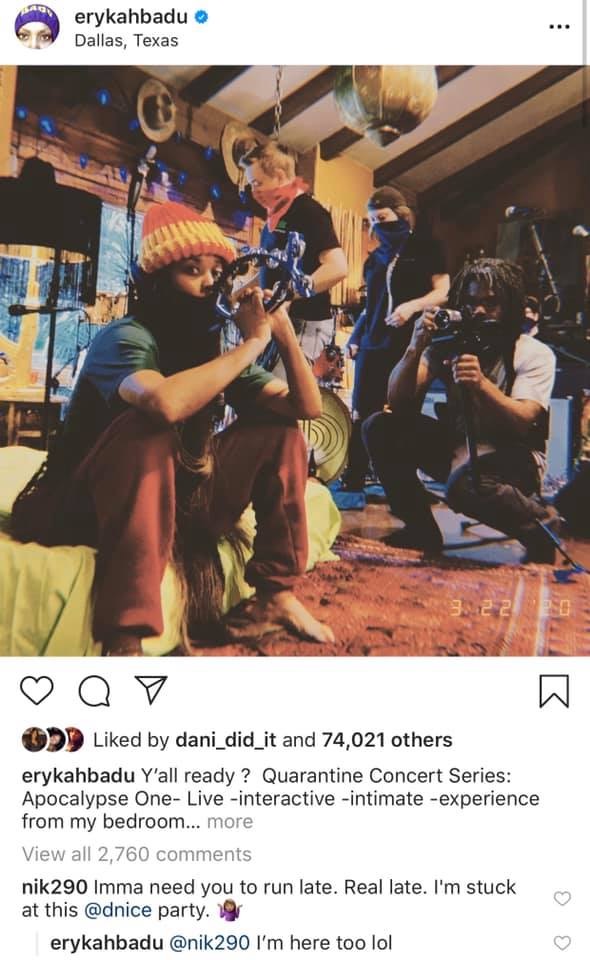 In the end, as a content creator who has gone live on social before in non-professional settings, it is nice to see the world embrace the imperfect and accept the message and connection.
We are all in this together, after all. No barriers. No walls.