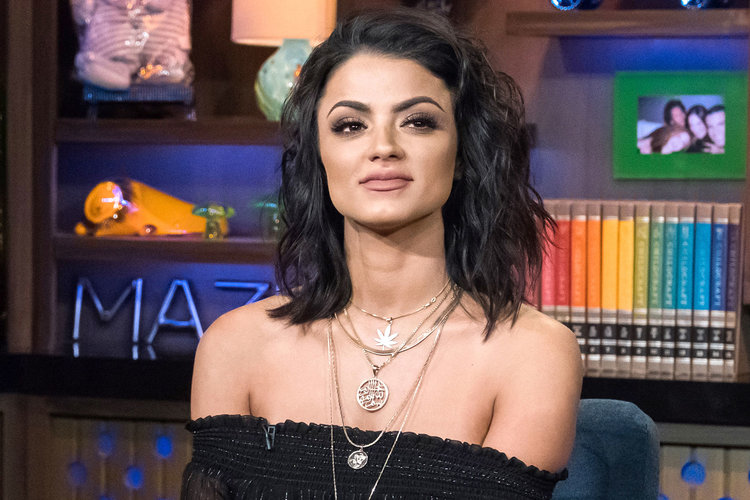 Golnesa "GG" Gharachedaghi of the Bravo TV docu series Shahs of Sunset posted a photo of her bandaged belly after surgery to remove her Fallopian tubes following an ecoptic pregnancy she suffered last year.
In the caption, to the photo, the Wusah entrepreneur says she believes the trauma was a result of Karma for things she has done in the past.  The episode was filmed last year and by now, we know she recovered from the traumatic experience and eventually conceived and is expecting her first child within weeks.
She recounted the experience on her Instagram page.
"Tonight on Shahs of Sunset, life throws me another curve ball and this one hits quite hard," she wrote, while teasing the Season 8, episode 8 that aired Friday night. "I went to the ER for pain from a pregnancy that turned ectopic and next thing you know I'm waking up from surgery where they removed both of my fallopian tubes."
We know from an interview with BravoTV, she explained that after discovering her pregnancy was ecoptic,  the drug they gave her to terminate the pregnancy wasn't successful and they gave it two more times, they had to perform emergency surgery to remove both her Fallopian tubes. The chronic rheumatoid arthritis sufferer , which may have contributed to the second tube becoming dilated and needing to be removed as well.
"The sac wasn't dissolving and it was on the verge of rupturing, which would have killed me. I'm lucky I got it in enough time," she said.
After that, her only option to become pregnant was IVF. She had her second transfer in late August with the use of a sperm donor.
In her Instagram post talking about the episode this week, she said: "I'm a strong believer in karma and I do believe I've done enough wrong, that this is my karma cycle. I'm not a victim and will never play the victim role. This was simply a lesson. Thank you all for the love and support. It will be a hard episode for me to watch. But thank God I am about to have baby Elijah??"
This is the first child for Gharachedaghi who underwent in vitro fertilization and got pregnant via a sperm donor.
The mom-to-be recently opened up about she's coping with having to welcome her son into a world full of chaos in a tweet posted on March 18.
"I'm due in less than 2 months but am freaking out about having a baby while the entire world is crumbling," she shared. "Stay strong my little Elijah. You're entering a world of chaos my son."
Even though she says she "could have focused" her "energy into finding a partner to have a baby with; that wouldn't have been hard" Gharachedaghi told PEOPLE magazine,  "I'm totally choosing this because this is what I want; this is what I'm ready for. I love that."