Kiss clutter goodbye as you tackle the school year.
If any member of your household is returning to the classroom this fall or even continuing to learn from home, you're probably expecting another thing to return — clutter.
Between sports practices, extracurricular activities and the daily bustle of everyday life, it's easy for our living spaces to get messy, fast. However, more times than not, the hardest part about getting everything organized is finding a starting point.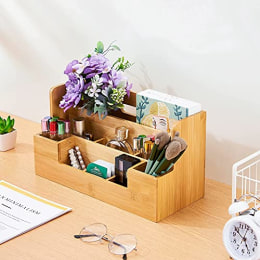 Marbrasse Bamboo Desk Organizer
$32.99
You can only be as productive as your workspace, so any young learner will appreciate this organizer that will keep their desk in tip-top shape. It features nine different compartments for storage and a convenient handle so that they can bring it with them anywhere around the house.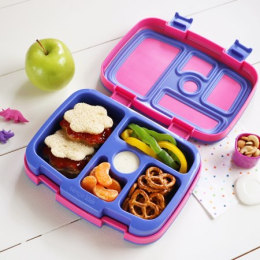 Bentgo Kids' Lunch Box
$32
Little ones will love this practical lunch box that makes it easy to portion out an entire meal. The leakproof box can keep everything inside fresh until it's time for lunch, and at the end of the day you can toss it straight into the dishwasher. The top-rated mealtime hack has amassed over 15,900 verified five-star reviews, with some shoppers calling it great for "picky eaters" and "easy to clean."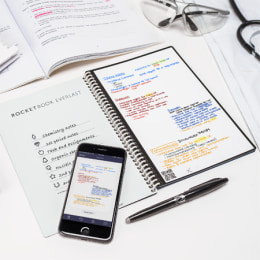 Rocketbook Smart Reusable Notebook
$31.89
Little ones will love this practical lunch box that makes it easy to portion out an entire meal. The leakproof box can keep everything inside fresh until it's time for lunch, and at the end of the day you can toss it straight into the dishwasher. The top-rated mealtime hack has amassed over 15,900 verified five-star reviews, with some shoppers calling it great for "picky eaters" and "easy to clean."