You don't have to play tennis or golf to appreciate just how versatile (and comfortable) an exercise dress can be.
The sporty style has joined the likes of leggings and biker shorts as an athleisure staple that can be worn even on days when you don't have a workout scheduled. And it's a trend that fashion pros have gotten behind. "I am a huge fan of exercise dresses," said style expert Brittney Levine. Not only are they comfortable, but they flatter a range of different body types, she said.
Stylist Samantha Brown added that finding a good pair of shorts can often be a challenge for women, because many don't offer the right amount of coverage or can ride up in uncomfortable ways. An exercise dress can be a stylish warm-weather alternative. "They're really easy and convenient and there's not a lot of thought you have to put into the look," she said. "It's not a matter of matching up a skirt and a bottom." You can wear it directly from a workout class to a coffee date or you can throw it on before heading out the door to pick up the kids from school or run errands.
CHECK THESE OUT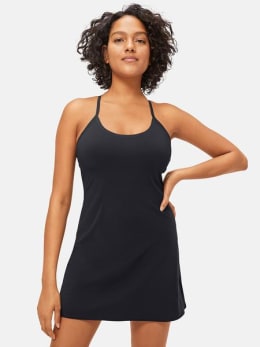 The Exercise Dress
$100
"Outdoor Voices is the original," Levine said. "They're like the first brand that came out with the exercise dress." The company first released the style in the spring of 2018, and it's been a hit ever since. In fact, it's so popular that it's often sold out. While a couple of colors are out of stock, you can still grab the navy, white and black versions. The dress has some comfortable features like adjustable straps and built-in shorts with pockets.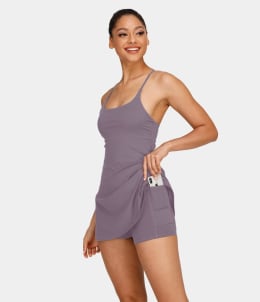 Everyday 2-in-1 Activity Dress-Wannabe
$39.95
"Another brand that I've been loving is Halara," Levine said. And she's not the only one — the #halaraeverydaydress tag has more than 7 million views on TikTok. The dress checks all the boxes — it's sweat-wicking, breathable and is squat-proof. Even better, it's available in 11 different chic colors, like moss green and blush.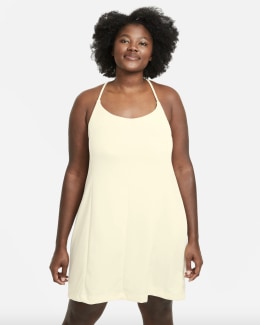 Nike Sportswear Icon Clash Plus Size Dress
$65
This dress can easily be worn to brunch or out to dinner with friends, but it's made from a sporty lightweight knit fabric that will help keep you cool and comfortable. It's available in multiple colors and extended sizes as well.