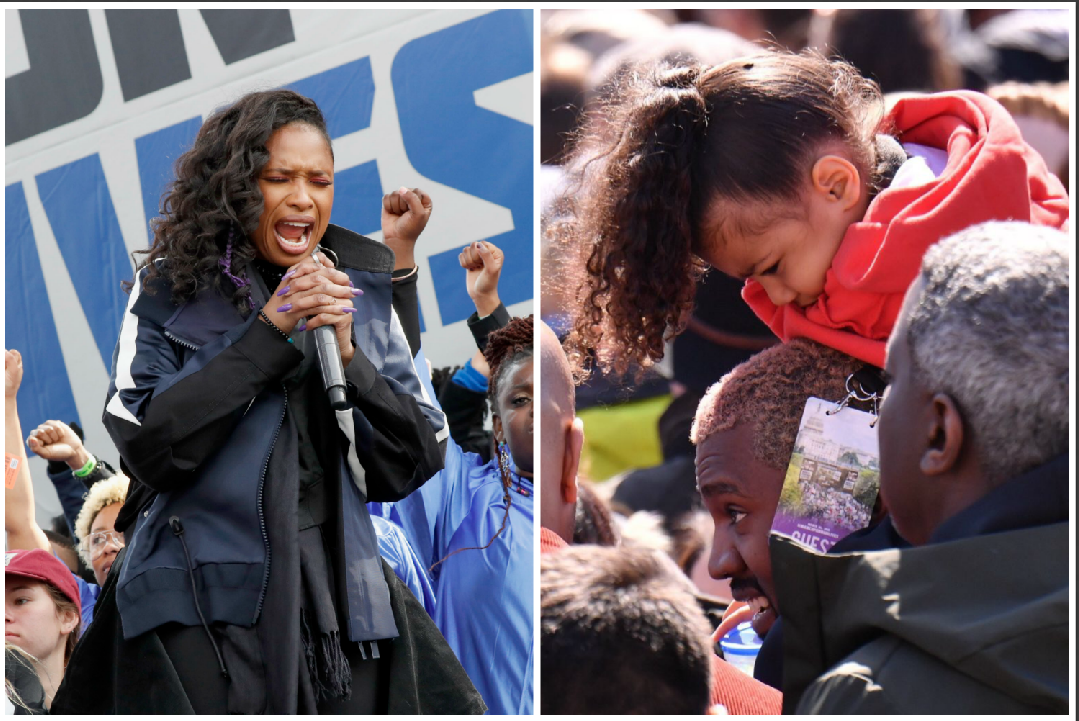 A few of our Bellyitch Bumpwatch alums attending this weekend's March For Our Lives rally in Washington, DC.  Kim Kardashian West's husband Kanye West attended the event with his daughter North and her grandparents.
They were spotted with North on her papa's shoulders in the middle of a packed crowd.
Jennifer Hudson delivered a soulful gospel-inspired rendition of Bob Dylan's "The Times They Are a-Changin'" to close out the March. WATCH
The movement calls for stricter gun control laws following the massacre of 17 students at a shooting at
Marjory Stoneman Douglas High School
in Parkland, Florida.  Other celebrity supporters of the event include
Selena Gomez, Amy Schumer, George Clooney
and
Paul McCartney.
Hudson gets props for always jumping in to support youth movements.  She is among a host of other celebs (like Beyonce, Alicia Keys, Rihanna, Lenny Kravitz, Zoë Kravitz, Queen Latifah, Pink, Bono,  and Rosario Dawson) to also support the Black Lives Matter movement aimed at addressing disproportionate number of killing of UNARMED black civilians by police with impunity. Kanye West has a history of controversial statements but has also been a supporter of the BLM movement. 
This song Hudson sand was approps. Check the Lyrics:
The Times They Are A-Changin'
WRITTEN BY: BOB DYLAN
Come gather 'round people
Wherever you roam
And admit that the waters
Around you have grown
And accept it that soon
You'll be drenched to the bone
If your time to you is worth savin'
Then you better start swimmin' or you'll sink like a stone
For the times they are a-changin'
Come writers and critics
Who prophesize with your pen
And keep your eyes wide
The chance won't come again
And don't speak too soon
For the wheel's still in spin
And there's no tellin' who that it's namin'
For the loser now will be later to win
For the times they are a-changin'
Come senators, congressmen
Please heed the call
Don't stand in the doorway
Don't block up the hall
For he that gets hurt
Will be he who has stalled
There's a battle outside and it is ragin'
It'll soon shake your windows and rattle your walls
For the times they are a-changin'
Come mothers and fathers
Throughout the land
And don't criticize
What you can't understand
Your sons and your daughters
Are beyond your command
Your old road is rapidly agin'
Please get out of the new one if you can't lend your hand
For the times they are a-changin'
The line it is drawn
The curse it is cast
The slow one now
Will later be fast
As the present now
Will later be past
The order is rapidly fadin'
And the first one now will later be last
For the times they are a-changin'
Copyright
© 1963, 1964 by Warner Bros. Inc.; renewed 1991, 1992 by Special Rider Music
Over 9 million people have enjoyed Bellyitch's Award-winning Celeb "bumpwatch" pregnancy and parenting blog. Trying to Conceive? Download our
FREE Fertility 100
ebook. Hunting for Top Maternity or Kids Brands? Our
Bellyitch 100
is the free resource for you. Baby Shower Shopping? Check out out
Top Picks on Amazon
or our
Gift Guides
.