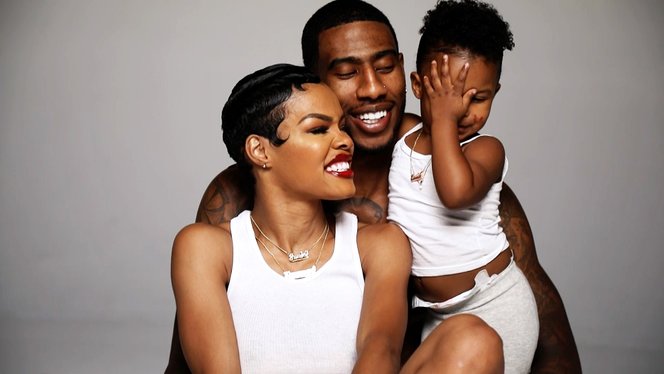 I have a new family reality TV show to watch! Your Bellyitch Bumpwatch alum, dancer, recording artist and model Teyana Taylor and her husband Cleveland Cavalier's Iman Shumpert's!
Teyana and Iman  on VH1 is an intimate look into newlyweds Teyana Taylor and Iman Shumpert's. After Taylor hit major crossover appeal following her fabulous appearance in Kanye West's "Fade" music video, her career has taken off in a meteoric ways, booking modeling gigs, launching companies and now this show.
The couple redefine the contemporary notion of the modern love story. He's from the burbs. She's from Harlem, NY. And on the show, you get to see Taylor do her mompreneur thing while trying to make sure her daughter Iman Jr (better known as Junie) experiences all the things Taylor didn't as a kid, like camping.
Per the show description: " As they take on the music, sports, and fashion worlds, the success in their careers is only rivaled by their passion for one another and their daughter Junie. Teyana & Iman features plenty of red-hot moments, playful humor, and a 360-degree view of true #RelationshipGoals."
Here are some clips:
If you'd like to know more insider tips, want a critique of a site you've created or if you are interested in starting a blog or website yourself but do not have the time, patience, bandwidth, know-how or ability to get it done, let me set it up for you and train you on how to keep it going with my "Do-It-For" you consulting service,
Visit my Personal Consulting Site and Book a spot today!