Last night's MTV Video Music Awards in New York City was also about another one of our Bellyitch Bumpwatch alums who didn't even attend the event in person. R&B singer, actress and choreographer Teyana Taylor starred in Kanye West's new video for his song "Fade" from his "Life of Pablo" album. He debuted the video after a 4-minute rambling speech and then she essentially broke the VMAs. (well…right before Beyonce performed and broke it again)
In the video for Fade, outfitted in a "Flashdance" -esqe work out gear, super cropped underboob-revealing tank, high cut workout undies and knee pads, Taylor performed some pretty wickedly fierce dance moves inside an empty gym.
Yes, this is the same woman who gave birth one week and who looked like this 6 days later. So, it came as no surprise to us at Bellyitch that her body would be this hot months later.
Just her, dripping with hotness. The artists that perform on the record Yeezy, Ty Dolla $ign and Post Malone are nowhere to be seen. Um, not that anyone needed them.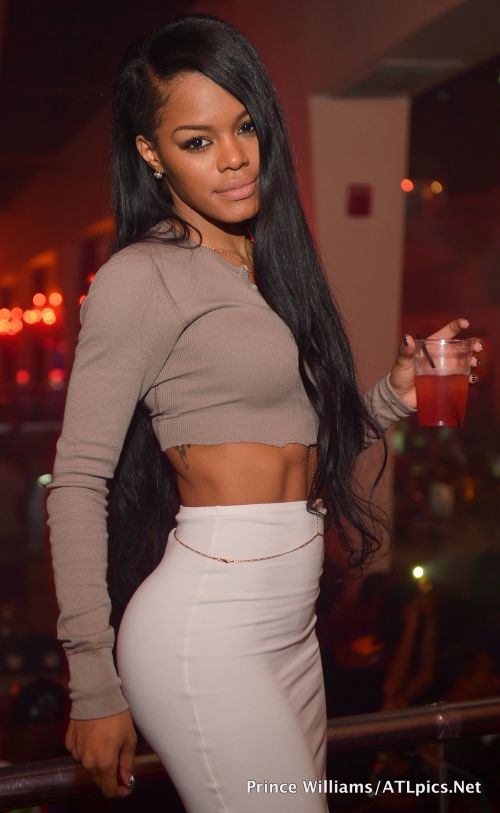 The rhythmic gyrations and phenomenal choreography ended with some steamy NSFW scenes with her husband Cleveland Cavalier's Iman Shumpter in the shower. For those who don't know, Taylor, is also well known among mainstream audiences for her 2007 my My Super Sweet Sixteen party which aired on MTV. And her fiance is the same dude who helped Taylor deliver their daughter in the bathtub.
The final scene ends with a close up of Taylor, only with her face looking like a puma, and she has a tail. She's on Shumpter's back and their daughter Iman Jr is close nearby with some sheep surrounding them all. Odd. I know. Watch the video here on Digg (if it hasn't been taken down).
 And enjoy these Gifs that are going around the net because, in addition to new found heightened fame to a new crop of people who were unaware of her existence and fame before, Taylor is now the official MILF and #BodyGoals for a bunch of people who will probably never look as good as she does. lol.