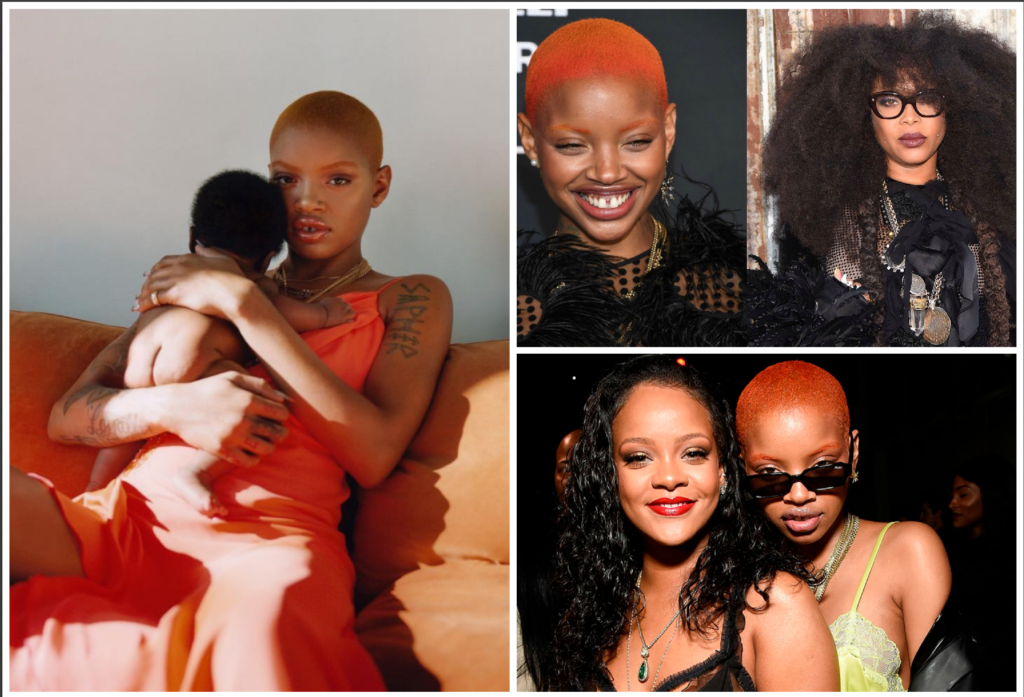 Model Slick Woods was told after suffering two miscarriages in her youth that she would never have children, naturally, so she didn't think she was pregnant when an agent told her she was looking chubby in her bikini at Coachella last year.
It turns out she was well into her third trimester!
In a feature for Vogue back in February, Woods wrote about her surprise pregnancy, and shared that after that exchange with her agent, she visited the doctor and learned the news.
"A few appointments later, a nurse was doing a sonogram," she continued. "There he was: my son. I started crying tears of joy. I had life in me, and felt like I understood the true power of my body for the first time. If I could bring another human being into this world, nothing was out of reach."
She eventually decided to get a doula and in and interview with Elle UK said why she picked singer Erykah Badu for the job. She had always loved the "Baduizm" singer's profile as a mother.
"She's a mommy role model. A mother I look up to, who kills her shit and is a boss-ass bitch," Woods said of Badu.
A lot of people are now learning that Badu has brought a lot of babies in teh world. The neo soul queen talked about her doula life in a 2015 interview with Pitchfork.
"I became a doula by default," Badu said at the time before opening up her own practice. "A home birth is about being able to create exactly what you want, because it's such a violent moment inside of the body that you want everything else to be as beautiful as it can be. So I started studying to be a doula and got my certification in 2011 and now I'm in training to become a midwife. I'm almost there and before I know it I'll be able to open my own practice, if that's what I desire."
And if that isn't enough, singer, business mogul and actress Rihanna unknowingly helped usher Woods into labor.
By the time Woods was ready to give birth, she had already made news by walking in NYFW shows while pregnant.
She was walking for the Fenty X Puma collection and eventually had to be rushed to the hospital room to deliver her baby boy.
As Hip Hop Hollywood writes, it was in September 2018 when Woods was at the end of her pregnancy when she was modeling in one of Rihanna's shows wearing what she describes as "pasties, thigh-highs, stilettos, and not much else," when then 22-year-old went into labor.
"My last memory before going into the hospital is of Rihanna spanking me with a whip," Woods recalled. "I was already 2cm dilated when I left the show, and I was in labor for another 18 hours."
In that Vogue piece, Woods wrote about FaceTiming Badu during the birth, the only person there along with the father of her child and her agent.
Badu convinced her to return to the hospital after Woods had talked herself out of having an emergency hospital birth.
"Every day since, my son has healed me, invigorated me – and helped me come to terms with my past," Woods says. "I never had a normal family. Now I've created my own. Who knew you could miss someone your whole damn life without ever having met them?"