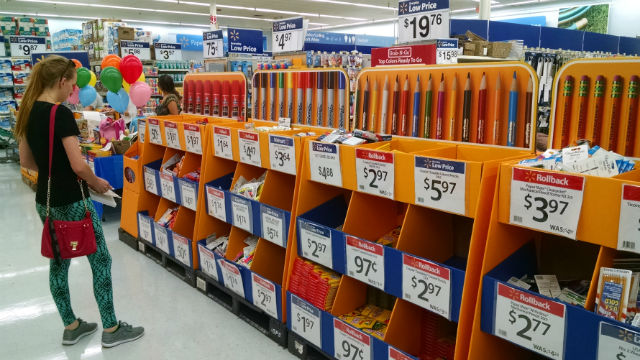 Who could  imagine that school supply shopping could turn violent, but it did at a Walmart in Michigan this Monday and it was over the last notebook in the store.
Novi Police Department Det. Scott Baetens told the Detroit Free Press  newspaper that police have reviewed video footage of the incident recorded on a witness' cell phone, and that they have submitted the case to the Oakland County Prosecutor's Office for review, WCRZ-FM reports
A mother and daughter duo from South Lyon, Michigan and a mom and daughter pair from Farmington Hills, Michgan were shopping  for school supplies when the two daughters grabbed the last notebook at the same time, leading to an argument among the four women as to who should rightfully get the last one.
"One girl was going to buy a notebook, there was one left, some pushing resulted," Baetens was quoted saying in a Fox2News report. "They began to argue who was the rightful purchaser of that notebook."
Police say the Farmington Hills women pulled the South Lyon daughter's hair and the South Lyon mother, who has a license to carry a gun, pulled it out and tried to stop the attack on her daughter.
Other customers scrambled.
"She pulled out her firearm and tells them to stop attacking her daughter while pointing the gun at them," Baetens was quoted in a Fox2Detroit report.
The mother is a valid Concealed Pistol License holder, and police are not releasing what kind of gun was in her possession, Baetens told the Free Press. He said the names of the individuals involved will not be released at this time.
Baetens told the Free Press that he believes the South Lyon women purchased the notebook, but he does not have the receipt.