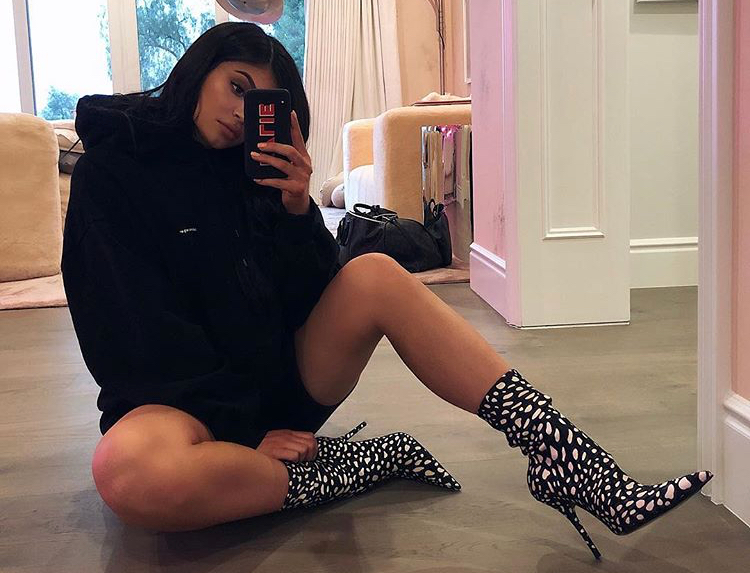 Valentine's Day 2018 is extra special for Kylie Jenner; She is celebrating the holiday of love with her littlest love
Two weeks ago, the 20-year-old Keeping Up With the Kardashians and social media star gave birth to a daughter, Stormi Webster, her and Travis Scott's first child. She announced the news on Instagram, marking her first confirmation that she had been pregnant, following multiple reports over the past few months. Kylie had also kept out of the spotlight during the later stages of her pregnancy. She has since resumed posting more regularly on social media and on Wednesday, Valentine's Day, shared a mirror selfie of herself posing on the floor in a black sweatshirt and matching shorts and stiletto boots.
Kylie is "happy she can slowly emerge into the public again," a source told E! News exclusively, saying, "Kylie is in a really good place right now, and is loving being a mom."
"Her relationship with Travis has made huge strides since having baby Stormi, and they are back in a good place," the source said. "Travis has been staying overnight at Kylie's several times a week when he is not working or out of town and has also been giving Kylie her time to bond with the baby alone. Kylie is like a new person now; every move and every decision she makes, she takes Stormi into consideration. She is obsessed with her baby and the focus is all on Stormi."
The source also said that she has had a lot of help with the baby from mom Kris Jenner and BFF Jordyn Woods and that "recently, Kylie hired a nurse/nanny to help her, which she didn't think she was going to do at first."
"All of her sisters are constantly checking in with her and coming over to the house to visit Stormi," the source added. "Kylie asks for advice all the time. She did prepare for the baby with several specialists and took private classes so she was well-prepared beforehand."
Before Kylie revealed Stormi's name, many people speculated that her name was inspired by butterflies.
"When Travis and Kylie started dating, Kylie became obsessed with Travis' song "Butterfly Effect", and butterflies became 'their thing' to describe their relationship that was blossoming into something beautiful," the source said. "Storm is somewhat related to the butterfly effect and that's why they decided on the name."
As for Kylie and Travis' relationship, they are in no rush to walk down the aisle.
"Kylie is not engaged, however that ring she has been wearing is from Travis," the source said. "He gave it to her when she was first pregnant and it has several emerald-cut diamonds. They are in no rush to get married or even engaged, and Stormi is their only priority right now."
The source also talked about Kylie's post-pregnancy health regimen.
"Her sisters have tried to get her to workout with them but she has never been a fan of it," the source said. "Since having Stormi, she is still not super focused on the baby weight, and knows that majority of the weight will come off naturally. She has been eating healthier but she isn't very strict like her sisters."
Meanwhile, Stormi has been showered with gifts. Kylie had showcased many of Stormi's outfits and shoes in her nursery in a pregnancy and baby reveal video.
"Kylie thinks it's so fun to dress her every morning, and loves organizing Stormi's baby closet," the source said. "She has received SO many gifts from friends and family members, and Stormi basically takes up a huge chunk of her house now."
Watch Keeping Up With the Kardashians on Sundays at 9/8c on E!
This article originally appeared on E! And is republished with permission from E!