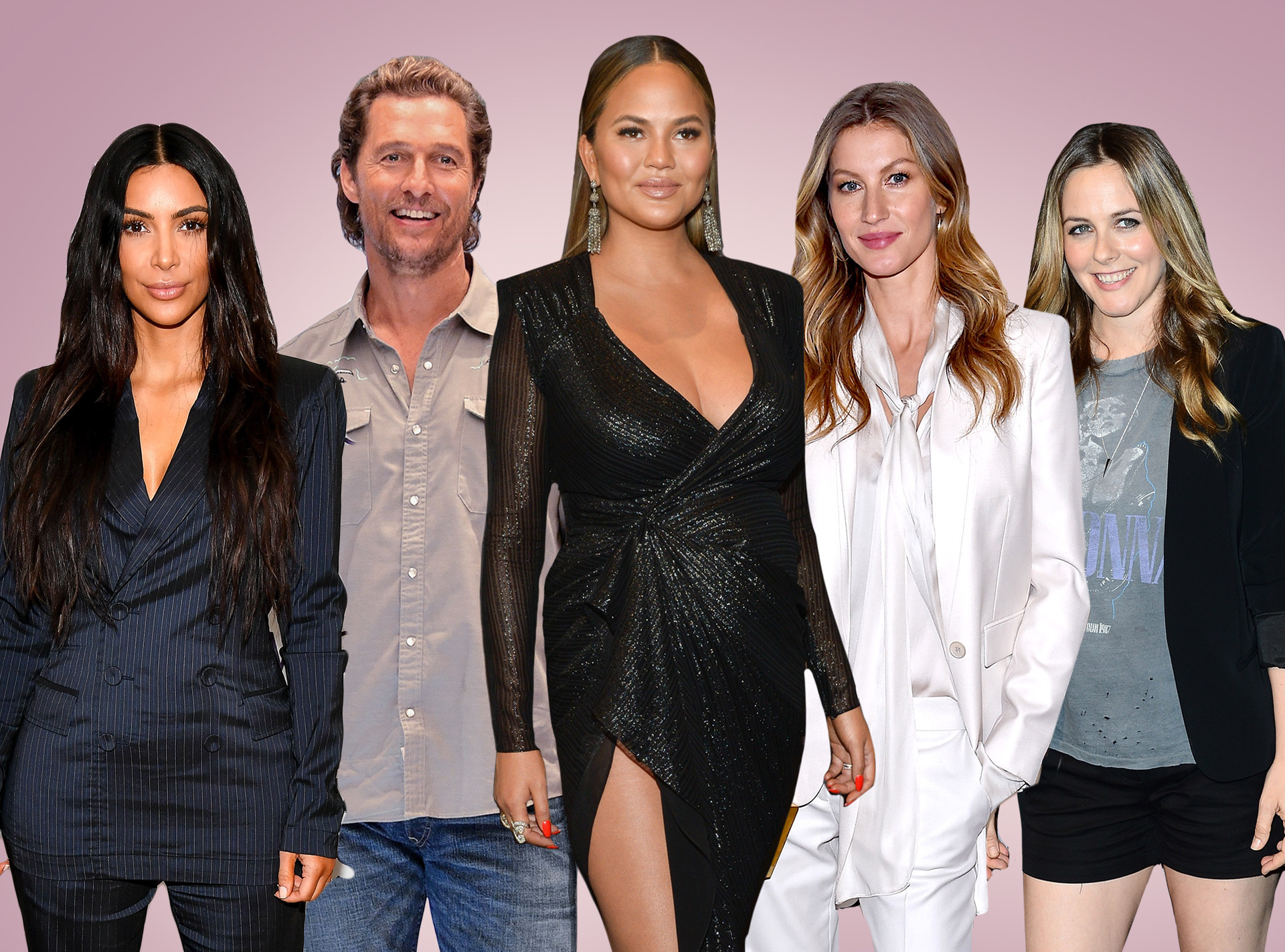 Having children is one of life's great equalizers. Famous parents may be able to spend more on decorating the nursery, but at the end of the day Beyoncé just wants what's best for her babies, and the Kardashians hope their kids are happy and healthy. And don't all moms and dads want the same thing for their little ones?
The difference here is that when someone like Chrissy Teigen claps back at a mommy-shamer, it makes national news. And when Khloe Kardashian says she plans to eat her placenta, just like Kim Kardashian did, other moms-to-be may be intrigued enough to look into the encapsulation process for themselves.
Of course in all cases it's important for people to do their own research and consult with their personal doctors about what's best for them and their children. But we couldn't help but be curious about a lot of these things we hear celebrities talking about these days, so we checked with medical and parenting experts to get the low-down on the usefulness of some of these parenting trends.
Placenta Pills Taking
Meanwhile, this information is not intended to be a substitute for professional medical advice. But let's get right down to it and start with eating placenta…
Kim did it, Kourtney Kardashian did it and Khloe says she's going to do it, but human placentophagy definitely didn't start with the Kards. Nikki Reed, Katherine Heigl, January Jones, Alicia Silverstone, Holly Madison and Padma Lakshmi all had their placentas encapsulated and turned into pills to take after giving birth, too, while Kim Zolciak-Biermann and Gaby Hoffman say they ingested theirs in smoothie form—and they all had positive things to say about their experiences.
All the way back in 2013, before delivering daughter Rainbow, Madison wrote on her blog, "I heard it helps women recover faster and I want to recover as quickly as I can!"
"All I've been doing is breastfeeding and eating chocolate chip cookies—and eating placenta, which helps," Hoffman told E! News in 2015 about how she was taking care of herself after welcoming her daughter Rosemary.
Mayim Bialik, who in addition to playing a neuroscientist on TV is also one in real life, as well as a placenta-consuming mother herself, explained the thought process behind this practice in a 2012 blog post for Kveller, writing, "Human beings are the only mammals that have chosen to not routinely ingest their placenta, which is consumed by every other mammal for its protein and iron-rich properties that are critical in helping the mother's body recuperate after giving birth."
According to Dr. Daniel Benyshek, a professor of medical anthropology at the University of Nevada, Las Vegas, there's not enough research yet to back these positive claims. "There's a great deal of anecdotal evidence," he tells E! News. "[But] on the scientific side, there's very little evidence at all to suggest that there are the sorts of objective measurable benefits when compared to a placebo that some of the proponents claimed."
There has been at least one documented case of a baby who contracted a serious bacterial infection while the mother was taking placenta pills, prompting the Centers for Disease Control and Prevention to issue a warning last year about the practice.
The child was treated and discharged, but the incident did raise a red flag for some in the medical community. This past August, the American Journal of Obstetrics and Gynecology published a review with its take on the trend.
"If there were no harm in consuming placental tissue, we would argue that it doesn't matter [if a mom eats placenta pills]," Dr. Alex Farr, a gynecologist and one of the authors of the review, explained to E! News. "But the problem is that with placenta consumption, there is a possible harm—mainly the harm of transmitting infectious diseases from the mother to the baby. This is why we are straightforward arguing and voting against placental consumption."
Experts say that if moms do plan to eat their placenta, they should discuss it with their doctor and choose an encapsulation company that practices proper food safety protocols for handling, storing and preparing the material.
Or, another option is to plant the placenta beneath a tree like Matthew McConaughey and Camila Alves. In 2008, the actor talked about burying son Levi's placenta in an orchard beneath a giant tree, telling Sanjay Gupta on CNN's House Call, "It's going to bear some wonderful fruit!"
Placenta trees haven't caught on the way placenta pills have, but according to Dr. Stacy Zamudio, a senior scientist and Hackensack Universal Medical Center's Director of Research, Department of Obstetrics and Gynecology, burial of the placenta is actually "the most common practice" and "goes back to medieval times."
"The idea [is] that you bury the placenta on your property near your house, and you plant a tree in that place that will carry the attributes that you want your child to have," she tells E! News exclusively. "Those cultural beliefs across western Europe were very very widespread right up until the enlightenment era."
But still, even if you're just planting a placenta, make sure to act in compliance with any federal and local regulations for the disposal of human material. 
Cord Blood Banking
Audrina Patridge, Nick Carter, Mario Lopez, and Bill and Giuliana Rancic have all spoken out in favor of (or in official partnership with) private cord-blood banks. Cord blood is pretty much what it sounds like—blood taken from the baby's umbilical cord—and it contains potentially life-saving stem cells that can be banked for future use.
"CBR [Cord Bank Registry] came highly recommended to us, both by Giuliana's sister and our OB/GYN, but we also did our own homework and visited the lab right before Edward Duke was born. We even saw where his cord blood stem cells would be stored!" the Rancics explained their decision on People.com in 2012.
When stored in a private cord-blood bank, the family pays an initial fee (typically somewhere between $1,000 and $3,000) plus an annual storage fee (ranging from $100 to $175) so that they can access their child's stem cells at any time. With the public system, a baby's cord blood is donated (at no charge to the parents) and becomes available to anyone who is a match and needs it.
Last year, the American Academy of Pediatrics released an updated policy statementhighlighting the option of cord blood banking. Dr. William T. Shearer, the lead author of the policy and a Professor of Pediatrics and Pathology and Immunology at Baylor College of Medicine, tells E! News "it's a matter of personal choice" what parents do with a child's cord blood.
Cord blood stored in private banks has "a very restricted use," says Dr. Shearer. "The chances that the cord blood is going to be used to save someone's life is far greater with the public system." "Now there is a chance," he notes, "that new developments could happen in science and medicine in which the technique is discovered provided we could do more than the cord blood than is being done currently."
Breastfeeding
Danica McKellar breastfed her son until he was 2 1/2, Mayim Bialik weaned her son at age 4, and Alanis Morissette said she would breastfeed "until my son is finished." Like these moms, Kourtney Kardashian was criticized for breastfeeding son Mason Disick for too long, but on the flip side, Adele got flak for not breastfeeding son Angelo for long enough.
In this case, there's no right or wrong amount of time—and to breastfeed at all or not is an entirely personal decision. "It's what works for each mother," Dr. Robin Berman, a psychiatrist and author of Permission to Parent: How to Raise Your Child With Love and Limits, tells E! News. "If women choose to breastfeed, that's wonderful. If they make the choice not to breastfeed and to use formula, that's wonderful, too."
Attachment Parenting
Pink, Alicia Silverstone and Bialik have all spoken out in favor of attachment parenting, a child-rearing philosophy that promotes closeness through near constant touch.
Angelina Jolie, Milla Jovovich, Tori Spelling and Tia Mowry have practiced some form of co-sleeping, which is a key tenet of attachment parenting, and countless celebs including Chris HemsworthandElsa Pataky, Jessica Alba, Gwen Stefani, Channing Tatum, Jennifer Garner, Ryan Reynolds and Gisele Bündchen have been spotted babywearing (the official term for strapping the baby to your chest—remember when Reynolds was criticized for not properly securing his daughter in the carrier?), which can also be considered a form of an attachment parenting.
The verdict? "If it works for you, great. It doesn't work for everybody," Dr. Sonya Rasmisnky, a psychiatrist specializing women's mental health and reproductive psychiatry, tells E! News about the overall concept of attachment parenting.
"When I think about attachment parenting, I think of an insistence on particular care practices: Baby-wearing, co-sleeping, that kind of thing," she says. "But attachment is a much larger thing…Attachment is having a responsive parent who's attuned to you and to your needs, and that that can take multiple forms… I don't think it's necessary to babywear and to co-sleep in order to be attached to your child."
Mom-Shaming Resistance
More and more, many famous moms—and dads—aren't afraid to clap back: Kim Kardashian, Chrissy Teigen, Jada Pinkett Smith, Julia Stiles, Kristin Cavallari, Hilary Duff and Snookiamong others—have all shut down mom-shamers, and David Beckham, John Legend and, as mentioned, Ryan Reynolds have all had opportunities to defend themselves from the dad police.
Celebrity parents definitely aren't the only ones dealing with this, either.
Dr. Berman says the shaming culture "has really gotten out of control," explaining, "It's like a bubble—somebody's gotta pop it and deflate it and realize that they're parenting from their ego and not from their soul. Because when you're shaming other people and you're judging other people, you can't be loving them at the same time."
Parent shaming is obviously prevalent online, but there are friendly, supportive corners of the web, too. As Dr. Rasminsky puts it, "[T]here are lot of downsides to the internet, but one of the upsides is that you can find pretty much any kind of community there."
"I guess I would say if you're feeling shamed, go find some other moms to hang out with who are going to be more supportive, because they exist," she adds. "I think finding your people is one of the tasks of early parenting because it's a whole new world—so that's making friends who are moms who share your view of parenting and of what's important, that's possible to do and i think it's important to do and it's sustaining, and they're out there."
Ultimately, we all need to remember "there is no exact science to parenting," says Dr. Berman. "I am a mother of three, I am a psychiatrist, I am a parenting book author—there is no one way to parent. There is not a perfect formula, and if we all look at each other with a lot more love and support and less shame, we would all raise happier kids."
 This article originally Appeared in
E! Online
and is reprinted with permission