Father's Day is next month and now is as good as time as any to start thinking of what to get dad for his special day. I think the usual tie, socks, coffee mug and golf balls are played out and it's time to start thinking outside of the box. Unique and personalized gifts stand out, like a personalized photo collage, a subscription box to Dollar Shave Club or something like that.
A custom shirt is memorable.
We curated a list of fun novelty gifts that dad may enjoy. Check them out.
1.For dad who is a dog lover, we really like these Fred Winer Dogs Dachshund Dog Drink Markers. They are great for breaking out when entertaining. To ease confusion over whose class is whose, these puppies (pun intended) hug each guests glass stem. They sell for only $16 for a set of 6.
2.For the dad who is more into moonshine or tequila shots, there's these super cute mini shot glasses that resemble small mason jars! Hayley Cherie makes the glasses which come with their own tiny little lids and are great for crafts or party favors even. They are $11.99 for a set of 6 as well!
3. If you insist on going the stereotypical route with the mug and golf clubs, why not combine them and get a mug that comes with its own tiny club and golf club.  Brink's ceramic mug comes with its own stir stick to mix your coffee with, and it comes in the perfect shape to shoot a tiny hole in one. The set is $19.99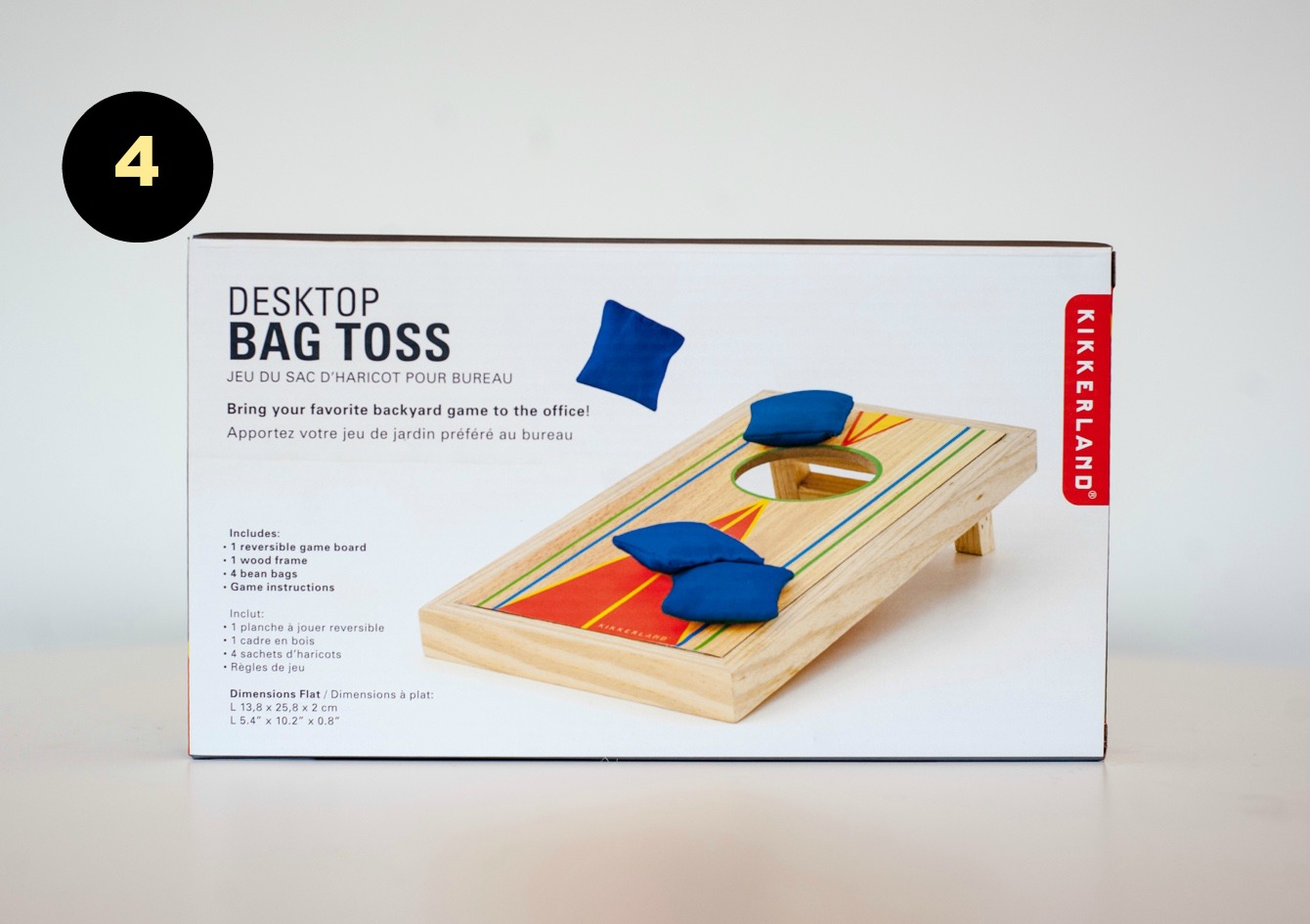 4. Desktop Cornhold Bean Bag Game looks like a fun distraction from the daily grind at work. Any dad would enjoy getting this as a gift and being able to pause during the day to toss the bean bag. The game is also under $20 at $13.98.
5. Got an artsy dad who loves to doodle or has some artistic skills? If he also has a smartphone and wouldn't mind showing off his talents, you can can get dad a phone case he paints. Kikkerland sells a silicon case for iPhones that comes with non-toxic colors and a paint brush. It sells for a mere $10.00 It also makes a version for Samsung Galaxy 6 owners.
6. Like everyone, dad has a story in him too. If he is a writer or fancies himself a budding author, consider gifting dad this awesome book "642 Things to Write About". The journal-like soft-cover book by The San Francisco Writers' Grotto includes several prompts. The purpose is to get one comfortable with daily writing and to practice expressing oneself in prose. We love this $11.92 book that is also under $20!
7. If dad is the type of dad who gets motivated by inspirational words, another book to consider is "Whatever You Are, Be a Good One." The book features quotes from the minds of the likes of  Lewis Carroll, Marie Curie, Abraham Lincoln, Jane Austen to Beatrix Potter and great creative thinkers from every walk of life offering words of wisdom, heartfelt compassion and stirring calls to action. You can get a hardcover for just $8.99
Happy Shopping!