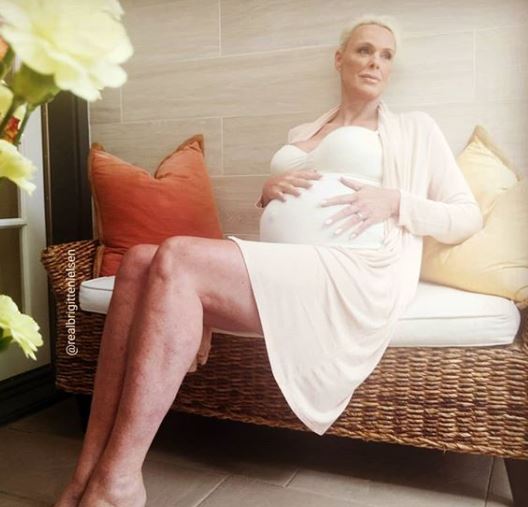 Model and TV personality Brigitte Nielsen just bested Janet Jackson who had a baby at age 50 when she announced she is expecting another child at age 54. The former Playboy bunny who is married to married to her 39-year-old husband Mattia Dessi revealed her baby news on her Instagram this week.
"Family getting larger," she captioned one post cradling her baby bump and wrote in another "happy time positive vibes."
The Surreal Life alum is already mom to four adult children 34-year old Julian, 28-year old Killian, 25-year old Douglas, 25 and 23-year old Raoul, 23, from previous marriages including one to actor Sylvester Stallone.
This will be Dessi's first child.
What a time to be an older mom.
Currently, 48-year old actress Rachel Weisz is expecting with hubby Daniel Craig.  Another very advanced age celeb moms include actresses Geena Davis welcomed her twins Kian and Kaiss at 48,  Halle Berry delivered her son Maceo at age 47  and Kelly Preston had son Benjamin at 48. Sophie B. Hawkins also had a second child at age 50.