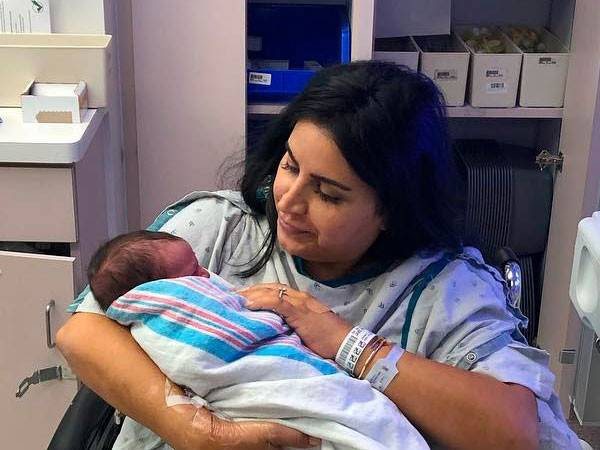 Bravo TV reality TV star of Shahs of Sunset Mercedes "MJ" Javid had the most difficult road to baby and recently revealed to her Instagram followers that she misses pregnancy!
Wow!
On April 17, the real estate mogul welcomed her son, Shams Francis Feight, who she named after her late father who she recently lost, as documented on the show.
But it was a nightmarish road to pregnancy and delivery which started with several surgeries to remove uterine polyps in preparation for an embryo transfer before eventually successfully conceiving her first child through in vitro fertilization (IVF).
Her new husband Tommy Feight shared the news of the very scary birthing experience and about how he felt he almost lost his wife after she gave birth.
"The night my son was born was the worst night of my life," he revealed on an Instagram story, E! reports. "My wife had a ton of complications. She was in surgery for like five hours — they didn't tell me nothing. But they are amazing at Cedars. They saved her life."
A source to E! said: "Tommy had a very emotional night. The delivery was extremely difficult and [Tommy] was very worried as he couldn't hear from doctors for nearly 4 hours."
Javid had to remain in the ICU and couldn't even see her son for hours after giving birth, Feight revealed.
"Coming home from the hospital with a healthy baby boy is a dream come true. We are enjoying every single moment together," Javid told E! News exclusively. "Being a mom is an incredible experience so far, and Baby Shams is so precious."
She continued, "I'm on the mend and ready to embark on this new chapter in life. We look forward to taking our first stroller outing and Tommy and I are in awe of what we have created together. A little spa & massage would be great, although for now, I cannot stand being away from baby for a second."
Even with the drama of having a complication mid pregnancy which required her to be on bed rest for weeks until delivery, she managed to get permission to do a maternity shoot and even went tanning before giving birth.
Feight spilled that drip of tea.
"She looks like the Aztec sun from ankles up," he said. "Ankles down she looks like she jogged back here from the jungle."
True MJ style! Cannot hate.
The couple have been completing transparent throughout their road to parenthood even sharing videos on Instagram and fighting back trolls who accused her of faking the pregnancy and really having a surrogate.
"I knew this was going to happen, so many emotions going through me these days," she confided to her followers in a behind-the-scenes video of her maternity shoot. "I miss being pregnant!"
Cannot still believe she said she missed being pregnant after such a journey but God Bless her for savoring and being humble and grateful for the opportunity and moment to experience something a lot of women want but cannot, especially at an advanced maternal age of 46.
_________