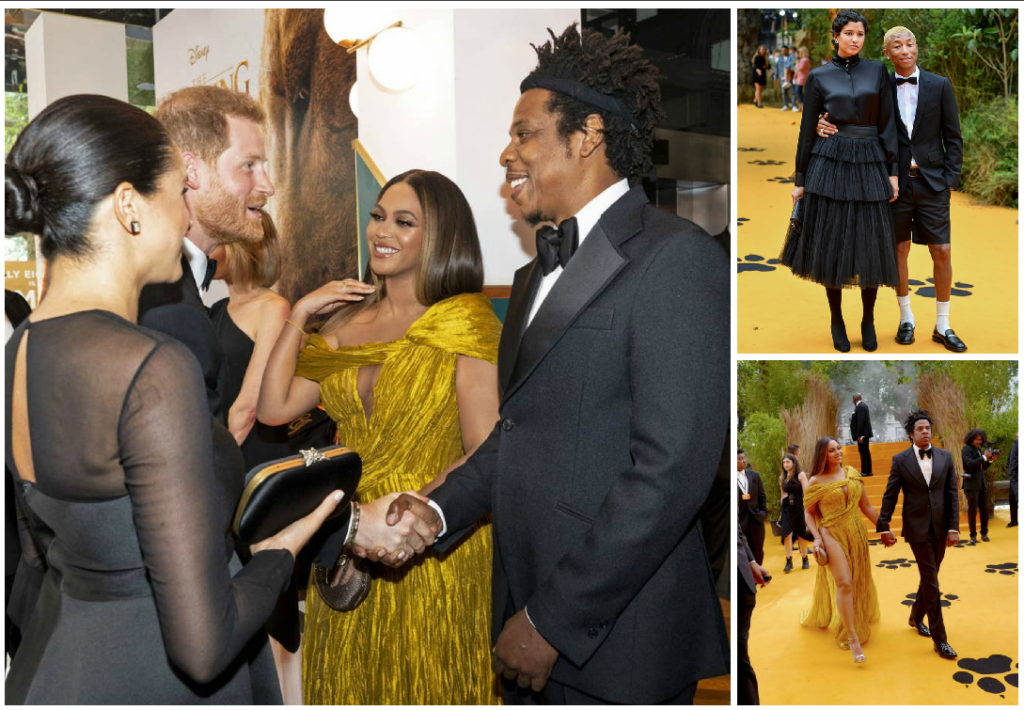 A mom of one, a mom of twins and a mom of triplets met in London.
All three previously covered "Bellyitch Bumpwatch" alumsMeghan Markle, Beyonce Knowles Carter, and Pharelle Williams' wife Helen Lasichanh (who gave birth to the couple's triplets in 2017) gathered at the European premiere of the live action remake of the 1994 Disney animated film The Lion King on Sunday.
The event took place at London's Odeon Leicester Square where the celebs walked the "yellow carpet" which also featured black lion paw prints during its star-studded arrivals.
Beyonce, who voices Nala greeted the former Meghan Markle for the first time since Duchess of Sussex presented her and her hubby Jay Z with the 2018 Brit Awards for Best International Group.
The power couple accepted via video acceptance while standing in front of a portrait of the Duchess wearing a crown, back in December before the Duchess gave birth to her first child, son Archie, with husband Prince Harry.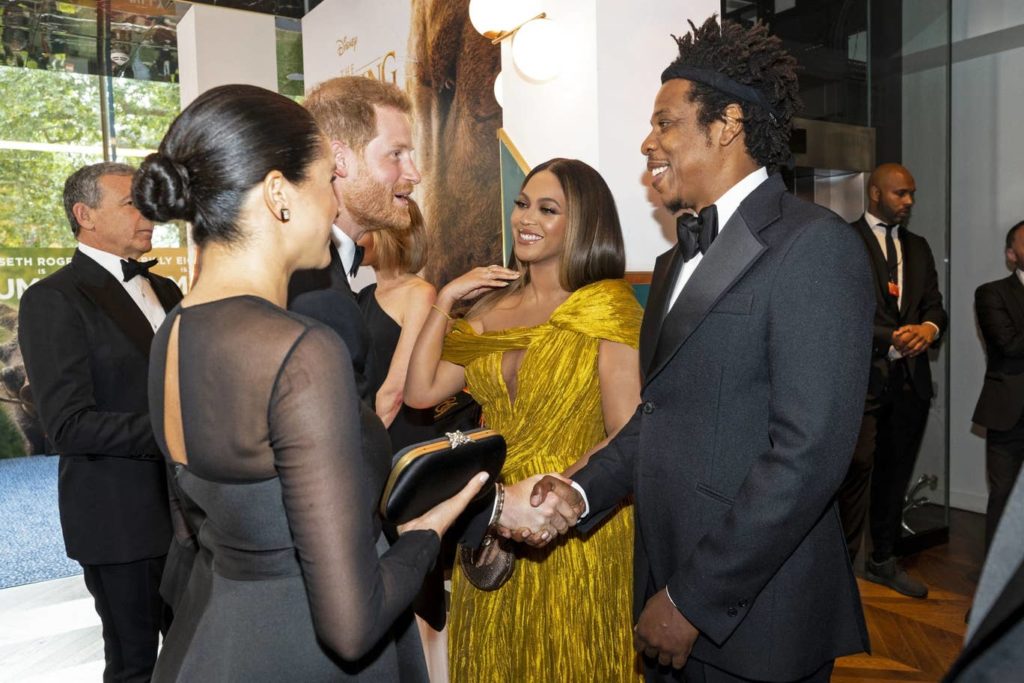 The two celeb moms greeted each other warmly, with Markle in a black A line tea length Jason Wu Collection Mesh Panel Fit and Flare Dress with sheer sleeves and bodice and Beyonce, dressed in a thigh high slit draped yellow gown.
"Hello my Princess" Beyonce can be seen mouthing before a very warm hug, followed by a friendly hug from Jay Z.
"The baby, so beautiful," Beyonce then remarked, according to Royal reporter Rebecca English had the scoop on the conversation . "We love you guys."
At that point, Markle then turned to introduce her husband, who was decked out in a tux. The Prince greeted Beyonce with a kiss on each cheek and Jay-Z with a handshake.
Prince Harry and Duchess of Sussex Meghan Markle meet Beyoncé & JAY-Z. ??? pic.twitter.com/SveJX9kDez— BEYONCÉ LEGION (@BeyLegion) July 14, 2019
"You've been rather busy," Harry told Beyoncé.
The 444 rapper responded with, "Congratulations on the birth of your baby," while nodding towards Meghan.
"And how are the twins?" the Prince asked, referencing the superstars' twins, daughter Rumi and son Sir, born in 2017.
'"They are not here. They don't come on every trip," Bey replied. "We left them at home. They would loved to have been here."
The Royal couple then greeted Sir Elton John, his husband David Furnish and the Disney president before being introduced to Pharrell Williams who worked on the music in the film.
His wife Helen stayed in the back row but was acknowledged.
"It's just incredible, you're in for a great night," John added.
Harry was humored by Pharrell William's signature shots tuxedo and his curtsy he did as a joke, I hope.
"I love the look," Harry said with smile. "It's phenomenal, seriously. It is just amazing,."
Also in the line up were actors Billy Eichner, Seth Rogan, Chiwetel Ejiofor and Florence Kasumba.
As part of the film's rollout, Disney Studios is supporting Protect the Pride, a campaign focused on protecting and revitalizing the lion population. 
Specific beneficiaries include the Lion Recovery Fund and the Wildlife Conservation Network.