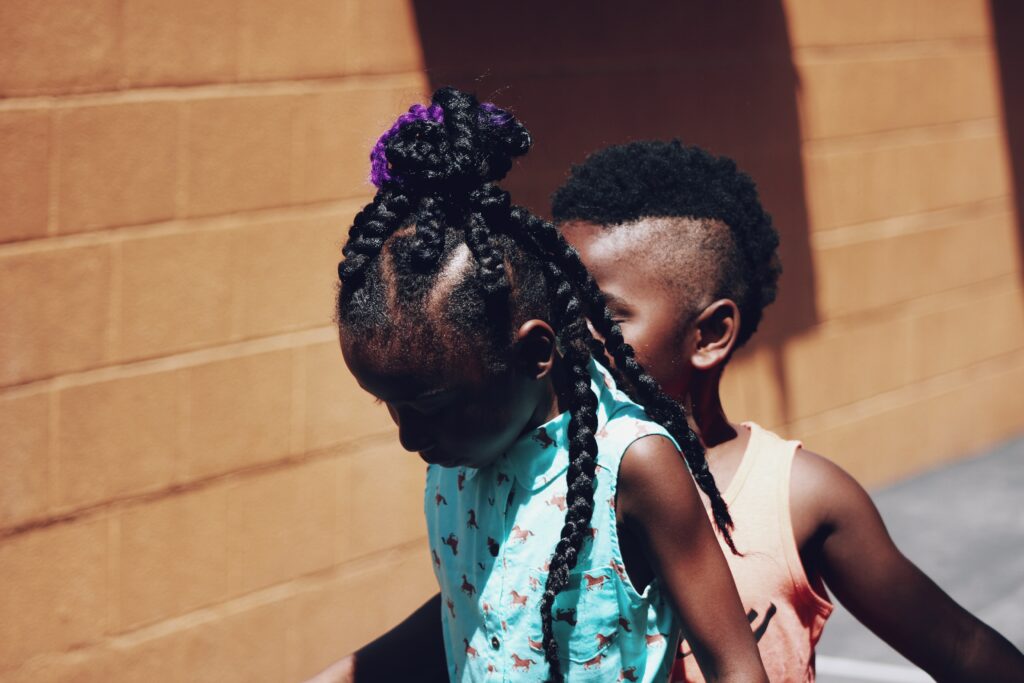 With the economy on the downturn slightly, some families may be feeling the pinch and purchasing school supplies, getting immunizations and paying for haircuts and style could be a bit much for the budget.
Luckily, a lot of barber shops, religious, community and civic groups have organized events where they help parents out.
We're already deep into back-to-school season and several of these have passed but I managed to dig up a few more in my area, DC, Maryland and Virginia and a few others. Do a Facebook, Google Events or Eventbrite search for one near you.
Here are the ones I found. Good luck!
District of Columbia
Washington, DC
What:  Back to school physical exam, Birth Control options for college students, STI discussion and primary care needs for medicaid /private pay
Date: Thru Aug 31, 2 PM
Where: 1331 H Street Associates, 1331 H St NW, Washington, DC
More deets/sign up: Eventbrite
Maryland
Baltimore
What: Free Backpack & Haircuts School Supply Giveaway
Date/time: September 2nd, 8:00am to 12:00pm
Where: Paul's Beauty Warehouse, 1821 Whitehead Road, Baltimore, MD, 21207
More deets/sign up: 92.Q Website
Bowie
What: Back to School – Free Backpacks; Come to a free back-to-school event, get free school supplies and sign up for tutoring and other academic support.
Date: Sat, August 31 10 AM – 2 PM
Where: Bowie Church of Christ, 2518 Kenhill Dr, Bowie, MD
More deets/Sign Up: Eventbrite.com 
Centerville
What: The Queen Anne's County Department of Health will be hosting Back to School (BTS) Immunization clinics beginning in late August. If your child cannot get the vaccines from their healthcare
Date: Tue, Sep 3, 8 AM – 12
Where: Queen Anne's County Department of Health 206 N Commerce St, Centreville, MD
More deets/signup: Facebook Event Details
Charles County
Where: The Charles County Department of Health provides immunizations through the Vaccines for Children (VFC) Program to eligible children living in Charles County. Our goal is to educate and assist caregivers with making decisions that will protect them, their children, and the community. We offer back-to-school, childhood, and preteen and adolescent vaccines.
Eligibility Requirements
A child is eligible for the VFC Program if he or she is younger than 19 years of age and is one of the following:
Uninsured
Covered by Medical Assistance
Underinsured (has health insurance that doesn't cover vaccines)
American Indian or Alaska Native
When:
| | |
| --- | --- |
| Tuesday, August 27, 2019 | 1:00 PM – 6:00 PM |
| Tuesday, September 10, 2019 | 1:00 PM – 6:00 PM |
| Tuesday, September 17, 2019 | 1:00 PM – 6:00 PM |
| Tuesday, September 24, 2019 | 1:00 PM – 6:00 PM |
More deets/signup: Child Health/Child Immunizations
Columbia
What: Free Back to School Vaccination Clinic
When: Tue, Sep 3 – Thu, Sep 5
Where: Howard County Health Department, 8930 Stanford Blvd, Columbia, MD
Deets: From Facebook.com: The following vaccines will be available..
Prince Federick
What: Free Back to School Immunization Clinic
When: Wed Sep 18 2019 at 09:00 am
Where: Calvert County Health Department, 975 Solomons Island Rd N, Prince Frederick, Maryland 20678,
Temple Hills:
What: FREE Back to School haircuts and hairstyles is BACK! Now taking appointments for Sunday, Sept 1st ONLY.
When: Sun, Sep 1, 10 AM – 2 PM
Where: Vision Impact Center
4544 Beech Rd, Temple Hills, MD
Deets/Please register at http://vicback2school.rsvpify.com. *Serious inquiries and appointments only.
Philadelphia
What: 2019 Bookbag Giveaway & Back-to-School EXPO
When: Sun, Sep 1, 11 AM – 4 PM
Where: 6630 Limekiln Pike, Philadelphia, PA 19138
Deets: reachphiladelphia.org
Texas
Houston
What: Committed to creating a community of healthy children, Texas Children's Mobile Clinic Program will administer the vaccinations to children, 6 weeks to 18 years of age, who need immunizations.
Children must qualify for the Vaccines for Children program (no insurance, have insurance that does not cover vaccines, or have Medicaid)
No pre-registration is required but space is limited.
Parents and guardians must bring child's immunization records and must accompany child. 
When: every Thursday in August 2019., From 5 to 7 p.m.
Where: Children's Museum of Houston 
Deets:  Texas Children's Mobile Clinic Program
Virginia
What: Free haircuts & open to the public.
When: Friday, August 30, 2019 from 11am-3pm
Where: Doris Miller Community Center, 2400 Washington Ave., Newport News, VA 23607 
Deets: call 757-247-8603 for hair appointments. 
Norflok
What: Better Barbers Back To School Bash!  GRADES K-12 Come out and join us at our first annual Back To School Bash! We will be providing *free haircuts, LOTS of school supplies, food, drinks, snacks, games and prizes for the children! Come out and celebrate the beginning of new and successful school year. School supplies will be distributed on a first come first-served basis. We currently have 121 bags to give away and the child must be present to receive a bag. If you're vegan don't worry, we've got you covered! We are looking forward to seeing everyone
When: Friday, August 30, 2019 from 2-5pm
Where: Better Barbers Tidewater Dr 7468 Tidewater Dr unit B, Norfolk, Virginia 23505 
Deets: Facebook Event Better Barbers Back To School Bash!
What:Village Family and Partners Back2School Expo, This is an annual community effort to help youth and families prepare for the school year that is right around the corner. Come and join us in this fun event for children of all ages.FREE backpacks & school supplies. MUSIC BY DJ NAKYLLA
When: Saturday, September 7, 2019 from 1-5pm
Where: Military Circle Mall, 880 N. Military Circle Mall, Norfolk Virginia 23502
Deets: Facebook Event
Virginia Beach
What: Haircuts & Book Bags – Back to School Bash 
When: Saturday, August 31, 2019 from 12-2pm
Where: 2180 McComas Way Ste 113, Virginia Beach, Virginia 23456
Deets: Facebook Events
Hampton
What: Mobi Wash Cares: Back2School Bookbag Giveaway,  Come and enjoy food, fun, games, prizes, and FREE BOOKBAGS. Your kids will leave happy, tired, and, most importantly, PREPARED for school!
When: Saturday, August 31, 2019 from 10am-2pm
Where:  Gray's Missionary Baptist 380 Union St, Hampton, Virginia 23669 
Deets: Facebook Events
What: Free Backpacks and school supplies
When: Saturday, August 31, 2019 from 12-2pm
Where: We Serve The City 2180 McComas Way Ste 113, Virginia Beach, Virginia 23456