Motherhood took center stage again at the World Athletics Championships  when US Gold Medaling hurdler Nia Ali celebrated her win in the Women's 100 meter hurdles with her two children 4-year-old son Titus and 16-month-old daughter Yuri  who joined her victory lap in Doha, Qatar, Sunday, Oct. 6, 2019.
She is the latest among several elite Track and Field athletes this year and in recent years to have major comebacks after having a baby to win prizes and spots on top of the winners' podium. Their wins echo the great successes of  FIFA World Cup champion US Women's Soccer Team and new mom Tennis Champ Serena Williams proving that female athletes can do it all, despite some who insist they retire after motherhood.
Ali hopes her medals after baby sends a message to other female Track athletes.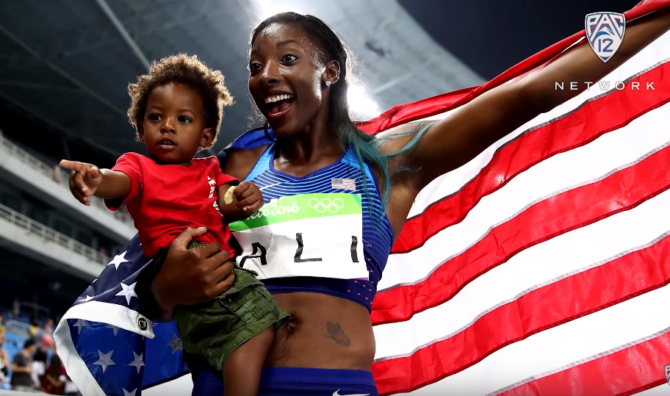 In 2016, after winning the Silver Medal, Ali tlalked about  how men can build their families and continue training and  winning "without missing a beat". She said she wants to encourage women to do the same and know that having a family "is also a very important part of  your life…it can also make you a stronger competitor" and "build your character."
She added, of motherhood: "It has made me stronger, has given me more dedication, and who knows if I had this edge had I not had a child last  year….I want more women to embrace having a family and not look at it as a burden or it might throw them off their game, or they won't come back."
Boy has this crop of champions proven wrong the perception that mother hood is a career killer in track and field.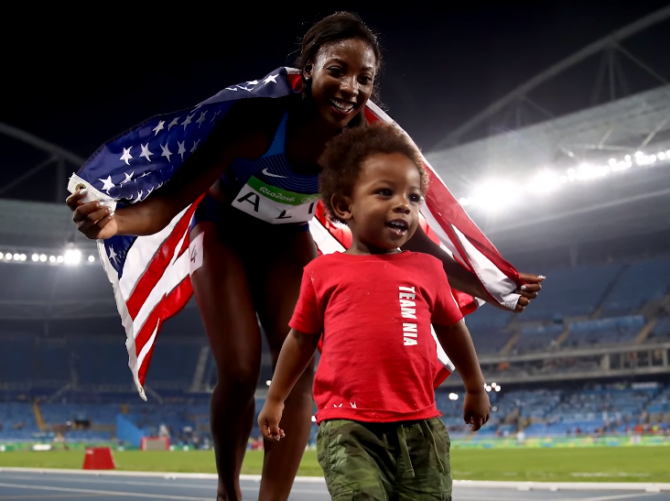 Felix, who became a mother last November, also won gold last weekend in the new event, mixed relay, and now has 13 total – two more than the record she shared with Jamaica's Usain Bolt.
His country mate Shelly-Ann Fraser-Pryce of Jamaica also won two golds. China's Liu Hong picked up a gold in the race walk and  Alysia Montano, a mother of two who was part of the Nike movement along with Felix, went to the Championships to collect two bronze medals reallocated to her following 2011 and 2013 doping scandals from 2011 and 2013.
"When I found out I was pregnant, I was a wreck… people asked me to retire gracefully," Fraser-Pryce said in a post win interview.
In a new Associated Press article, Ali told one story about having to break from training in Europe recently so she could head home for a parent-teacher conference for Titus, who is in preschool.
"It was important for me to be there and get a good feel of what he's going to have to go through this year," Ali said.
Ali's boyfriend is Canadian sprinter Andre De Grasse.