Guest post
Cat Kom, founder and lead trainer of Studio SWEAT OnDemand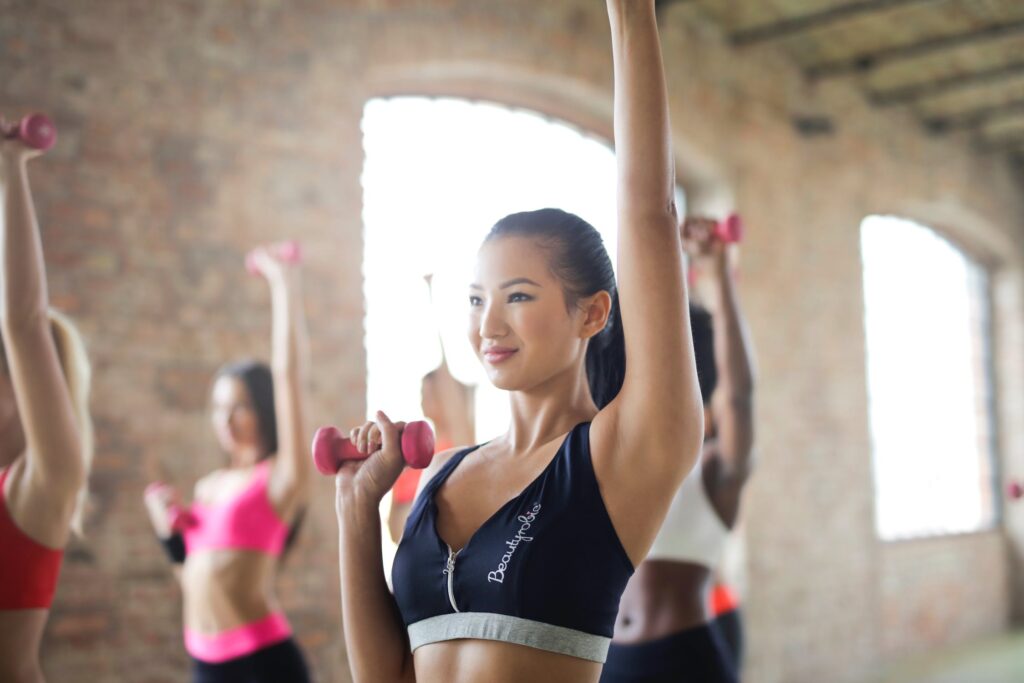 I know many women get worried about getting bulky arms! But, I am here to tell you: that's not a problem sista! With these awesome arm workout tips, you will be able to flash your gorgeous slim and toned arms, worry – and bulk – free!
Beat the Bulk
The key to toning, not bulking, is to not take unnatural supplements. I know what you were expecting me to say… "low weight and high reps". No, you can lift heavier; just so long as you're not injecting yourself with testosterone, you likely will not bulk, ladies. Bulking requires super heavy weights AND a high-calorie intake, so unless you're making a real effort to bulk up, you don't have to worry! Before I forget to mention it, by the way, those trainers that you ask, "How can I tone-up my arms" that forget to mention diet, have NO clue what they're doing. You canNOT spot train. What I mean by that is that you cannot tell fat where to leave your body without "intervention" by a cosmetic doc. When you burn fat, your body tells it where to go, not you and not your trainer. But… you CAN make sure the muscle under the fat is rarin' and ready to show.
So… best way to start toning your arms is by minimizing fat (think healthy diet with plenty of protein, healthy carbs, fruits & veggies) and consistently working those triceps, biceps, and shoulders for the best results. I suggest you work them using resistance training 2 to 4 times per week. Some great upper body exercises can target those soft spots and make them lean and mean instead. So, if you are using weights, you will need enough weight to give yourself a challenge – but, make it an achievable one. And you don't have to make up workouts on your own.
Find the Fun
Cardio and some weightlifting would definitely work. But let's try something a little more… FUN!
If you want a great, convenient upper body workout at home, why not try and get those arms slim while you Spin? Nothing's more motivating than hearing the beat of the music pound in your ears as you sweat the fat away!
You see, an important aspect of toned arms is minimizing the fat to let your toned muscles take center stage. And, a great way to burn fat and gain arm muscle at the same time is through Spin workouts that include arm exercises.
Also known as Spin and Sculpt, these classes are the perfect solution for the busy person who wants to get the most results out of their workout without the hassle of a brick-and-mortar gym membership. Because with Spin Sculpt, you can do push-ups or grab your fav dumbbells and get those arms busy! These workouts target the biceps, triceps, and deltoids during an intense cardio routine to give you the best fat-melting, muscle-toning, action-packed exercises into each session. That means our Spin and Sculpt classes will really show you just how to lose fat, fast! So get on that bike, get Spinnin', and show the world what your arms are made of!
Workout Without Weights
What about arm workouts without weights? If you aren't into weightlifting… Try SSoD TRX for full-body sculpting from head to toe! There are even TRX Sculpt Classes that target specific areas like the arms, so you can build your guns while you work on your buns! These bodyweight bicep exercises will tone you up FAST with the added benefit of helping you build strength, balance, and flexibility!
Remember to Relax
Yeah this all sounds FUN right? But we get it, you're busy, and after a long day at work, sometimes you just don't want to leave the comfort of your home. That is why SSoD Yoga Classes are a perfect solution to tone your arms while relaxing away the stress of the day. You're doing double duty here, and it doesn't even feel like work at all! This is the ideal solution for a busy mom who needs to wind down, a workaholic that needs to get their mind off the office, and everything in between. Yoga is another way to use your bodyweight to help create those toned arms. So, relax, gain strength, and get those sexy arms, all with SSoD yoga workouts.
Start Small
If you're sitting there reading this and can't help but think that this seems overwhelming, remember it's okay to start small with something like arm circles and work your way up to workouts that are a little more intense. The goal is to make it fun and enjoyable! We highly recommend yoga for low impact and low intensity, or a 30-Minute Back to the Basics Spin class for something more upbeat and entertaining!
TRY OUT ANY OF THE CLASSES MENTIONED IN THIS POST WHEN YOU SIGN UP FOR A FREE 7-DAY TRIAL HERE!