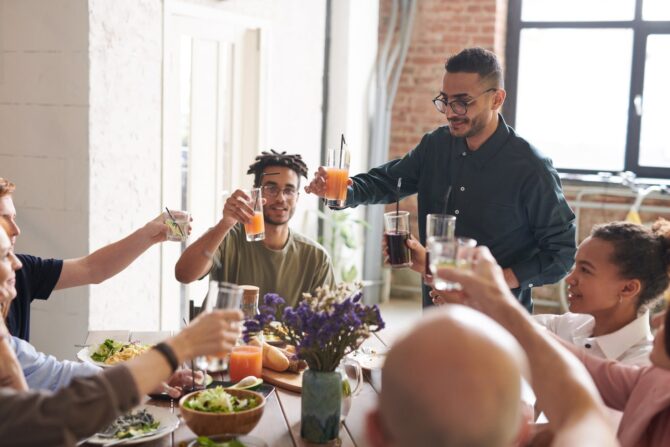 In the past five or so years, hosting a Thanksgiving meal among friends a week before the actual holiday has become a standard part of the celebration for many young adults, an Atlantic article proudly boasts.
Friendsgiving is a mashup of the word "friend" and "thanksgiving" that refers to a large meal among friends eaten during the Thanksgiving season. The level of formality is dependent on the participants, but the word first appeared around 2007 as an informal replacement for the holiday typically spent with family.
While the trend is credited to the GenY/Millennial generation, personally, my friends from college and I  who are GenXers have been gathering during the Thanksgiving season to gather, reconnect and have a great time. I guess thanks to our young friends, we now have a fancy name for it. (Add Friendsgiving to Bingewatching, Bromance,)
As  the Atlantic notes, "slapping a catchy name onto an existing concept can, after all, make it seem trendy or suddenly ubiquitous, even if the thing itself has been around for decades."
True !
A blogger over at CHOWHOUND has ideas of how to host your own based on her experience:
Potluck – Designate a dish and create some competitions amongst your friends. Even the worst cooks can bust out a family standby dish that will impress! We send out a Google Sheet so people can sign up for dishes. You can see our list this year to the right. We expect between 18-26 people, so we broke down dish categories asking people to make enough food for 10. This not only takes care of all the staples, but it also allows some creativity and inevitably tasty food.
Booze – Depending on your crowd, you will probably do some drinking. Supplying wine and beer for the entire crowd can get expensive. We have a line item on our food spreadsheet so friends can also sign up to bring wine in 2 bottle increments (we learned a lesson last year, more wine!).
Table/Settings – This next section is a serious tip, not just for Friendsgiving, but for any time you are hosting a party. Get your house and table ready way in advance. If you can do it the night before, do so! It will save so much stress and time if you get all of the gritty details done the day before. Clean your house, set the table (or at least plan out your settings), and separate glassware, flatware and dinnerware so you aren't furiously cleaning the day of the party.
Large Parties – Our table got big last year. We sat 27 in our tiny apartment. Outside of the logistics to get seats and table space for everyone, the one thing that helped the most was getting disposable (compostable) plates and larger serving plates. We wanted all the food on the table, so we had the turkey and all the side dishes separated on smaller multiple serving dishes places throughout the table.
Fun Tips – Since all our friends don't know each other, we made everyone pick a # out of a bowl and numbered all the seats so everyone was randomly seated next to each other which was a big hit!
Enjoy! Go Big or not at all. If you have a Friendsgiving, please tag us in the photos at @Bellyitch on all social!