This post contains affiliate links. If you elect to click and sign up for some of these services, I will earn affiliate commission from your sign up. 
If you are expecting and standing on your feet and walking aisle to aisle to go grocery shopping might be out of the question, especially if you are on bedrest.
Thank goodness for technology and the gig economy, a lot of apps and services have cropped up to take the work out of it for you. For a small delivery fee, you can have someone do the shopping for you.
If you play your cards right, and organize accordingly, could arguably get free deliveries for a year. Sign up for each of the services for the first free months and try a new one each month then cancel before you are billed. Then when you're done researching which store has the best prices and best delivery services, you can re-ignite your membership at the winning service!
There is a way to get free groceries for life. Keep reading this roundup to find out which will give you that option:
Instacart is the go to service for quick and effective grocery delivery. Customers select groceries from various retailers, then a personal shopper does the shopping and deliver the groceries to them when they are finished. This service started several years ago but only recently took off to become the industry disrupt or and standard. You can try it for the first month is FREE.
I first used Instacart a few years ago when my husband and I were away on a couple's vacation and we wanted to deliver food home for our babysitter (my mom). It was easy to pick fresh ingredients and have them delivered thousands of miles away! It was soooo awesome! I've since used it again in crunch times.
This option  is great for those who live in cities and who don't have cars also.
Also, if you want to make extra money for the holidays for an upcoming trip, consider being an Instacart shopper. 
Fresh Direct is another competitor to Instacart and it will give you 60 days of free delivery but the other draw back is that it is limited and doesn't' serve all areas. Click HERE to see if your home is covered and if so, enjoy this deal!
Amazon got into the market with its Amazon Pantry offering which is quite identical to Instacart in every way. However, the bonus for Prime members is their membership gets them  free deliveries all the time so long as they order over $35 (or $50 in expensive NYC) .
Sign up for PRIME HERE if you do not already have it.
Also, customers in Amazon Fresh cities will be able to order fast 1-2 hour delivery windows, which is much faster than the usual 3-4 hour window.
You knew Target would get on the bandwagon and via it's shopping partners at Shipt, you can get your first delivery order FREE!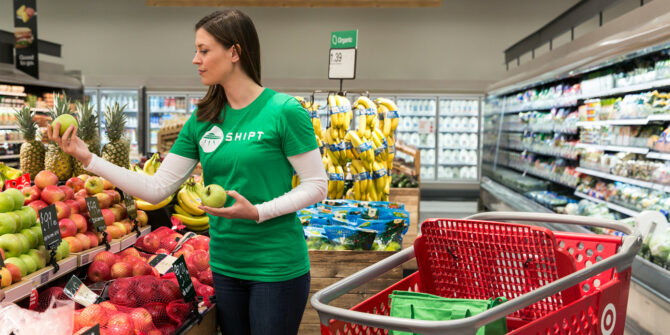 And the good thing about using Target is that you can have other essentials and not just groceries delivered to your home. Sign up for Target FREE delivery via Shipt HERE!
If you live in the states with Safeway Grocery stores, you can get your first order delivered free and a $20 credit towards your groceries. Use promo code Save20 on your first order.
Also, people who live in states and cities with a GIANT grocery store can also get the benefit of a month's worth of free grocery delivery when they sign up. SIGN UP for Peapod by GIANT here!
Not everyone is comfortable having others do their grocery shopping for them and so these options are not the cup of tea for all, but for those who are cool with nixing one more thing off the weekly to-do-list, take every advantage now!