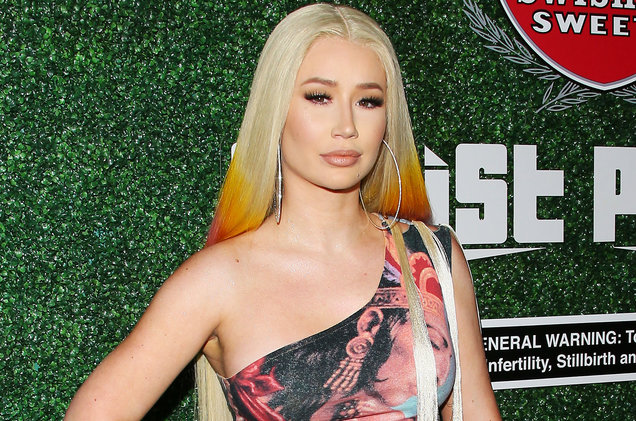 Rapper Iggy Azalea has recently been reported to be 6-months pregnant with her rapper boyfriend Playboi Carti.
Several gossip outlets like RadarOnline sourced  Hollywood Unlocked with the story from insiders about that news.
However, since then, the "Fancy" recording artist has attempted to indirectly debunk the rumors by posting  videos and pics from rehearsals for her upcoming performances.
In video, she is seen looking fit and trim with a tiny tummy ant resembling nothing close to 6 months pregnant.
Although, as we've blogged before, it is quite possible to not look traditionally pregnant at 6 months because all women carry differently and many carry small. [See all the posts from this blog  about Iggy's fellow Australians doing just that here and here and here and here)
Nonetheless, Azalea showed up to the International Music Awards in Berlin on November 22 lightly subconsciously tapping her belly, yet in a performance in Brazil last night, you wouldn't think she was pregnant in those outfits either.
But on the flip side,  Cardi B did the same thing when news of her first pregnancy with daughter Kulture leaked.
She posted a video with her belly looking flat'ish to squelch rumors but was clearly pregnant at the time as we later learned she was three months along in that video.
Time will tell….