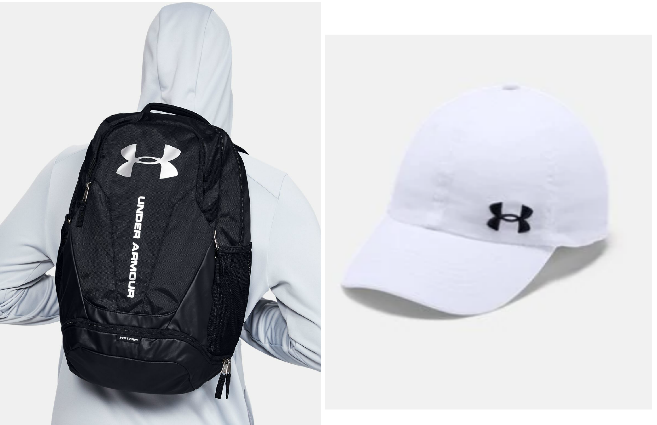 A lot of people are home shopping and a lot of retailers are aware of this fact, and as such, are offering deep discounts on beloved products.
This weekend, an email popped up on my screen from my affiliate partners Under armour alerting me that its very popular Under Armour UA Hustle 3.0 which normally retails for about $55 is almost half off for a limited time down to $27.99.
All the boys at my sons' school sport this trendy bag from a beloved brand that was actually founded in our state, Maryland.
It's the official athletic apparel company for their school's team sports and Spring uniforms.
The bag is not just stylish and sleek and great for any gender, it is also durable with a sturdy reinforced shoulder strap, a rugged bottom panel to withstand the stress of being dropped on the ground, a top grab handle so it can be picked up and taken on the go and more.
It's good for a student who carries a laptop as it has a sleeve for a laptop  but beware, it can only hold one that is 15″. If you or your child has a larger 17 or 18″ size laptop, it would be a tight squeeze or won't fit at all! I'd recommend upgrading to the larger Storm Recruit backpack which isn't on sale but runs just $64 regular price. Not bad for a durable bag that will last the test of time.
The bag is also good to use a sports bag. It has a gusseted front laundry bag inside at the bottom, meant for shoes to separate them from books or other items. It's not too large so sons with huge feet may not be able to use this function.
Two side pockets can hold water bottles so hikers can use it to hold enough thirst quencher for a long trek.
There is also font water-repeellant part for valuables like mobile phones and wallets.
Overall, I think this bag is perfect to use as either a light weight back pack or a sports bag but not both.
Also, there is not enough room for heavy books and all the other stuff kids carry around. It's only good for schools where the kids use lockers during the day to hold books, and for kids that go in and out of their lockers.
If you're shopping now for Back to School or Summer sports training, consider getting one too!e 3.0 one for too!
I'm also gonna invest in a new runner's cap. It's sleek, pre-curved run cap is also on sale down to $15.99 from its original $19.99. I like that it's super light and made of breathable mesh venitlation on the side and back panels…just in time for outdoor exercising and running this Summer.  Get it now before the sale expires.