Wondering if you're pregnant? The best pregnancy tests will help you get your answer.
Excitement, anxiety, hope: wondering if you're pregnant can be nerve-racking. A home pregnancy test can quickly reveal if you're expecting—some even work before your period is late—so you can get that need-to-know answer right away.
When is the Best Time to Take a Pregnancy Test?
The best time to take a pregnancy test is when your period is late. But some at-home pregnancy tests say they can detect if you're pregnant or not up to five days before your period is due to start. How do they do it? At-home pregnancy tests use the hormone human chorionic gonadotropin(hCG) to detect pregnancy, and some are more sensitive to hCG than others. So that's why some tests work earlier when you have less of the hormone, while others won't show a positive until later when you have a higher amount.
The best time of day to take a pregnancy test is first thing in the morning. Your urine is more concentrated in the a.m., so there's more of that hCG in it. You can take a pregnancy tests at other times of the day, though there's more of a chance of an inaccurate result. Also make sure not to drink a lot of water or other liquids, as you'll dilute your urine.
How Do Pregnancy Tests Work?
When an egg is fertilized, your body starts producing hCG. During early pregnancy, hCG levels double every two to three days and peak by the end of your first trimester. Pregnancy tests look for how much hCG is present in your urine.
CHECK OUT THE BEST PREGNANCY TESTS BELOW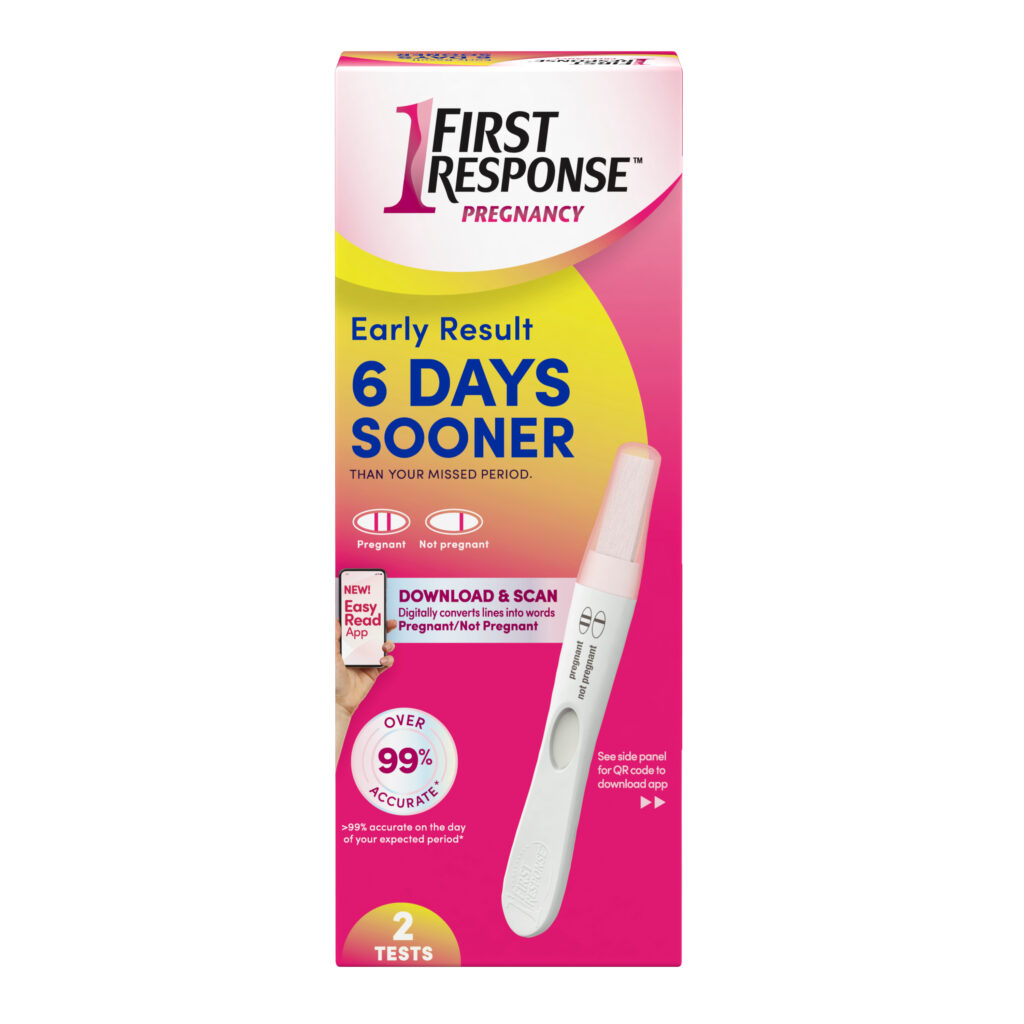 Early Result Pregnancy Test
$8.98
If you just can't wait, the First Response Early Result test is what you want to grab. It's the most sensitive over-the-counter pregnancy test, and can accurately tell you if you're pregnant up to five days before your period is due. We also like the curvy handle, which makes it easier to hold the stick as you pee on it. It also comes in a digital version, which uses words instead of lines to report your results.
ClinicalGuard HCG Pregnancy Test Strips
$7.29
These take away the plastic applicator and absorbent tip of your standard pregnancy test and give you a simple strip (the same one found in regular pregnancy tests) to dip into a cup of your urine. They're much less expensive than applicator tests, so if you're trying to conceive and using many tests each month, these could be a more economical choice—and they come in bulk packs. Wondfo is a similar pregnancy test, at a similar price point.
Clearblue Rapid Detection Pregnancy Test
$12.99
If you are so eager, you can't wait three minutes, the Rapid Detection pregnancy test is ready in just one minute! This box includes three tests. However, we've seen a lot of reports of more false positives with this test than with others. They always said patience is a virtue.