The right pacifier can soothe a fussy baby, but there are a lot to choose from.
Pacifiers can be total lifesavers, but it's hard to know which one your baby will prefer. And let's be honest, the best pacifier is the one your baby will take, right? Which means you'll probably have to try a few to find the type your little one loves. So where to start? As you start shopping for pacifiers, here are some questions you may find yourself asking:
What is an Orthodontic Pacifier?
A buzzword you'll frequently see on pacifier packaging is "orthodontic." It means that both your baby's top and bottom jaw are in the correct position when the pacifier is in their mouth, so it doesn't interfere with jaw growth and development. As your baby grows, you'll need to make sure the pacifiers do, too—a bigger paci is usually needed at three months and six months (you'll see the age specifications on the packaging).
Are Silicone or Latex Pacifiers Better?
Silicone is firmer than natural latex, so silicone pacifiers are sturdy and long lasting, and they won't break down as quickly as latex pacis. But since silicone is a synthetic material and sometimes undergoes chemical treatments, some parents prefer a more natural material like latex rubber (made from the sap of rubber trees). Latex pacifiers are eco friendly since they come from a sustainable source, and they're softer than silicone ones, but latex also breaks down faster than silicone. Keep in mind that a latex allergy, although rare, is a possibility, so if you think your baby might be allergic to latex, you'll need to stick with silicone pacifiers.
CHECK THESE OUT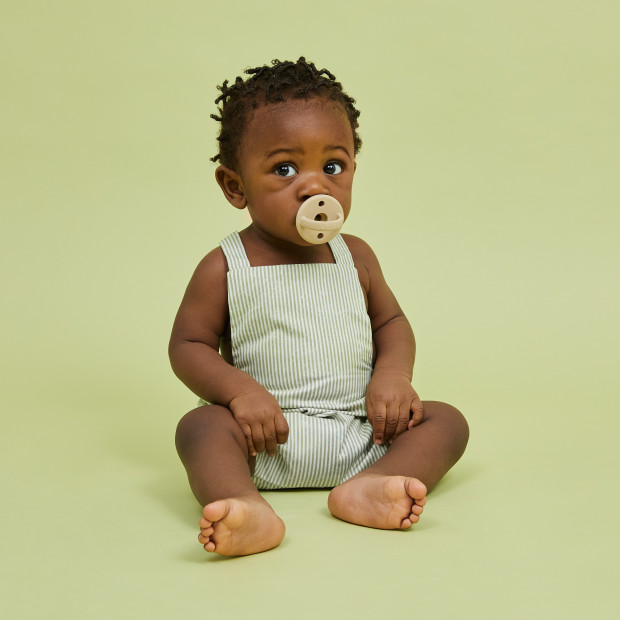 Loui Classic Pacifier
$12.50
Opening a Loui pacifier feels like a little gift in itself. Packaged in a beautiful matte gray box with a clear peekaboo window, this beautifully minimalist pacifier is about as cool as it comes. And the better news? Your little one will likely agree. Loui's classic paci is made from medical grade silicone and is lightweight and super soft. It's easy to grip and features a natural-shaped nipple. There's even a scalloped design if you're looking for a little extra style.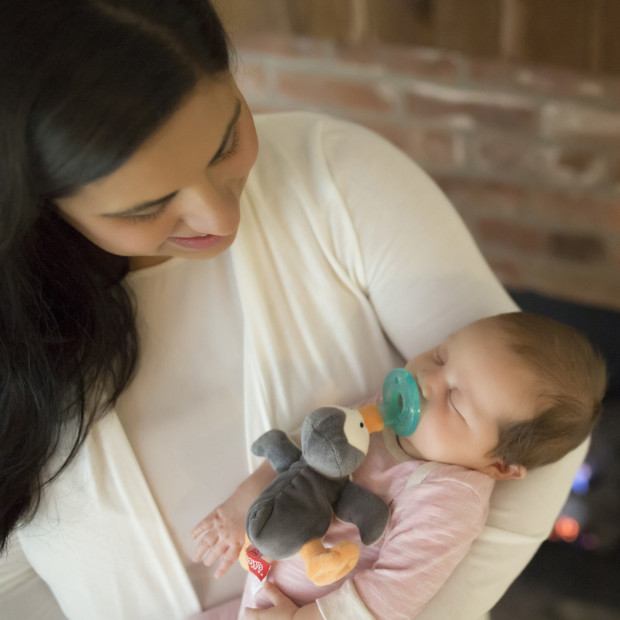 WubbaNub Pacifier
$14.95
Part pacifier, part snuggly stuffed animal, WubbaNubs are pure genius. It's a pacifier your baby can easily grab a hold of and hang onto. With a stuffy attached to the pacifier to help weigh it down, the WubbaNub miraculously stays in your baby's mouth for longer than half a second, which makes it an easy choice for parents. Plus, they're easy to spot in the diaper bag. The pacifier is a Philips Avent Soothie, so this is a good choice for babies already familiar with the Soothie's shape. The downside: the animal doesn't detach, so it can be difficult to get thoroughly clean. If you prefer to take the animal off, check out the Soothie Snuggle (which also uses the Soothie pacifier) and the Dr. Brown's Lovey.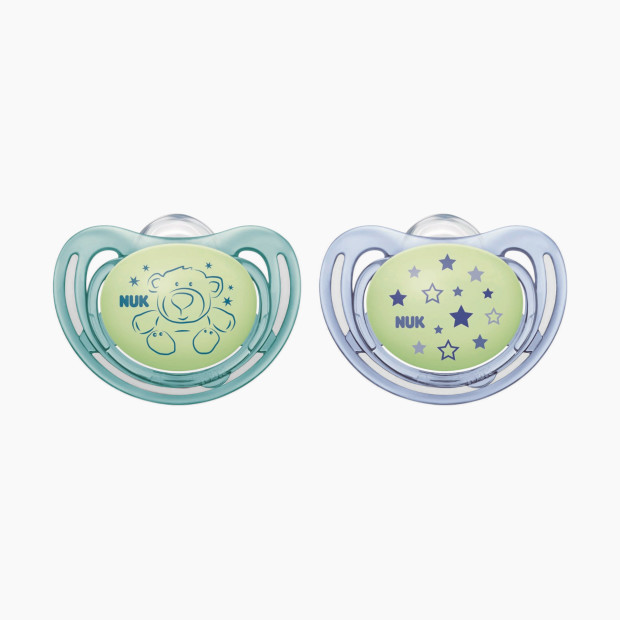 NUK® Airflow Glow-in-the-Dark 6-18 Months 2-Pack Pacifiers
$5.99
Tired of searching through your little one's crib in the dark for their lost pacifier, afraid to turn on any lights in fear of waking them up? Here's a pacifier that's easy to spot no matter how limited the light is…because it glows in the dark! As long as the plastic design on the outside of the shield gets enough exposure to brightness when the lights are on, it'll create a gentle glow when the lights go out. The downside: this pacifier is constructed from multiple pieces (as opposed to single-piece construction), so it's harder to keep clean. Plan on replacing these more often.