Stock your kitchen with these top-rated cutting boards.
Much like a great chef's knife or a dependable skillet, a great cutting board can seriously up your home cooking game. Whether you're cutting veggies, chopping herbs, or slicing steak, the best cutting boards provide a large area on which you can work, as well as protection for the knives you're using.
But here's the ultimate question: What type of cutting board should you use? The best cutting board for your kitchen will depend on what types of foods you cook and your favorite knives. Indeed, you might actually need more than one type of cutting board. From flexible plastic boards you can stash in a drawer to sturdy wooden boards with juice grooves, there are more than enough models on the market to find precisely what you need.
CHECK THESE OUT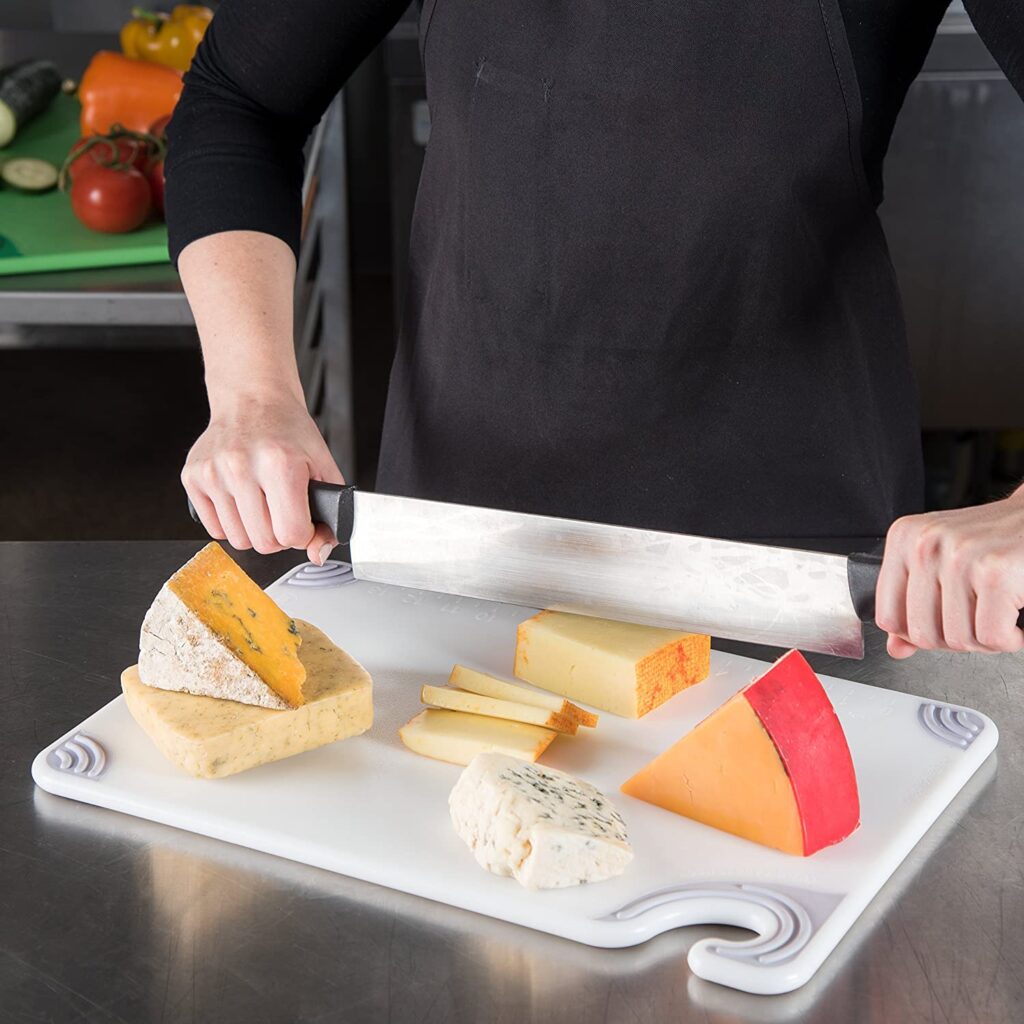 San Jamar Saf-T-Grip Cutting Board
$25
San Jamar cutting boards are a staple of professional kitchens – and their Saf-T-Grip board is no exception. It may not be the prettiest of the bunch, but this well-priced workhouse board will serve you well in a variety of kitchen tasks.
Made of durable co-polymer plastic, this dishwasher-safe board features sturdy non-slip feet that hold it securely in place during cutting.
During testing, Rachel plowed through tasks like dicing cucumbers, chopping fresh herbs, and slicing steak with ease. The hard surface of the board was gentle on her knife – and she especially loved the built-in ruler notches along the side, a unique feature that makes portioning ingredients a breeze.
This cutting board is available in five different sizes and seven different colors. While we preferred the 18″ x 12″ size, it may be too large to fit in a standard dishwasher. Lastly, a built-in hook on the board allows for easy storage – simply hang it on a wire shelf or a wall-mounted hanger in your kitchen.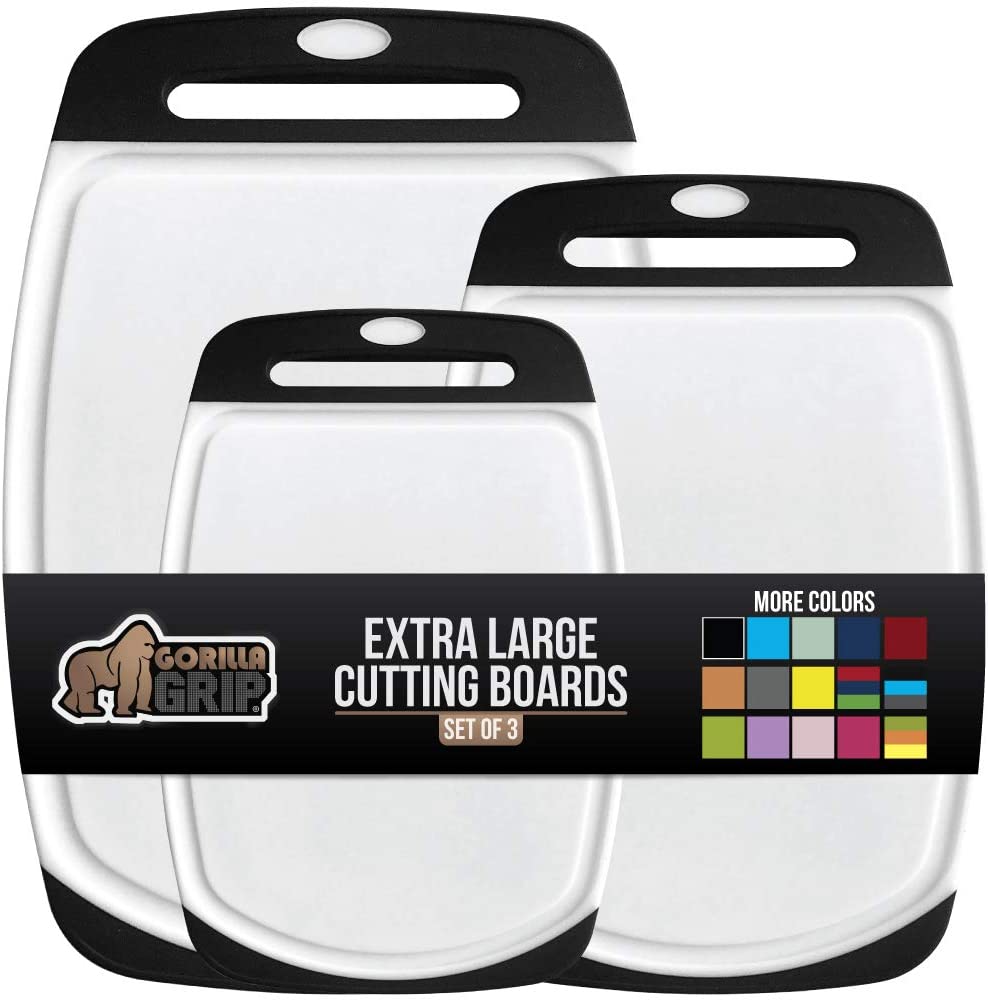 Gorilla Grip Oversized Cutting Board 3-Piece Set
$40
Amazon's best-rated cutting board proves you don't have to spend a lot of money to get a really great cutting board – or in this case, set of cutting boards. The Gorilla Group Oversized Cutting Boards boast more than 22,000 perfect ratings and cost less than $40, or about $13 a board.
Reviewers love that these boards all have juice grooves and no-slip rubber handles that help you move the cutting boards around the kitchen safely and also secure it in place while you chop and slice. The largest board is a generous 16″ x 11.2″; the smallest 11.8″ x 8″. And if that kind of variety wasn't enough, these cutting boards are also available in 24 colors or color combinations.
San Jamar Saf-T-Grip Cutting Board
$25
Totally Bamboo's Kona Groove Cutting Board looks and feels luxurious without the hefty price tag. Rachel gave this board top marks in every category, and she especially liked its smooth surface that was gentle on knives.
Made from sustainable, eco-friendly bamboo, this surprisingly lightweight board is the perfect size (18″ x 12″). The reversible grooved and flat sides on this board make it practical for everyday or special occasion use.
Like the Boos' wooden board, Totally Bamboo's board requires regular seasoning. (Try their Revitalizing Oil.) It's also not dishwasher-safe and should be hand-washed and rinsed with warm water and soap. (Learn more at TotallyBamboo.com.) Totally Bamboo's board isn't as durable as the Boos board, but it looks just as beautiful and offers great value.