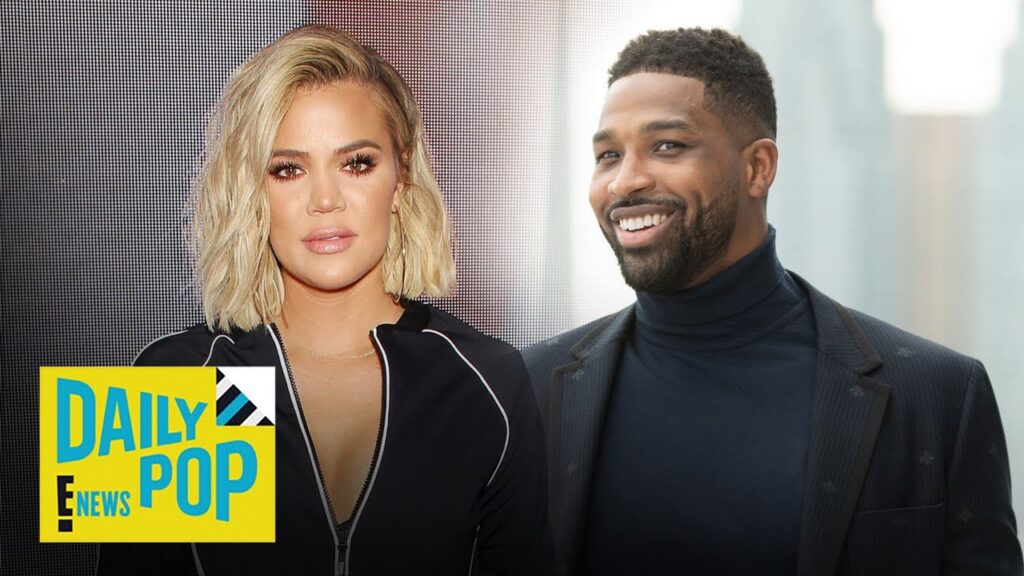 By ALYSSA RAY
Khloe Kardashian knows you can't believe she's happily co-parenting with ex Tristan Thompson, because it "surprises the hell out of [her] too."
Today, the Keeping Up With the Kardashians star virtually stopped by Daily Pop and gave insight to E!'s Justin Sylvester about her cordial relationship with daughter True Thompson's dad.
"We're doing a great job and I'm really grateful that we're able to," the Good American mogul noted.
As E! readers may recall, Khloe and Tristan welcomed their daughter into the world in April 2018. While the reality TV star and the NBA athlete are no longer a couple, they make an active effort to co-parent their now 2-year-old.
Most recently, the former flames celebrated the Fourth of July together at Tristan's home, alongside Kris Jenner and Kourtney Kardashian. And although that may seem odd to some, Khloe clarified it's normal within the Kardashian-Jenner family.
She continued, "I come from a family that, you know, my mom and my dad they would have dinner once a week. And my stepdad and my dad would play golf once a week together. So, I come from a family that…just because people aren't together doesn't mean you have to be rude or they're out of your life."
Case in point: Two of Khloe's sisters, Kourtney Kardashian and Kylie Jenner, have maintained friendly relationships with the fathers of their respective children.
"You share children with them and you want to kind of have this blended family," Khloe added. "So, I'm just used to that. I'm sure it's so weird to so many people."
Later in the interview, Khloe noted that her ex has been "so amazing during this quarantine" as he's "been so helpful."
She expressed, "You know, when you can't rely on so many other people's help, it's so great that you have like, essentially he's your partner, he's True's dad. And I need his help more now."
Furthermore, the E! personality noted that she and her ex have "been getting along," which she described as "weirdly really good."
And, with her ongoing battle with migraines, we're sure the help has been appreciated.
During her exclusive chat with Justin, Khloe discussed her partnership with Nurtec ODT and their "Take Back Today" campaign. Khloe, who has suffered from migraines since "about the 6th grade," sounded off on her experience with the pill.
"So many people suffer from migraines, predominantly women, and they really are something that can be debilitating," she shared. "It's a dissolvable pill, an oral dissolvable pill. Something I have been able to take that's been one of the very few things that helped me with migraines, especially during quarantine."
She did note that a listed side effect is nausea.
You can find more information here.
Watch Khloe's full Daily Pop appearance, including details on how momager Kris is doing in quarantine, in the video above.
Watch Daily Pop weekdays at 12:30 p.m., only on E!
Keeping Up With the Kardashians returns this September, only on E!
reprinted with permission from E!