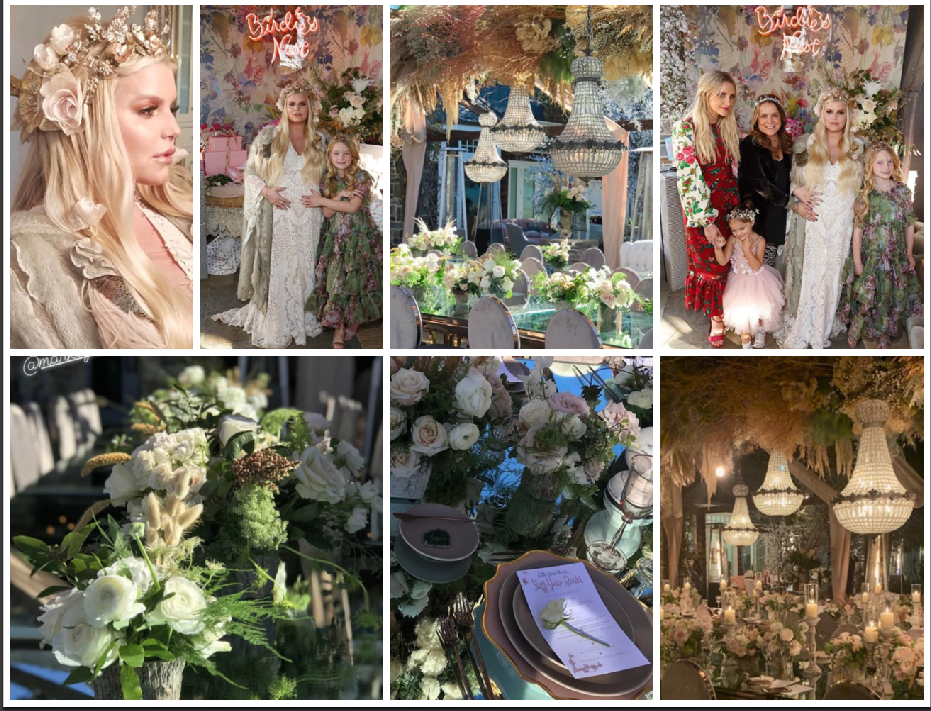 Jessica Simpson and her husband ex NFL quarterback Eric Johnson celebrated the impending arrival of their third child together, a daughter the couple have chosen to name "Birdie."
During the outdoor day-to-nighttime event, called "Birde's Nest", guests participated in a family dining affair draped in lots of beautiful floral arrangements dripping from an awning above.
In attendance was her sister "Pieces of Me" singer Ashlee Simpson and Jessica's bestie Cacee Cobb,
In photos the singer and actress turned fashion entrepreneur posted on her Instagram, she can be seen in a flowy white lace dress under a emerald green robe posing alongside her 6-year old daughter Maxwell "Maxi" Drew
In another photo, she, mom Tina, Ashlee and Ashlee's daughter Jagger Snow with husband Evan Ross posed.
She Instagrammed storied a lot of the events while giving credit to the event designer, rental company and other vendors who helped make the gorgeous affair possible and look so heavenly!
While she is catching some heat for the name, she is not the first celebrity to go with that name.
E! Talk show host and actress Busy Phillips named her daughter Birdie after being inspired by the movie about Lady Bird Johnson.
WWE wrestlers Brie Bella & Daniel Bryan also named their daughter born last year that as well!
Total Number of Babies Named Birdie In 2016: 80 girls
If you'd like to know more insider tips, want a critique of a site you've created or if you are interested in starting a blog or website yourself but do not have the time, patience, bandwidth, know-how or ability to get it done, let me set it up for you and train you on how to keep it going with my "Do-It-For" you consulting service,
Visit my Personal Consulting Site and Book a spot today!