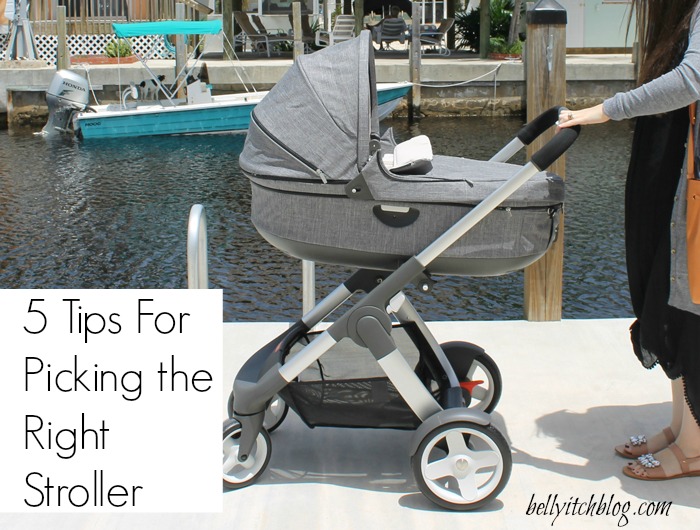 The stroller is one of the first things that new parents consider when they find out they are expecting. The stroller may be an investment that lasts beyond just one baby. The universe of stroller options have opened up tremendously in recent years and it is not uncommon for one family to have 5 or more strollers for varying needs:  a carriage or buggy, a canopy stroller, a convertible stroller, an umbrella stroller, a stroller that is part of a travel system.
Picking the right one (or ones) can be dizzying.  Here are five great tips, we've brought back from a past post, for picking out the perfect stroller for your needs:
1. Determine your stroller needs. Consider where you live and how you will be using your stroller.  If you plan to exercise or jog with your baby, you may want to consider a jogging stroller.  Its big wheels will help smooth out the ride over any rough terrain.  Wait until your baby is a few months old before using a jogging stroller because they aren't recommended for newborns.  Jogging strollers are large and don't fold down compactly for fitting in the trunk, which is problematic for parents who opt to use a jogging stroller as their primary stroller. They also don't steer well in tight spaces so they may be better suited as a specialized second stroller.  If you live in the city and you plan to mostly run errands with the stroller you will be looking for one that folds easily and doesn't take up a lot of space in the car.  Modular or Multi-component systems (think Britax B-Ready or UppaBaby Vista) are the most expensive, but also the most versatile.
They can contain a bassinet, single seat, or second seat, and these options snap on to a base frame so that you can customize your stroller and add to it as your child and needs grow. They also accommodate most infant car seats. The Britax B-Ready also accommodates two seats. Twin or double strollers are a must if you have two young children.  Seats can be side-by-side, stadium style, or tandem. Travel systems are often bulky and heavy, but allow you to keep your baby in the car seat when strolling. When your baby outgrows the car seat, he can use the stroller seat.
2. Decide on a budget. Umbrella strollers range in price from $15.89 to $199.95 or more.  The cheapest umbrella stroller is very basic with a simple 3-point strap to hold the baby onto the fabric seat.  The top priced umbrella strollers boasts solid construction, are lightweight (14lbs.), have an infinite-position reclining seat, are easy to fold, have a one-step brake, carrying strap, and a parent cup holder.  Jogging strollers can range from low $100's up to $500 or more.  Modular systems are purchased in pieces so prices will vary, but the frames typically cost around $400.  Regular single strollers range in price from the low $100's to $400 or more depending on the features that you are looking for.  Twin strollers are priced in the mid $100's and go up to $450 or more, again depending on what options the strollers have.
3. Create a checklist of features you want/need. Essential features for strollers include a five-point harness, a multi-position reclining seat, sun canopy, swivel wheels for mobility, easy folding system, stroller basket, easy to clean fabric, and a lightweight frame.  Additional luxury features include: adjustable handles, one-touch brakes, snack or play tray, parent cup holder, and an adjustable footrest to customize as the child grows.
4. Assess what size will work for you. Determine if you are looking for a stroller for one, two, or more children to help narrow your stroller search.  Strollers vary in weight from 6lbs to around 25lbs. or more.   Jogging strollers are large and bulky, but can also be very light.  Full-sized strollers fold down easily, offering many options for taking the baby along on errands.  If you live in the city and don't have a lot of room to store the stroller you may want to look at models that fold down very compactly. Inglesina is a favorite of mine.
5. Check for consumer reviews on the model you're looking at before you buy. Consumer reviews on strollers will be grouped by price, expert recommendations, and what the public thinks of the stroller.  Once you've narrowed down what you will be doing with the stroller, how many children the stroller needs to hold, what bells and whistles you need, and what price you're willing to spend on it, it's time to select your top choices of strollers.  Read how others rate the strollers that you are interested in to further narrow your search.
Final tip: If buying a used stroller make sure to check the recall list to make sure the stroller hasn't been recalled.