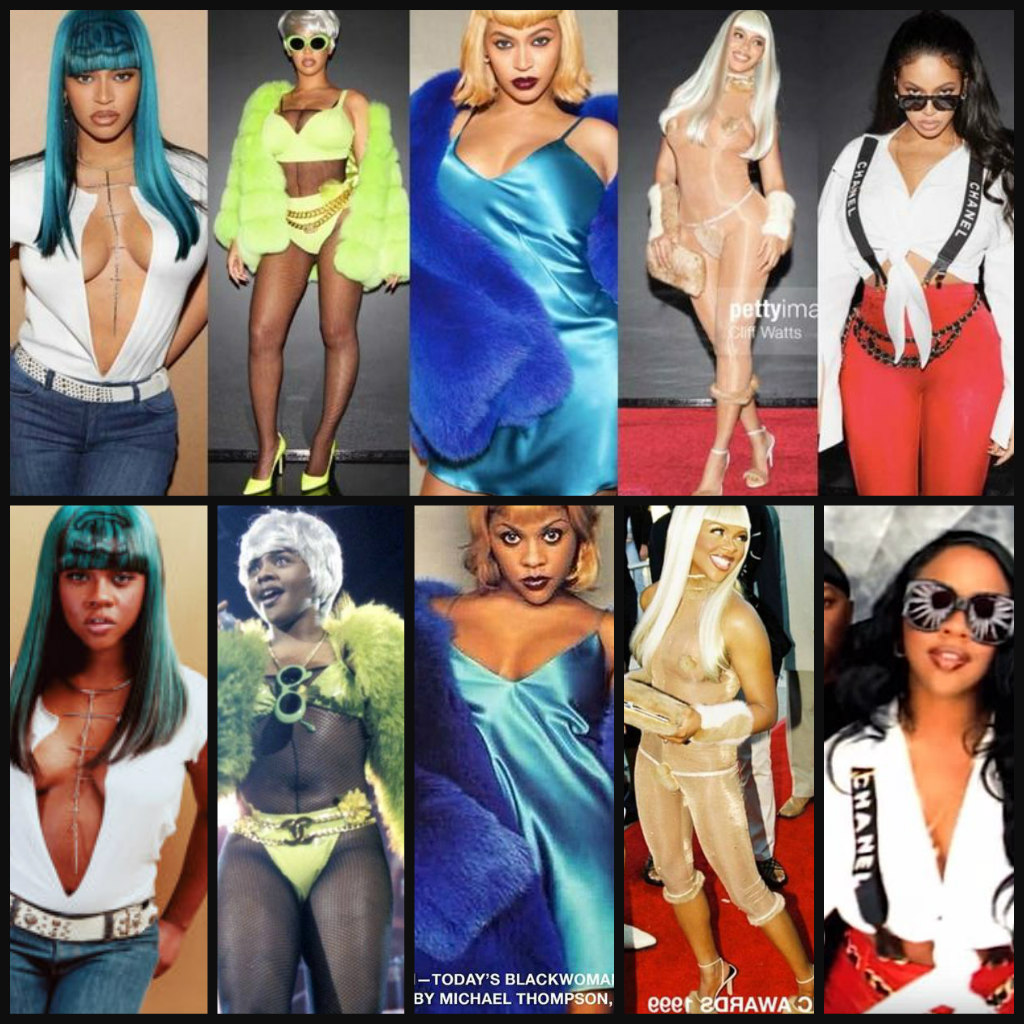 So Last July, biz mogul and rapper Sean "P Diddy" Combs sent the fans of Beyonce and Lil Kim into battle when he ended a tribute to Lil Kim on the Hip Hop Honors award show by stating, "Your hardcore raps, the way you walk, the way you talk — there's only one Queen Bee. All hail the queen!"
That comment sent the Bey Hive fans into a tizzy as Diddy's own Revolt TV conveniently blogged about after the event.
Perhaps to squelch all of the feuding between camps of fans of Queen Bey (also pronounced liked "bee") with Beyhive members sparring with Lil Kim's own Killer Bee Hive, the new mom-to-three set the record straight herself by posting her tribute to Lil Kim on her personal Tumblr website.
The first image in a series read "Hip Hop Would Not Be the Same Without Our Original Queen Bee". It was part of the "Single Ladies" singer's tribute titled "Halloween 2017: Lil' Kim Appreciation."
We followed both women during their respective pregnancies on this blog so we can definitely appreciate the sister love!!!
We had already featured earlier this week Beyonce pulling off Kim's costume back when the pint-sized rapper was featured in Missy Elliot's "The Rain" video.
In Bey's November 3rd blog post, we see that Mrs. Carter went one step further and further and further…knocking it all the way out the ball park!
And the original Queen Bee herself loved it, sharing them all on her personal Twitter page:
Come all the way thru Bey!! ?#beyonce#lilkim#queenbee#TookUsABreakpic.twitter.com/IXQCJUeORI

— Lil' Kim (@LilKim) November 3, 2017
?????#beyonce#lilkim#tookusabreak#queenbeepic.twitter.com/YEEnlOHmB6

— Lil' Kim (@LilKim) November 3, 2017
? Bey x ??? I'm still recovering from @Beyonce's slayage from Halloween and then this happens… #beyonce#tookusabreak#lilkimpic.twitter.com/ydTnAqF354

— Lil' Kim (@LilKim) November 3, 2017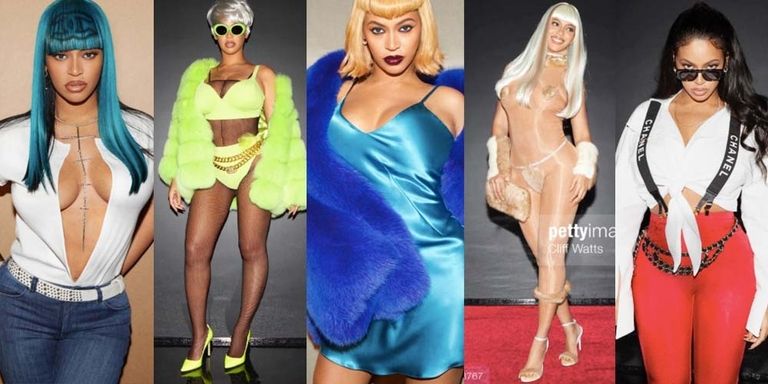 Here are the comparison looks in this video collage in Harper's Bazaar feature:
From Left to Right:
a) From Lil Kim's feature in Manhattan File magazine in 2001
b) From Lil Kim during her "No Way Out Tour" in 1997.
c) From Lil Kim from Today's Black Woman magazine feature in 2000 taken by Michael Thompson
d) From Lil Kim attending the The Source magazine's Hip Hop Awards in 1999.
e) From Lil Kim's feature in Missy Elliot's "The Rain" music video
Here's what Lil Kim had to say about the feature:
"I'm still recovering from @beyonce's slayage from Halloween and then this happens… #beyonce #lilkim #queenbee #tookusabreak #beehive #lilkimseason," Lil' Kim shared on Instagram after the Grammy winner shared new photos of her costumes. "Lawwwwddddd, my wig is all the way in China!!! SLAYED. You did that B!"
She continued, "Come all the way thru Bey!! @beyonce the resemblance is crazy!! Match made in heaven. Every single detail is on point! I love you to pieces Bey."
For the final share, Lil Kim shared her appreciation for Jay who dressed in Biggie Smalls a.k.a. The Notorious B.I.G.'s signature red jacket, jeans and Timberland boots from an already widely circulated photo taken at Kelly Rowland's Halloween party this year.
"This is so adorable and it's even cuter because Jay-Z and Biggie were friends and he has his mannerisms down pat," she shared. "I love U Queen Bey and King Jay."
Beyonce wasn't the only one to do multiple Halloween costumes paying homage to one person. I actually went as Beyonce's 2011 video for "Countdown" (WATCH IT HERE) when she was 6 months pregnant with her first child, Blue Ivy. This tribute is fitting given I have a pregnancy blog. I couldn't decide on which of the two dozen or so outfit/looks she wore in that video so I settled on four.
Unlike Bey, who probably wore her get ups to various Halloween parties and events, I simply rummaged my and my husband and kids' closets and came up with outfits and used wigs I already own. I photographed myself via selfies or my iPhone's timer app after the kids had come back from trick-or-treating and had settled in bed. I did do them all on Halloween so they count as Halloween costumes nonetheless! ha!