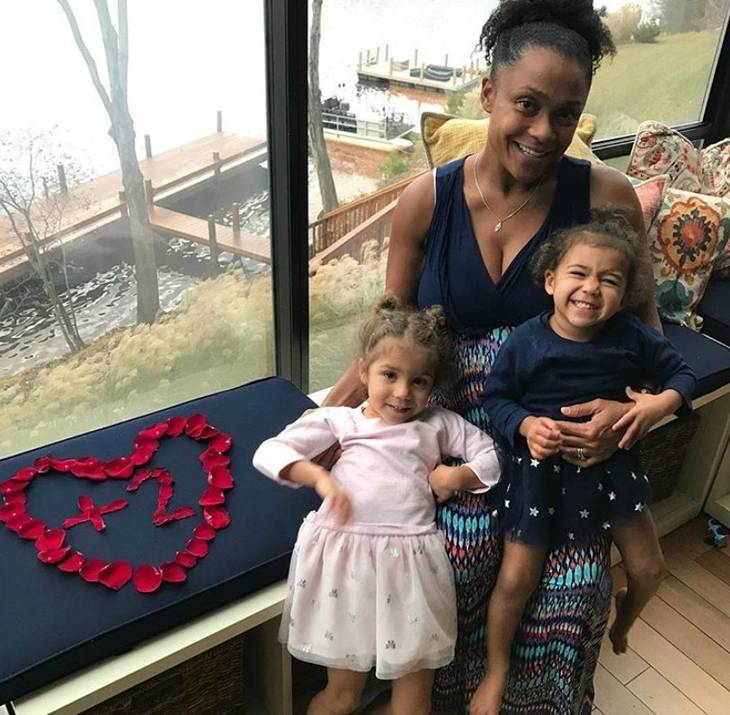 Congratulations to retired Olympic Gold Medalist gymnast Dominique Dawes who expecting twins this January, joining our long list of celebrity moms to twins.
The brand ambassador shared the news on her birthday last week.
"Well, a lot to say here on my BIRTHDAY post," Dawes, who is also a motivational speaker, captioned a photo of herself with her two daughters 3-year old Kateri and 1-year old Quinn. "Now being 41 couldn't feel better- unless you're extremely pregnant- with TWINS, due this January!" How exciting!
This is welcome news for the stay-at-home mom who sadly suffered a miscarriage this past February that she also shared with her followers and fans on Instagram and Facebook.
"I've been overwhelmed with love and support by you all, concerning my miscarriage earlier this year," she wrote in her pregnancy announcement. "I couldn't tell you how much it meant to read your kind words and reading the stories you've shared about your personal struggle as well, with dealing with a miscarriage. It's surreal to know that this pregnancy has been tough, as most are, but extremely joyful- my husband and 2 little daughters are anxiously awaiting the arrival of our new daughter and son!"
I love Dawes because I believe she is my spirit twin. We're both around the same age, are from Maryland, are 5'2 and converted to Catholicism after marrying our spouse. Dawes and her husband, The Heights school religion teacher Jeff Thompson, married in 2013. Love her and her openness and positive vibe.
Congrats to them.
A little more about her tragic loss from earlier this year which she discussed in the most optimistic and faithful way…