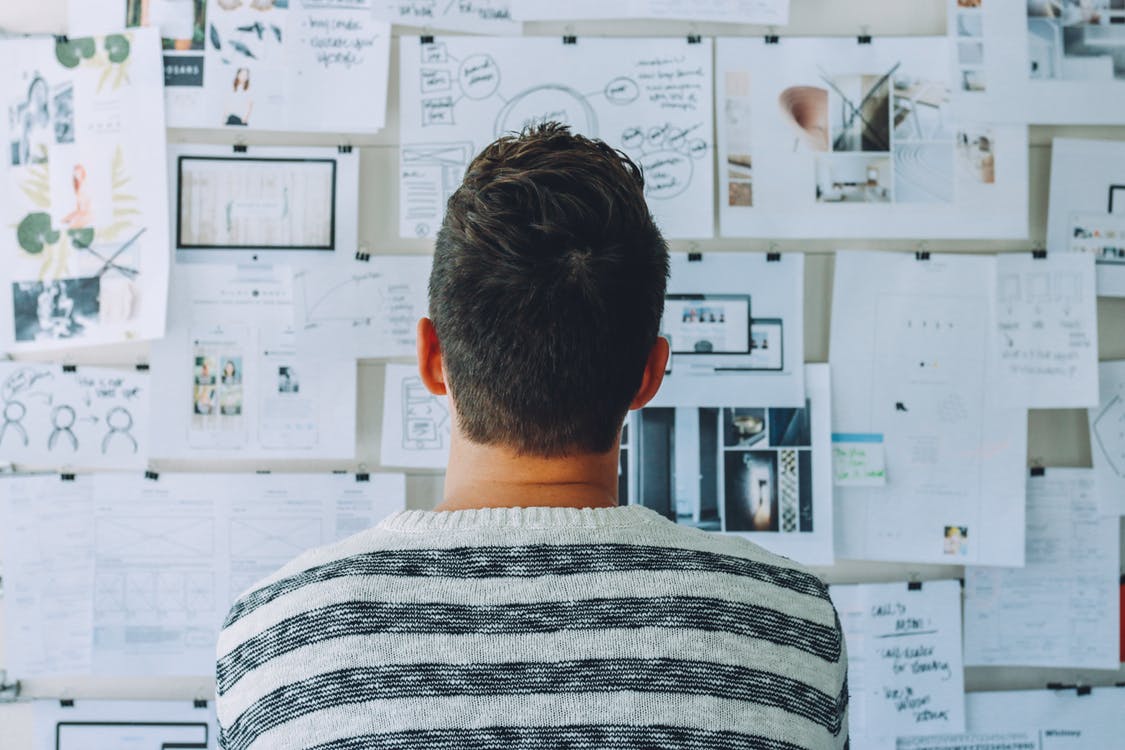 By now, a lot of people have heard of the term "mommy makeover" which refers to the plastic surgery that some women get after completing their family to get their pre-pregnancy body back, but did you know that Daddy Makeovers are a trending now too?
They are the surgical procedures that more and more men around 40-55 years old (usually already married and fathers) get to restyle and correct small imperfections of their body and face .
Why Are More Men Getting Daddy Makeovers?
It is commonly known that most women gain weight while pregnant, usually from increased calorie intake and a growing fetus. It is very common for dads to join in the extra snacking and to thus pack on excess pounds during their partner's pregnancy. It is called "sympathy" weight gain.
Also, those men who are middle age and are experiencing empty nests, have more times to refocus on themselves, take  exotic vacations, entertain more, get out more regularly, and with that, they want to regain their youthful body.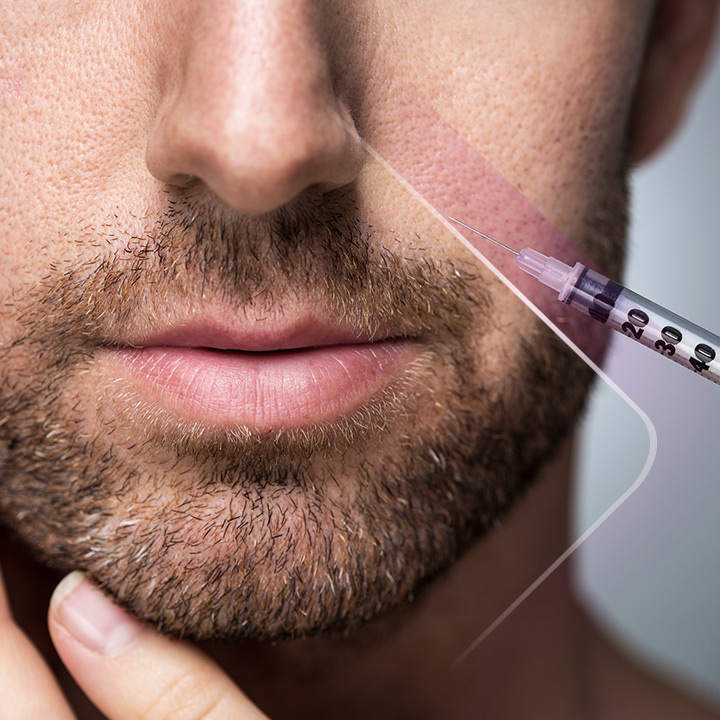 Male Plastic Surgery Is More Common Than You'd Think
Nationally, men account for 18 percent of cosmetic surgery procedures. A lot of professionals between the age of 45 and 55 who do sedentary desk jobs, spend less time in the gym. They now have kids to come home to and shows to binge watch. They're not taking care of themselves as often and find they've accumulated a few extra pounds around the abs, hips and notice their skin sag around the chin.
They look in the mirror and see themselves aged and realize they can afford to get a nip and tuck and the stigma that was once associated with plastic surgery is not there that much anymore.
Common Daddy Makeover Procedures
We talked to Dr. Paul G. Ruff, the Medial Director at West End Plastic Surgery in Washington DC, who said he has seen a significant increase in interest in daddy makoevers during the last five to eight years.
He gave us some insight into this trend. The common procedures that men seeking a daddy makeover get include:
VASER Liposuction: high definition body contouring which involves sculpting the body by removing unwanted fat from specific areas of the body
Gynecomastia  (Man Boobs): correcting and reducing breasts tissue
Eyelid surgery
Neck Contouring
Pectorial Implants: adding pecs to create the appearance of a more buff chest.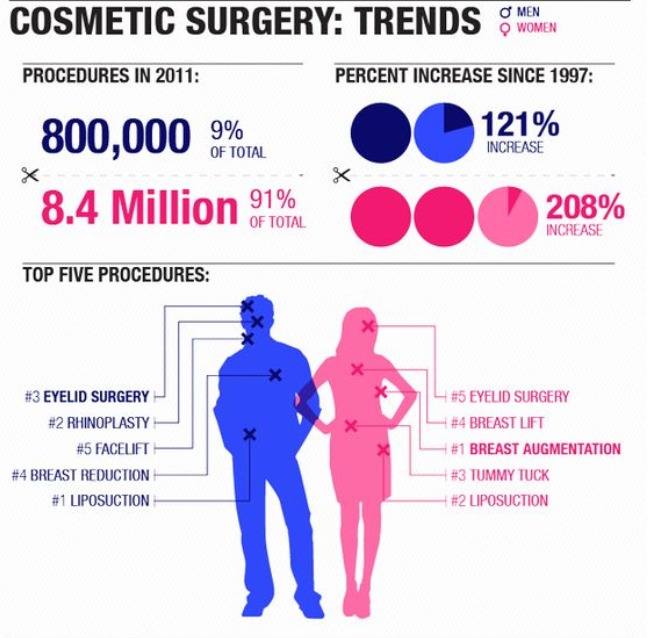 There are other nonsurgical and surgical options aside from these more common ones. Each practice has its own and each year, the industry comes out with new and unique options.
And of course, non-surgical procedures like Botox are common and even more popular than ever. A quick review of the latest stats from 2016 put out by the American Society for Aesthetic Plastic Surgery show that nonsurgical procedure accounted for 44 percent of expenditures in this area. These include nonsurgical skin tightening, injectables like Botox and chemical peels.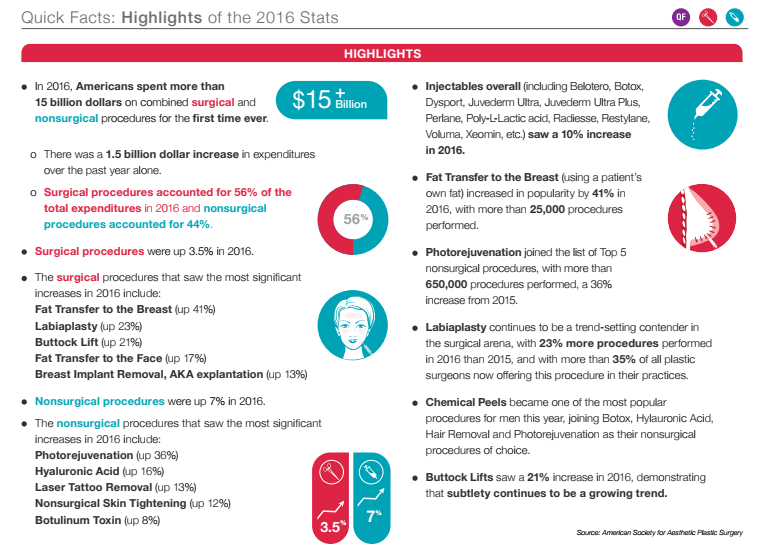 The Ryan Gosling Effect is Real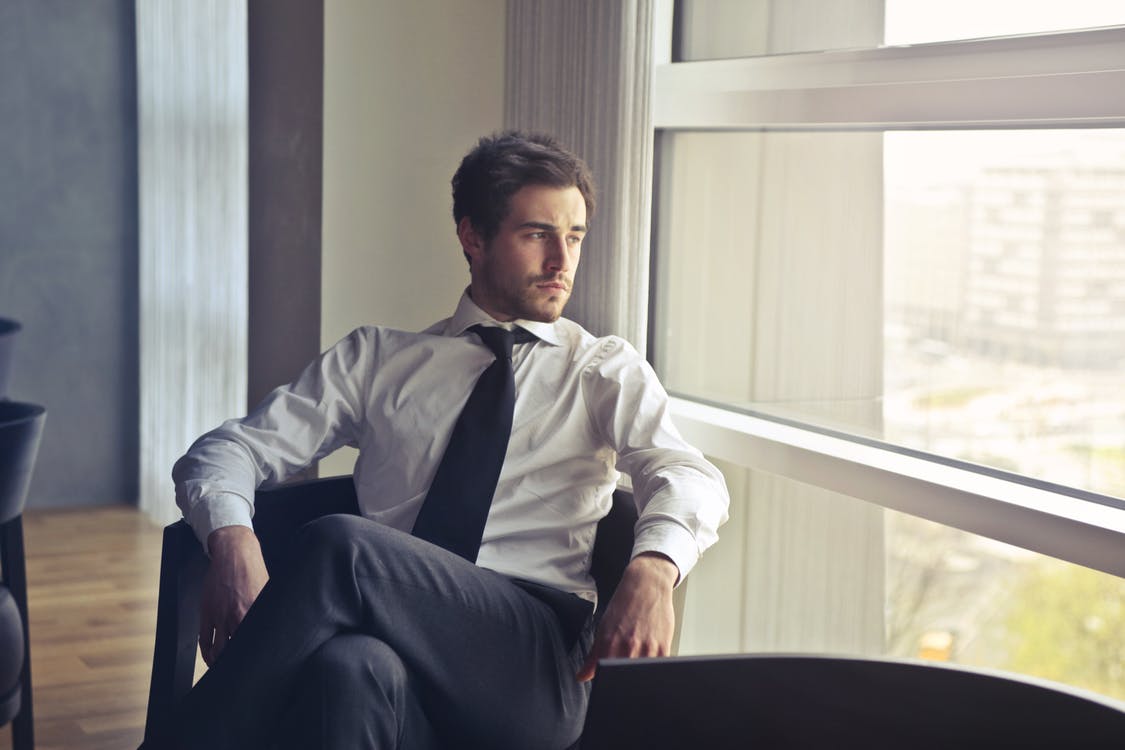 "Mostly men, just like women, want to look like a refreshed, more vital version of themselves," says Ruff.
And just like with women, men too have a celebrity muse they want to emulate.
"On occasion we have people reference current stars like Brad Pitt, Ryan Reynolds, and Zach Efron," Ruff shares.  "I am always leery when someone is requesting to look like a specific star."
Certainly, we've seen controversial media stories of people who go overboard trying hard to change their natural appearance to look like a celebrity.  The Iranian Angelina Jolie fan comes to mind as does actor Nicholas Ryan who got a load of plastic surgery done to look like Ryan Gosling. 
Dr. Ruff explained that among the considerations that are discussed during a consultation is whether the patient can emotionally, financially and physically handle surgery so we imagine that they'd weed out those with unhealthy expectations out during this process.
Among the issues to discuss is whether there will be someone at home to help a patient through recovery. But not all do so they may elect to stay nearby. Ruff says his office, which conducts in-office procedures and surgery, has a relationship with a nearby hotel so that those who come from out of town who do not want to travel far to return home can stay there for a day or two before returning home.
You'll Never Believe How Short Recovery Can Be
In short, there really is no need for a hospital stay. These procedures are generally outpatient surgeries or treatments and the recovery depends on the amount of work to be done or the combination being performed.
"For simple VASER Liposuction, the recovery to return to work and routine daily activity can be as little as two to three days," Ruff shares.  Larger and combination procedures may have a recovery that can be up to two weeks.
This information should always be part of thorough consultation.
(Speaking of CONSULTATIONS, mention you saw this post when you call the West End Plastic Surgery center, and get a no cost consultation, a Saving of $150. IMPORTANT NOTE: if you cancel your appointment, you'll be billed a no-show fee)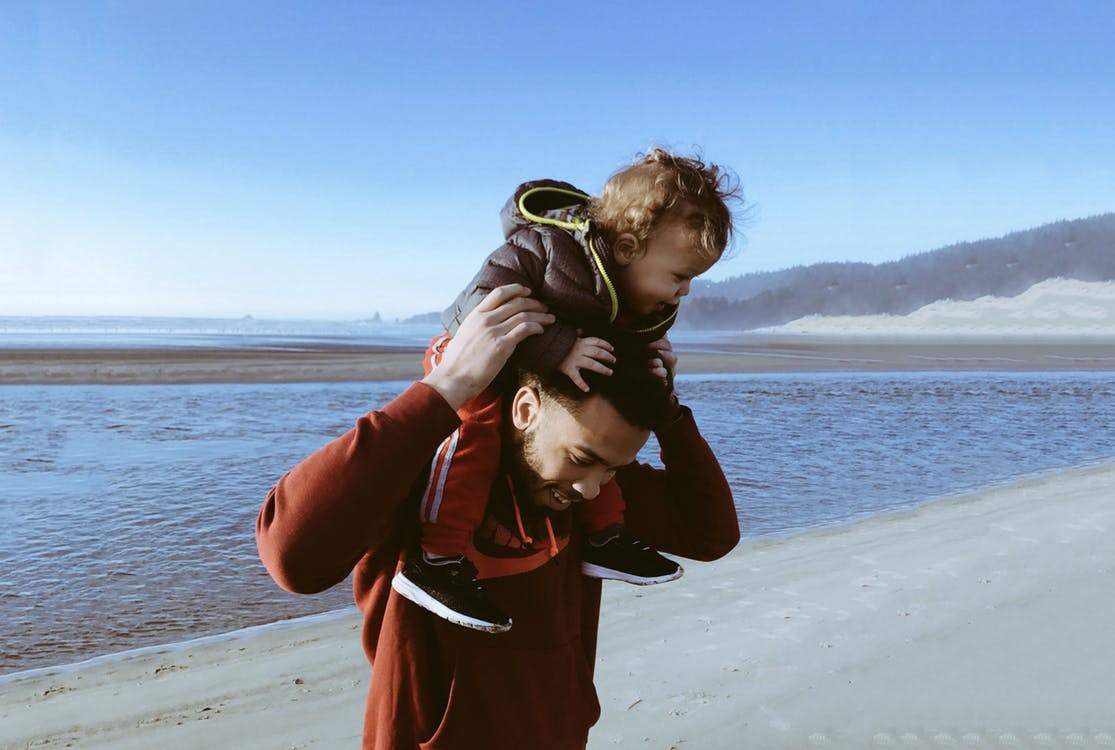 It's A World Wide Thing
We asked if the male or daddy makeover is a phenomenon just in the United States or are European, Asia, Australia or other parts of the world experiencing it as well.
In this generation of rapid transit of information, Ruff explains, people all over the world are in contact with information. Also, the US is fourth worldwide in plastic surgery, and thus, areas of the world like South East Asia and South America have high rates of male plastic surgery patients as well.
"Statistically men are an increasingly higher percent of the cosmetic practice," Ruff adds.  "Still nowhere near the percent of women in most plastic surgery practices."
But more practices are adjusting their office spaces even to make them more accomodating to male clientele.
This shift "is underscored by the modifications of offices to be more inviting to men based on color schemes, seating choices ,art and the availability of men only office hours and events," sates Dr. Ruff, adding, "the daddy makeover is definitely a more specific interest and one that we see regularly rather than a couple of times a year."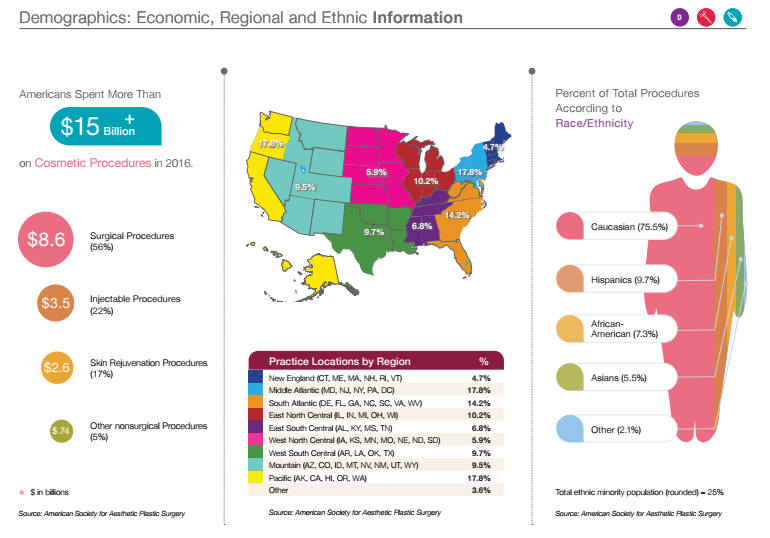 We are not surprised to note that in America, the Mid-Atlantic region which includes New York City, one of the fashion capitals of the world, and the West coast, home of Hollywood, tie for the region of the country getting the most plastic surgery (17.8%) compared to the rest of the country, according to American Society for Aesthetic Plastic Surgery.
Average Daddy Make Over Cost and Can You Afford It?
The cost of a Daddy Makeover will depend on region, combination of procedures and surgeon experience. The range can be as low as $2500 to over $20,000, says Ruff.
A chart of data from the American Society for Aesthetic Plastic Surgery reveals that an average practitioner's charge for liposuction is about $3300, $2700 for a chin lift, and about $5,000 for male boob reduction and for non surgical procedure, Botox is about $375 per treatment, and sclerotheraphy cost close to $360. Of course, prices are different per region of the country.
While those who are  professionals and from middle to upper income levels are more likely to get plastic surgery, there are financing and creative funding options available at practices nationwide and world wide.
"If you want to get more than one surgery done, you can also save money by getting them done simultaneously," suggests Dr. Gregory H. Croll is one of the top plastic surgeons Columbia, Missouri has. "Doing this  not only saves you and the surgeon money, but it can really work better for you as well. That way if you have to ask off work for recuperating time, you are recuperating from both surgeries instead of having to ask off for days for two separate surgeries. It can also save money and time for both you and the surgeon because
you only have to go under the knife once."
No Longer a Secret
We asked if men are keeping quiet about it or are they open about having work done and were surprised by the response: both.
"Men are usually quiet about the inquiry but more talkative about the experience, especially if the result is excellent," Ruff shares.  "Talking about expectations and maintenance is part of the satisfaction level and ultimate transparency about having something fixed.
"Men have that hunter mentality engrained either socially and genetically and then the celebration of the kill.  The same goes with these procedures."
Couples Do It Better Together
Also, more and more, mom and dad and other types of couples are coming in together for consultations.
This is true at Dr. Ruff's practice as well.
"Having support in the decision making and perioperative phase if tremendous and leads to better outcomes and satisfaction" adds Dr. Ruff.  "This tends to bring couples together because it is another journey in which they can share.  When couples decide to do these makeovers together, we find there is more empathy between them."
Now that you've gotten some comprehensive insight into daddy makeovers, the next step is to talk to a doctor, if you are so inclined. As mentioned above, if  you mention you saw this post when you call the West End Plastic Surgery center, and get a no cost consultation, a Saving of $150.
[IMPORTANT NOTE: if you cancel your appointment, you'll be billed a no-show fee]
Our Editor in chief, JJ, visited the offices this week and expressed satisfaction and excitement over the quality of professionals, doctors and practioners there, the proximity of the office to area hospitals, George Washington, Georgetown University and Sibley Memorial in DC; the top-notch quality of the office space and friendliness of the staff, overall. And she was gifted a generous $100 gift certificate to use for services but that gift does not impact the opinions shared in this post which are hers and honest.