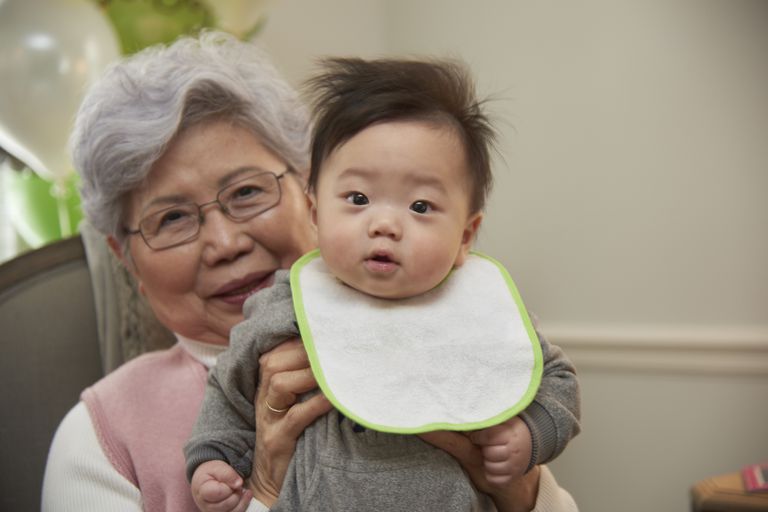 With news outlets reporting that Kris Jenner has been instrumental in helping her daughter Khloe Kardashian adjust to motherhood and with Mother's Day around the corner, it's a good day time to think about ways to thank moms for being great grandmamas!
If you're fortunate enough to live close to your mother, there's a good chance that she's looked after your own children a time or two. Watching your children for an extended period, like over the cry of "Thanks!" as you pack everyone into the car.
Here are 25 unexpected ways you can thank your mom for looking after your children after the years she spent raising you.
Surprise House Cleaning – Your mom not only watches your kids, but also spent a significant chunk of her life cleaning up after you. Say thank you by springing a surprise house-cleaning on her sometime!
Flowers – Whether you buy a bouquet of her favorite blooms or present a hand-picked bunch, there's something about a gift of flowers that shows gratitude and appreciation beautifully.
Homemade Cards – Get the kids together and create a handmade card to present to Grandma as a token of your collective appreciation. It's sure to end up proudly displayed on the refrigerator.
Store-Bought Greeting Cards – Sometimes a spontaneous gift is best. Snagging a "Thinking of You" card that's not occasion-specific while you're at the market and inscribing a message that expresses your thanks lets your mom know that you're thinking of her and that you're appreciative of the things she does to help you.
A Special Meal – Who knows your mom's favorite meal better than you do? Preparing her favorite dish is a great way to say thank you, especially if you modify it to meet dietary needs that are changing with age.
Offer a "Free Favor" – Present your mom with a card promising one free favor, to be called in at any time in exchange for watching the kids. When you hand it over, explain that it's a show of gratitude, and that her help makes a difference in your life.
Pick Up the Tab – Your mom has been buying you dinner for decades. If you want to thank her for all the time she spends watching your children, consider taking her out to a nice place and picking up the tab.
Give Her the Title of "World's Best Grandma" – It may be a cheesy coffee mug or a hokey baseball cap, but a bit of merchandise emblazoned with your mom's title of "World's Best Grandma" lets everyone know just where she stands.
A Meaningful Gift – There are always things that people want, but can't justify purchasing for themselves. Listen to your mom when she talks and glean bits of information from what she says to find the perfect thank-you gift.

Handle an Unpleasant Task – Whether it's clearing a stubborn clog or cleaning the toilet, there's always some distasteful task that needs to be completed around the house. Taking care of one such task for your mom is a practical and considerate way of thanking her for the things she does.
Give Her the Gift of Quality Time – The frenetic pace of today's world can leave you spending no more time with your mom than it takes to drop off and pick up the kids. Even if it's just a cup of coffee before work, carve out some quality time to spend with your mom to thank her.
Baked Goods – Cupcakes, cookies and other baked goods are always a welcome gift, and a great way to show your appreciation for someone you love.
Video Thank You Notes – Get the family together and create a video thank you note for Grandma. Encourage little ones to sing a song or do a dance, and address the things she does that you appreciate directly.
A Scrapbook – There's nothing quite as powerful as a scrapbook filled with precious mementos and photographs. It may be a time-consuming task, but compiling a scrapbook full of memories for your mom is a great way to show that you care.
Arts and Crafts Projects – Handmade gifts can be more personal and heartfelt than the store-bought variety, so consider making a few things to give to your mother in appreciation.
A Handwritten Letter – Today's high-tech world relies on emails and text messages to communicate, and the art of the handwritten letter seems to be dying. Put pen to paper and share your appreciation in a way your mom can save for posterity.
Sweet Surprises – Show up to collect your kids with your mother's favorite candy or other sweet treat. Even though it's a simple gift, it shows your appreciation.
Gift Cards – Picking up a gift card to your mother's favorite store or restaurant is a great way to show your thanks, especially if you tuck it inside a card or letter.
Poetry – If you have a flair for words, why not pen a quick poem? Whether it's sentimental enough to be a greeting card verse or a few silly rhymes designed to bring a smile to mom's face, the effort will certainly be appreciated.
Inscribed Plants – Moms with green thumbs will be thrilled with an inscribed plant, like Magic Bean in a Can. When the plant grows, a message of your thanks is actually inscribed upon the leaves. It doesn't get much cooler than that!
Banners and Signs – Surprise your mom with a large banner or sign expressing your thanks. For particularly special occasions, you may even want to integrate party whistles and hats.
Subscription to a Favorite Magazine – Print magazines haven't quite gone the way of the dinosaur, especially for the older set. Gifting your mom with a subscription to her favorite periodical as a token of your appreciation really is the gift that keeps on giving!
Public Recognition – Few things show just how proud you are of your mother and how much you appreciate the time she spends with your kids like a public recognition of her efforts. Whether it's a speech at a party or a post on her Facebook wall, let the world know you're grateful to your mom!
A Phone Call – If the hustle and bustle of each day's demands leaves you only enough time to call your mother for drop-off and pick-up coordination, set aside a block of time to really talk. She knows just how busy you are, and it will mean the world.
Group Hugs! – An enthusiastic group hug with choruses of thank yous is an exciting and affectionate way to show your gratitude to your mom for looking after your brood.