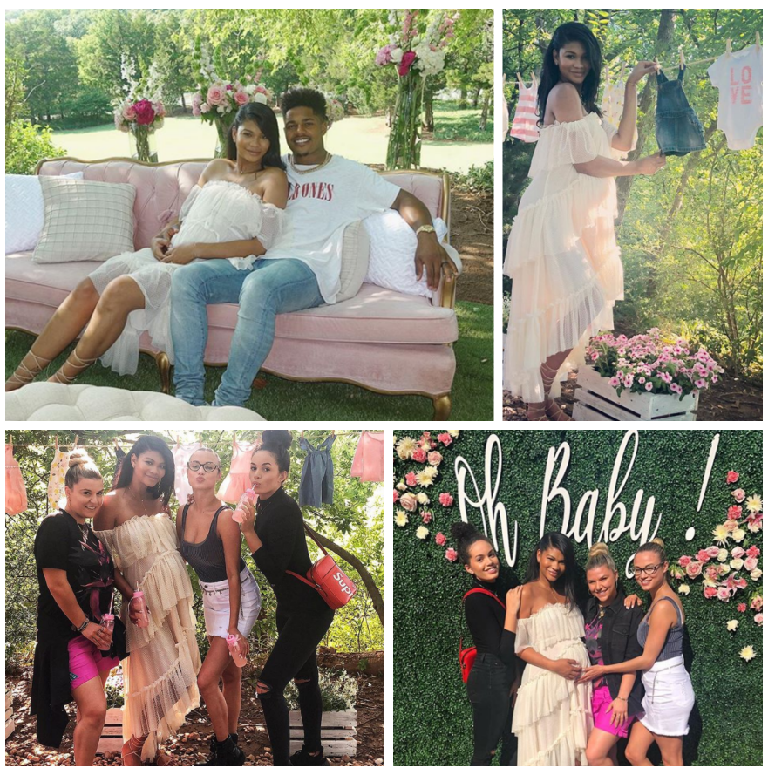 Over the weekend, Victoria Secret model Chanel Iman and her husband New York Giants player Sterling Shepard also celebrated the impending arrival of their first child together at an intimate backyard baby shower in Oklahoma thrown by the leggy brunette's friends.
The shower's color theme was pink and Iman revealed that she is expecting a girl on her Instagram sharing photos of the blessed event.
"It's a GIRL." The expectant mama posted a picture of she and Sterling sitting on a pink couch outside in a lush yard with pink flowers surrounding the expectant parents.
Earlier this month Chanel attended the Fragrance Foundation Awards in N.Y.C. where she spoke to reporters and admitted that "the first term actually was very difficult" and she "was sick," adding "I'm super anxious to meet my baby," and after she got through her rough patch of morning sickness, "my pregnancy has been amazing,"
Hubby also opened up to the New York Post about his excitement of becoming a first-time papa.  "I'm super excited about it," he told the paper. "On game days, I see guys…they have their babies down there, and it's a warm feeling when you see that. I'm looking forward to it…I can't wait."
The goregous Iman has also been working on campaigns and posting outtakes from shoots during her pregnancy, looking fabulous as would be expected.