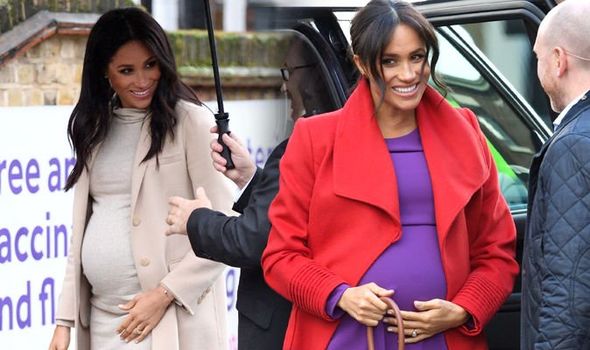 From rumors of her being pregnant with twin girls to psycho trolls convinced she is faking her pregnancy, Meghan Markle is the latest royal and celebrity mom-to-be plagued with silly rumors.
I thought I had heard and read it all until I bumped into a few blogs and reputable news sites' entertainment pages (I won't call them out by name) claiming that Duchess of Sussex makes specific and deliberate hand gestures and clothing placements to make sure her bump is center stage.
*deep long sigh*
I don't know if these people have ever been pregnant or not but when a woman, any woman, is 6 to 8 months along in a pregnancy, she really doesn't have to go out of her way to make sure she looks it!
One "body language expert" quoted said, the former Suits actress is purposefully wearing bump hugging clothing and intentionally opting for coats so the baby bump would peek through. Another said she "flicks" them open for this purpose.
Wow! That sounds so ludicrous to me.
I don't know, she could wear what's out there, most of which are bump hugging, or wear a muu muu.
I do know of some who carry small all pregnancy and who crave that popped look, but that is a fraction of women like Amal Clooney.
Also, as to the conspicuous hand placement on her belly, it is a very common and subconscious maternal practice of expecting woman to place her hands on her pregnant belly when pregnant. It's not being done to cause attention by any means, I don't believe.
Markle and Prince Harry are expecting their first child later this month.
Photo Collage: Express/Getty